Sangamon County ILGenWeb © 2000
In keeping with our policy of providing free information on the Internet, data and images may be used by non-commercial entities, as long as this message remains on all copied material. These electronic pages cannot be reproduced in any format for profit or for other presentation without express permission by the contributor(s).
---
PAST AND PRESENT OF THE CITY OF SPRINGFIELD AND SANGAMON COUNTY ILLINOIS
By Joseph Wallace, M. A.
of the Springfield Bar
The S. J. Clarke Publishing Co., Chicago, IL
1904
---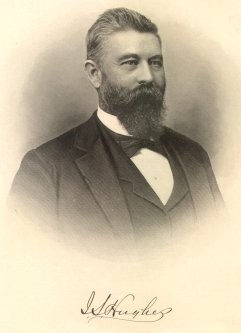 Page 1056
ISAAC S. HUGHES, M.D. - Dr. Isaac Simpson Hughes won distinction as one of the eminent members of the medical profession of Springfield and he was not less loved and honored because of his life of usefulness, uprightness and kindliness. At his death, which occurred on the 2d of November, 1893, the city lost one whom it had come to hold in the highest regard. In his profession he found ample opportunity to serve his fellow men and to make his life one of the greatest benefit to those with whom he came in contact. His devotion to his profession arose from a deep interest in the science of medicine and a love of scientific research, and also from a broad humanitarian interest which prompted him to put forth every effort that would enable him to alleviate human suffering. It was therefore but logical that Dr. Hughes should be classed among the respected, prominent and representative men of Springfield.
A native of Illinois, the Doctor was born in Randolph county on the 22d of January, 1842, and was the second son of William Stace and Maria (Simmons) Hughes, the former a native of Virginia, and the latter of Maine. The paternal grandfather left his home in the Old dominion and went to Kentucky, but after a short time he started for the territory of Illinois. The journey was fraught with many difficulties and dangers and while crossing the Ohio river he was killed by an arrow shot from an Indian bow. His widow proceeded on her way and located in Randolph county, this state, among the pioneer settlers. Among her children was William S. Hughes, who became a well educated man and possessed marked ability as one of the early lawyers of the state. For a time he served as county judge of Randolph county and he left the impress of his individuality upon the early jurisprudence. He died in 1855 at his home in that county in the midst of many friends among whom he had lived for a long period, honored and respected by all who knew him. His wife had passed away in 1846. Two sons were left to mourn the loss of these parents. One of them afterward made his way to Arkansas, casting in his lot with the south and served in the Confederate army during the Civil war. Later he was called to his final rest, leaving one son and also a daughter, who was married and died soon after, leaving an infant son, Harry Ruffner.
Dr. Hughes, of this review, was for many years the sole representative of the family. He was a lad of only eleven years at the time of his father's death. He started from his old home to seek his fortune among strangers, making the journey on foot, but fortunately he came across an uncle, William Simmons, after he had tramped for about thirty miles. This uncle, being impressed with the determination and pluck of the young boy, gave him a home until the breaking out of the war of the Rebellion. He was the owner of the famous Rock Spring farm and thereon the doctor spent the days of his youth, his time and energies being devoted to agricultural pursuits. In 1859 he became acquainted with B. J. Van Court of O'Fallon, St. Clair county, Illinois, in whom he possessed a friend, whose encouragement and aid proved of much assistance to him in later life. The doctor had not attained his majority when on the 12th of August, 1862, he offered his services to the government, enlisting in Company I, One Hundred and Seventeenth Illinois Infantry, in which he served with credit for three years, unflinchingly facing the dangers and hardships of the soldier's life. In August, 1864, he was detailed to serve in the medical department, remaining there until the expiration of his term. He took a great interest in the work of that department, and, in fact, it was at this time that he resolved to become a member of the medical profession.
After the war Dr. Hughes read and studied as he found opportunity, making his own way through college, in the face of many trying ordeals, which would have discouraged most anyone of less determination. He was graduated in the St. Louis Medical College in 1872 and then located for practice in Darmstadt, St. Clair county, whence he soon afterward removed to Kane, Greene county, Illinois. There he practiced continually until 1880, when he took up his residence in Springfield, where he pursued his chosen vocation up to the time of his death. The doctor was a man of magnetic temperament, tender and sympathetic and his jovial, kindly appearance in the sick room was like a ray of sunshine. He was a thorough and discriminating student who kept in touch with the progress continually made in the profession and his broad reading and investigation classed him with the most learned representatives of the calling in Springfield.
On the 27th of November, 1878, Dr. Hughes was untied in marriage to Miss Mary E. Freeman, a daughter of Abraham and Margaret (Penney) Freeman. Unto the doctor and his wife was born a son, Arthur Freeman, whose birth occurred in Springfield, July 29, 1880, at the old homestead of Abraham Freeman at No. 313 West Monroe street and in the same room where his worthy mother first opened her eyes to the light. He was graduated with honors in the Springfield high school with the class of 1901 and in the fall of 1902 he entered the law department of the Northwestern University at Chicago, Illinois. He is the only grandchild of Abraham Freeman and he and his cousin are the only ones of the family to bear the Hughes name.
Dr. Hughes died at his home at No. 229 South Walnut street, November 2, 1893, and was laid to rest in Oak Ridge Cemetery. He was prominently identified with Stephenson Post, No. 30, G.A.R., and was past chief mustering officer of the department of Illinois, taking an especial active interest in the work of that great organization. He was also prominent in the Masonic fraternity and the Odd Fellows Society and was an active Republican, though he never sought or desired office. Devotedly attached to his profession, systematic and methodical in habit, sober and discreet in judgment, calm in temperament, diligent in research, conscientious in the discharge of every duty and courteous and kind in demeanor - these qualities enabled him to take first rank in his profession in Sangamon county.

---
Return to 1904 Biographies Index
Return to Sangamon County ILGenWeb
---