Sangamon County ILGenWeb © 2000
In keeping with our policy of providing free information on the Internet, data and images may be used by non-commercial entities, as long as this message remains on all copied material. These electronic pages cannot be reproduced in any format for profit or for other presentation without express permission by the contributor(s).
---
PAST AND PRESENT OF THE CITY OF SPRINGFIELD AND SANGAMON COUNTY ILLINOIS
By Joseph Wallace, M. A.
of the Springfield Bar
The S. J. Clarke Publishing Co., Chicago, IL
1904
---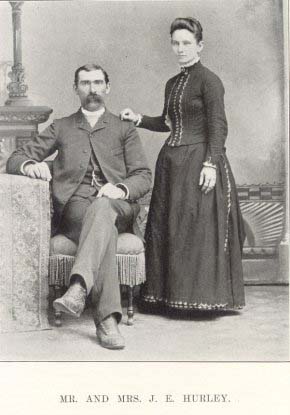 Page 1498
JAMES E. HURLEY, who is successfully engaged in agricultural pursuits on section 35, Loami township, has spent his entire life in Sangamon county, and has therefore witnessed much of its development and upbuilding. He was born on the 10th of September, 1854, a son of James P. and Cecelia (Turpin) Hurley. The father was a young man when he came to this county, and after his marriage he continued to follow farming here until after the Civil war broke out. In 1862 he offered his services to the government, becoming a member of the Seventy-third Illinois Volunteer Infantry, but before a year had passed he died of measles. His widow survived him and reared their family, her death occurring in 1870. Two children are still living, these being our subject and his brother, Madison, who is also a farmer of Loami township.
James E. Hurley remained with his mother until her death, and was educated in the common schools of the neighborhood. At an early age he began earning his own livelihood by working as a farm hand, and was thus employed for several years. On the 4th of August, 1881, he was united in marriage to Miss Mattie Judson, who was born, reared and educated in this county. Her father, John Judson, is a native of New York sate, and on coming west located in Sangamon county, where he followed farming for many years, but is now living a retired life in Auburn. Before leaving New York he married Lucinda Dubell, whose parents died during her infancy. Unto Mr. and Mrs. Hurley have been born three children, namely: Mable, now the wife of Lee Boblitt, of Auburn; Otto and Russell.
After his marriage Mr. Hurley was engaged in farming upon rented land in Talkington township for several years, and then removed to his present farm in Loami township, which he had inherited. Here he has since carried on general farming and stock raising, keeping upon his place a good grade of horses, cattle and hogs.
By his ballot Mr. Hurley supports the men and measures of the Republican party, and he has never cared for political honors, preferring to give his time and attention to his business interests. Both he and his wife hold membership in the South Fork Methodist Episcopal church, in which he is now serving as steward, and the hospitality of many of the best homes of the locality is extended to them for their circle of friends is almost co-extensive with their circle of acquaintances.

---
Return to 1904 Biographies Index
Return to Sangamon County ILGenWeb
---