Sangamon County ILGenWeb © 2000
In keeping with our policy of providing free information on the Internet, data and images may be used by non-commercial entities, as long as this message remains on all copied material. These electronic pages cannot be reproduced in any format for profit or for other presentation without express permission by the contributor(s).
---
PAST AND PRESENT OF THE CITY OF SPRINGFIELD AND SANGAMON COUNTY ILLINOIS
By Joseph Wallace, M. A.
of the Springfield Bar
The S. J. Clarke Publishing Co., Chicago, IL
1904
---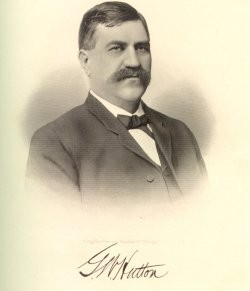 Page 238
George W. Hutton is the proprietor of the Auburn roller mills and grain elevator. Being thus actively identified with industrial interests, he contributes in no small degree to the commercial prosperity of the community, for the upbuilding of every town depends upon its business interests and results directly from the energy and efforts of its leading men. Mr. Hutton has resided in Auburn since 1874, but his residence in Sangamon county covers the period of his entire life, for in 1823 the Hutton family was established in this county and has since been numbered among its loyal and helpful citizens.
George W. Hutton was born on a farm near Springfield on the 8th of August, 1847, his parents being Benjamin F. and Lucinda (Mason) Hutton. The father was born near Nashville, Tennessee, October 11, 1815, and his parents were Samuel and Mary (Levi) Hutton, both of whom were natives of South Carolina and spent the latter part of their lives in Tennessee. The mother of our subject was a daughter of Noah and Lucinda (Stetson) Mason, who came to Sangamon county in 1824 and resided upon a farm here until called to the home beyond. Benjamin F. Hutton arrived in this county in the year 1823 and located on a farm in Auburn township, where he lived up to the time of his marriage to Miss Mason. He then removed to Henry county, Iowa, where he took up his abode on a farm which he continued to cultivate and improve until 1845. He then returned to Sangamon county and settled upon a farm near Spring creek, making it his place of abode until 1850. In that year he removed to Chatham township, where he purchased a farm of five hundred acres, devoting his attention to its further development. He was there living at the time of the outbreak of the Civil war, and in the first year of that long and sanguinary struggle he offered his services to the government, enlisting as a member of Company B, Tenth Illinois Cavalry, with which he served until after the cessation of hostilities, rendering valiant aid to the Union cause. When the war was over he returned to his home in Chatham township and there carried on agricultural pursuits until his death, which occurred July 10, 1877. His wife passed away May 17, 1891. Unto them were born five children: Noah M., Mary A., Benjamin F., George W. and John.
George W. Hutton acquired a good business education in the best schools of Sangamon county, and on the 4th of February, 1879, he was married to Miss Maggie Harris, a native of Auburn, born August 27, 1858, and a daughter of Thomas and Mary (Doren) Harris, who were early settlers of this county, but have now passed away. Unto our subject and his wife has been born one daughter, Ursula H., whose birth occurred July 31, 1881.
In 1874 Mr. Hutton came to Auburn and engaged in the grain trade as a member of the firm of Poley & Hutton. This connection was continued for two years, when, in 1876, Mr. Hutton was made cashier of the Auburn Bank, occupying that position for two years. On the expiration of that period he entered into partnership with William A. Wallace in the dry goods business on the west side of the public square and conducted the store with success for ten years. During that time, or in 1879, the firm of Hutton, Harris & Co., began operations in grain, buying and shipping grain on quite a large scale. Mr. Hutton has since been engaged in that business and has a large elevator near the Auburn depot. On the 19th of November, 1883, the Auburn Roller Milling Company was organized with Mr. Hutton as its secretary and treasurer, and he has since acted in that capacity. Nine men are employed in the elevator and mill, and an excellent business is done. The company manufactures the well-known Frost King flour, and also Our Favorite patent flour, which find a ready sale all over this part of the county. The excellence of their products commend them to the public and the flour finds a ready sale on the market. In connection with his other business interests Mr. Hutton is the president of the Auburn Electric Light Company and is the vice-president of the Auburn State Bank. He is quick to note and recognize business opportunities that will prove of benefit to the town and at the same time promote individual success, and his efforts have been directed along lines which have promoted the interests of the stockholders and of the community as well.
Auburn claims Mr. Hutton as one of its valued citizens, and he represents a high type of our American manhood, standing as a champion of all measures for advancement along lines contributing to better political, social and moral conditions. He was a member of the town board of Auburn for several years, and in 1889 was elected its president, acting in that capacity for three years. He was also a member of the school board for several years and did everything in his power to advance the interests of education here. In politics a stalwart Republican, he has never failed to cast his ballot for the men and measures of that party. Socially he is connected with the Court of Honor of Auburn. Perhaps in an analyzation of his character we would find that energy is the most dominant trait. He is a busy man, who early in his career realized the truth of the old adage, "Earn thy reward; the gods give naught to sloth." He has, therefore, worked earnestly and persistently and along well-defined lines of labor, and in harmony with the highest ethics of commercial life he has gained his prosperity.

---
Return to 1904 Biographies Index
Return to Sangamon County ILGenWeb
---