Sangamon County ILGenWeb © 2000
In keeping with our policy of providing free information on the Internet, data and images may be used by non-commercial entities, as long as this message remains on all copied material. These electronic pages cannot be reproduced in any format for profit or for other presentation without express permission by the contributor(s).
---
PAST AND PRESENT OF THE CITY OF SPRINGFIELD AND SANGAMON COUNTY ILLINOIS
By Joseph Wallace, M. A.
of the Springfield Bar
The S. J. Clarke Publishing Co., Chicago, IL
1904
---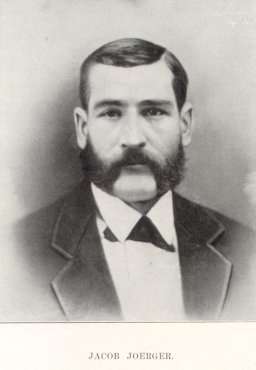 Page 636
JACOB JOERGER - Jacob Joerger, who came to America in limited financial circumstances but at his death was the possessor of a handsome competence, was for many years numbered among the business men of Springfield, taking up his abode in this city in 1853. He was born in Wurtemberg, Germany, April 1, 1832, and his parents both died in that country during the early boyhood of their son Jacob, who afterward in company with his brother Charles emigrated to America. They landed in New York without a penny and as Mr. Joerger of this review could not speak the English tongue he found it quite difficult to secure work, but finally managed to obtain sufficient employment to enable him in 1853 to come to the west. He rightly believed that he could find better business opportunities in this great and growing section of the country and in the year mentioned he arrived in Springfield. Here he began work in a brickyard in the western part of the town and was thus employed for several years, or until he had saved capital sufficient to enable him to engaged in business on his own account. He then established a saloon on Sixth street in the old Pierik building and was thus engaged in the retail liquor business for several years. He afterward removed to the Monitor building, where he continued in the same line for a number of years, but ultimately sold out and lived retired until his death, having in the meantime acquired a very gratifying competence.
Mr. Joerger was married to Miss Anna F. Stockhoff, who proved to him a faithful companion and helpmate on the journey of life. She was born in Hanover, Germany, and with her parents came to America, the family home being established in St. Louis, Missouri, where her father followed the shoemaker's trade throughout his remaining days. Unto Mr. and Mrs. Joerger were born seven children: Emma and Clara, who occupy the old family homestead in Springfield; August, a pressman of Springfield, who married Dora Weisenbach; Charles, who married Eugenia Higginbotham and is a traveling salesman, residing in Denver, Colorado; Ada, Minnie and William, all at home. On the 8th of August, 1881, the father passed away and on the 26th of October, 1902, the mother was called to her final rest. They were members of the German Lutheran church of Springfield, to which their children also belong, and he gave his political allegiance to the Democracy, but he never south or desired any offices. He was very successful in his business career and in addition to dealing in liquors he also operated to a considerable extent in real estate and owned quite a large amount of property in Springfield which is now in possession of his daughters, the eldest, Miss Emma, looking after their rental. They resided at the old family home at No. 209 West Capitol avenue, located near the state house in one of the most desirable residence portions of this city.

---
Return to 1904 Biographies Index
Return to Sangamon County ILGenWeb
---