Sangamon County ILGenWeb © 2000
In keeping with our policy of providing free information on the Internet, data and images may be used by non-commercial entities, as long as this message remains on all copied material. These electronic pages cannot be reproduced in any format for profit or for other presentation without express permission by the contributor(s).
---
PAST AND PRESENT OF THE CITY OF SPRINGFIELD AND SANGAMON COUNTY ILLINOIS
By Joseph Wallace, M. A.
of the Springfield Bar
The S. J. Clarke Publishing Co., Chicago, IL
1904
---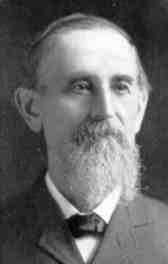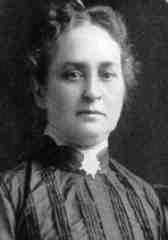 James Johnston Mrs. James Johnston
JAMES JOHNSTON - Illiopolis has a large proportion of its citizens who are retired farmers and of this class James Johnston is a representative, having for forty years been one of the active and successful agriculturists and stock-raisers of Sangamon county, where, his labors bringing him success made him the owner of two hundred and eighty acres of land in Illiopolis township.
Mr. Johnston is a native of Scotland, his birth having occurred in the town of Annan in Dumfriesshire on the 26th of February, 1836. His father, James Johnston, Sr., was also born in Scotland and came of a long line of Scotch ancestry. By trade he was a stone mason and in his native country followed that pursuit in order to provide for his family. He was married in Dumfriesshire to Mary Rodgerson, also a native of the land of hills and heather, and in the year 1851 he brought his family to the United States, making his way direct to Springfield, Illinois. He located in Williams township, this county, where his death occurred.
James Johnston, of this review, spent the first fifteen years of his life in his native country and there attended school, enjoying good educational privileges. He came to the United States with his parents in 1851. In 1864 he purchased two hundred and forty acres of land on section 19, township 17 north, range 1 west, 3d parallel meridian, and has erected thereon a substantial and commodious country home, good barns and other outbuildings, and, in fact has placed upon the land all modern equipments and accessories. He uses the latest improved machinery in cultivating his fields and he gathers from an orchard an abundance of fruit for his own consumption during the winter months. Many rods of tiling add to the productive condition of his fields, while shade and ornamental trees enhance the attractive appearance of his place. He has followed general farming and also engaged in the raising, feeding and fattening of stock for the market. As the years have gone by he has prospered in his undertakings and to day is one of the successful farmers of the county. He continued farming until about 1889, when he rented his land and removed to Illiopolis, where be purchased residence property, on which he is now living retired.
Mr. Johnston has been twice married. In April,1872, he wedded Miss Mary Jane Scroggin, a native of Logan county, Illinois, who died March 2, 1874, and the only child of this marriage died in infancy. James Johnston was again married on Christmas day of 1879, his second union being with Miss Ruth Emeline Morgan, who was born in Illiopolis township, July 10, 1854. Her father, John C. Morgan, was born in Fleming county Kentucky and became one of the early settlers of this portion of the state. Four children have been born unto our subject and his wife: Edith M. and J. Charles, who are now students in the James Millikin University; Walter S.; and W. Russell.
Mr. Johnston in the period of early manhood, casting his first presidential vote, supported Stephen A. Douglas in 1860 and has since been an earnest Democrat, believing firmly in the measures and policy of that party The cause of education has ever found in him a warm friend, and while residing upon a farm he served for thirteen years as a member of the school board and for three years he has been a member of the school board of Illiopolis.
He occupied the position of township clerk for two years and has been a delegate to numerous conventions of his party. His wife belongs to the Methodist Episcopal church, while his religious faith is indicated by his membership in the Presbyterian church. More than half a century has come and gone since he crossed the briny deep to the new world and established his home in Sangamon county. His business career has been imbued with a spirit of enterprise and progress that has been a dominant factor in the development of the Mississippi valley and he is known as a man of sterling character and worth, his life at all times being actuated by honorable and manly principles.
---
Return to 1904 Biographies Index
Return to Sangamon County ILGenWeb
---