Sangamon County ILGenWeb © 2000
In keeping with our policy of providing free information on the Internet, data and images may be used by non-commercial entities, as long as this message remains on all copied material. These electronic pages cannot be reproduced in any format for profit or for other presentation without express permission by the contributor(s).
---
PAST AND PRESENT OF THE CITY OF SPRINGFIELD AND SANGAMON COUNTY ILLINOIS
By Joseph Wallace, M. A.
of the Springfield Bar
The S. J. Clarke Publishing Co., Chicago, IL
1904
---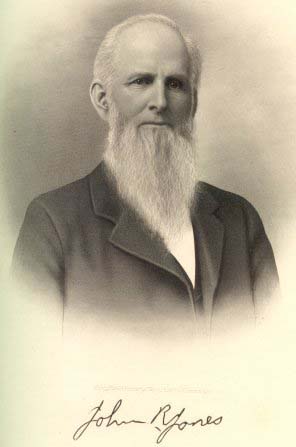 JOHN R. JONES - Since 1848 this gentleman has been a resident of Illinois and has made his home in Sangamon county for half a century, having arrived here in 1854. In early life he was prominently identified with the agricultural and commercial interests of this section of the state, but is now living a retired life in Williamsville. He was born in Louisa county, Virginia, December 18, 1827, and belongs to an honored old family of that state. His paternal grandfather was Henson Jones, whose father came to this country from Wales at an early day and was the progenitor of the family in America.
Samuel Jones, the father of our subject, was also a native of Louisa county, Virginia, where he grew to manhood and married Lucey Desper, a daughter of Isom Desper, who was also a representative of an early Virginian family. Mr. Jones followed farming and continued to reside in his native county until 1831, when he removed t Ohio, taking up his residence first in Ross county and a year later in Pike county, that state, where in the midst of the forest he cleared and developed a farm. He died there about 1845 and his wife passed away about 1841. This worthy couple were the parents of twelve children, all of whom were born in Louisa county, Virginia. Only two are now living: S. H., a resident of Springfield, and John R. of this review.
John R. Jones passed his boyhood and youth in Ohio, where he not only attended the common schools but also a seminary and having acquired a good education, he taught one winter term of school. In 1848 he joined his brother, S. H. Jones, at Mount Pulaski, Illinois, then the county seat of Logan county, and together they engaged in the stock business at that place. They drove most of their stock across the country to Ohio and Philadelphia, and even to New York, and shipped some by way of the lakes to the eastern markets.
In 1854 our subject came to Sangamon county, he and his brother having previously purchased land in Williams township, now occupied by the town of Williamsville. There they owned a section of land, to which they subsequently added until they had over eleven thousand acres, and in 1855 converted the original tract into a fine farm by breaking the land and the erection of good buildings. The brothers finally dissolved partnership and upon his property S. H. Jones laid out the village of Williamsville and subsequently made two additions to it. Our subject bought eight hundred acres south of the village, upon which he built several sets of farm buildings and for several years was very extensively engaged in general farming and stock raising, but in 1890 he retired from active labor and removed to Williamsville, where he bought improved property and has since lived retired. For several years he was a stockholder and director of the State National Bank of Springfield and is regarded as one of the ablest. His reputation is unassailable, for his enterprise and honorable methods have commended him to all with whom he has had any dealings.
In 1856 Mr. Jones was married in Pike county, Ohio, to Miss Mary A. Talbott, who was born and reared in that county and was a daughter of Thornton Talbott, originally from Virginia. By this union were born six children of whom three are still living, namely: Samuel T., the present circuit clerk of Sangamon county; Nellie M., wife of C. R. Taylor, who is an importer and dealer in horses, living in Williamsville; and a prominent business man of the county; and Milton E., who is engaged in the raising of fine stock and is in partnership with Mr. Taylor in the horse business. Those of the children now deceased are Jennie E., who died at the age of ten years; John F., who died at the age of one year, and Benjamin, who died at the age of four years. The wife and mother passed away in 1898, and Mr. Jones was again married in Springfield, October 8, 1902, to Mrs. Jemima Hussey, a native of east Tennessee and a daughter of Samuel Thompson, who died there. In her native state Mrs. Jones was first married to Joseph Gilbreath, and in 1852 they removed to Portland, Oregon, where he died and she later married W. S. Hussey. They came to Sangamon county, Illinois in 1864, and here Mr. Hussey died in 1885, leaving one son, Charles A., now a farmer of Williams township.
Politically Mr. Jones has been a stanch Republican since the organization of that party, voting for John C. Fremont, its first presidential candidate, in 1856. He has never sought or desired office, preferring to give his undivided attention to his business interests. Both he and his wife are members of the Methodist Episcopal church and are held in the highest esteem by all who know them. As an energetic, progressive business man Mr. Jones has done much for the development and upbuilding of this county and is numbered among its valued citizens. He is a worthy representative of that class of men who, while advancing individual success, also promote the p

---
Return to 1904 Biographies Index
Return to Sangamon County ILGenWeb
---