Sangamon County ILGenWeb © 2000
In keeping with our policy of providing free information on the Internet, data and images may be used by non-commercial entities, as long as this message remains on all copied material. These electronic pages cannot be reproduced in any format for profit or for other presentation without express permission by the contributor(s).
---
PAST AND PRESENT OF THE CITY OF SPRINGFIELD AND SANGAMON COUNTY ILLINOIS
By Joseph Wallace, M. A.
of the Springfield Bar
The S. J. Clarke Publishing Co., Chicago, IL
1904
---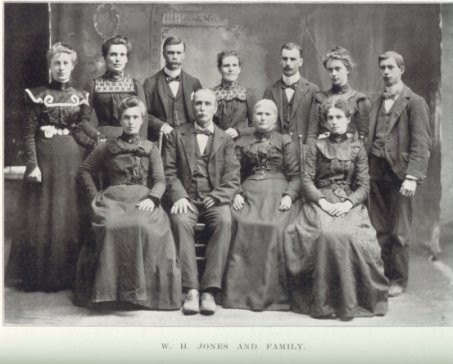 Page 1466
WILLIAM H. JONES, who follows farming on section 32, Divernon township, was born in Greene county, Illinois, September 16, 1844, a son of Thomas and Jane (Butcher) Jones, both of whom were natives of England. They were reared and married in that country and two children were born unto them there before they crossed the Atlantic to the new world in 1843. Landing on the coast of this country, they made their way direct to Greene county, Illinois, where the father spent his remaining days as a farmer, but was not long permitted to enjoy his new home, his death occurring in 1852. His widow still survives him and now resides in Montgomery county, Illinois.
William H. Jones spent the days of his boyhood and youth in the county of his nativity, acquired his education in the common schools and early became familiar with farm work in all its departments. He was married there in 1864, when in his twenty-first year, to Miss Sarah Amanda Adcock, who was born in Greene county, Illinois. He then rented a farm and continued to engaged in agricultural pursuits in his native county for seventeen years, after which he followed the same pursuit in Macoupin county for seven years. On the expiration of that period he rented the farm on which he now resides on section 32, Divernon township, Sangamon county, and has since made it his home. In 1893 he purchased the place, comprising one hundred and sixty acres of rich and arable land, and has since made substantial and desirable improvements. He has remodeled the house, placed the outbuildings in a good state of repair, has planted the orchard and has divided the place into fields of convenient size by well kept fences. He has also purchased modern machinery to facilitate the farm work, and neatness and thrift characterizes every part of his farm. He also raises and feeds good grades of stock and this adds materially to his income each year.
Unto Mr. and Mrs. Jones have been born twelve children, of whom nine are now living: Alice, wife of Jacob Hunziker, of Divernon; Martha, wife of Isaac Beaty, of this county; Thomas, who is married and now lives in this county; Lula, the wife of William Hay, a resident farmer of Divernon township; Ida, the wife of A. E. Barnes, of Divernon township; William, who married and follows farming in Macoupin county; Grace, the wife of Arthur Dupy, a farmer of Christian county; and Jacob L. and Minnie, at home. They lost their eldest child, Charles, who died when a young man of twenty-one years.
Mr. Jones gives his political support to the Democracy, but the honors and emoluments of office have had no attraction for him. He belongs to the Modern Woodmen Camp, No. 512, at Divernon. Starting out in life without capital, he has steadily worked his way upward, placing his dependence upon the substantial qualities of enterprise and consecutive labor rather than upon fortunate circumstances or environment. It is thus that he has become the possessor of a good farming property which yields to him a very desirable annual income.

---
Return to 1904 Biographies Index
Return to Sangamon County ILGenWeb
---