Sangamon County ILGenWeb © 2000
In keeping with our policy of providing free information on the Internet, data and images may be used by non-commercial entities, as long as this message remains on all copied material. These electronic pages cannot be reproduced in any format for profit or for other presentation without express permission by the contributor(s).
---
PAST AND PRESENT OF THE CITY OF SPRINGFIELD AND SANGAMON COUNTY ILLINOIS
By Joseph Wallace, M. A.
of the Springfield Bar
The S. J. Clarke Publishing Co., Chicago, IL
1904
---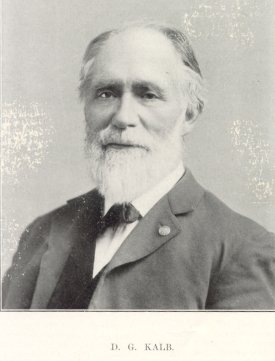 D. G. KALB. - One of the prominent and honored citizens in community affairs in Sangamon county is D. G. Kalb. He comes of an ancestry honorable and distinguished, the line being traced back to John Kalb, who came from Poland prior to the Revolutionary war and settled in what is now Berks county, Pennsylvania. He was born in the year 1733. It is supposed that it was he who induced his cousin, Baron DeKalb, to cast ion his fortunes in the conflict which won independence for America. The Baron died on the field of battle in Camden, South Carolina, on the 9th of August, 1780. Several years later General Washington stood at his grave and paid a glowing tribute to the brave foreign gentleman and nobleman who had given his life as a ransom for American liberty. John Kalb, a son of John Kalb, the founder of the family in the United States, was born in Berks county, Pennsylvania, November 12, 1761, an was the grandfather of the subject of this review. The father, Absalom Kalb, was born March 23, 1787, in the family home which stood on the boundary line between the states of Pennsylvania and Maryland. It is his son, D. G. Kalb, whose name introduces this record.
D. G. Kalb was born December 4, 1815, in Frederick, Maryland, and spent the days of his boyhood and youth in the east. In 1849 he came to Sangamon county in company with his father, mother and four brothers. They took up their residence in Springfield and became leading and influential citizens there. The family were ardent supporters of the Union cause at the time of the Civil war and the parents were prominent and influential members of the Methodist Episcopal Church. After reaching Springfield D. G. Kalb engaged in teaching school, devoting sixteen years to that profession. In the meantime, however, he offered his services to the country as a defender of the Union, enlisting in Company G, One Hundred and Fourteenth Illinois Infantry, with which he served for three years. The family was represented by six members in the Union army, including two of the sons and three of the nephews of our subject.
In the year 1841 Mr. Kalb was united in marriage to Mrs. George W. Shutt, a native of Virginia, who came to Springfield in 1836. Unto them were born three sons and two daughters, namely: Ethelbert and A. J., both deceased; George B.; and Mary Abner and Julia, both deceased. Mrs. Kalb died February 3, 1881, on the Willowdale farm in Rochester township, where her husband is still living.
Since retiring from the educational field he has devoted his labors continuously to agricultural pursuits as a means of livelihood and in this undertaking has met with success, yet his time and efforts have not been confined exclusively to this work. He is a man of essentially strong literary tastes and accomplishments. Throughout his entire life he has been an extensive reader, gaining broad and comprehensive knowledge of the writings of ancient and modern times and he has probably the largest private library in Sangamon county, with the contents of which he is very familiar. He possesses a remarkably retentive memory and ready powers of assimilation and has made the thoughts of the master minds his own. He has also written largely upon many subjects. As a collector of curios and mementoes he is well known and in his home displays many interesting articles of historic and intrinsic value. He has dwelt largely in the realms of thought, enjoying days passed in developing his own mental powers of perception and appreciation and his is today one of the strong minds of Sangamon county. In the evening of life he has continued to grow intellectually and has given out of his rich stores of wisdom and experience to others.

---
Return to 1904 Biographies Index
Return to Sangamon County ILGenWeb
---