Sangamon County ILGenWeb © 2000
In keeping with our policy of providing free information on the Internet, data and images may be used by non-commercial entities, as long as this message remains on all copied material. These electronic pages cannot be reproduced in any format for profit or for other presentation without express permission by the contributor(s).
---
PAST AND PRESENT OF THE CITY OF SPRINGFIELD AND SANGAMON COUNTY ILLINOIS
By Joseph Wallace, M. A.
of the Springfield Bar
The S. J. Clarke Publishing Co., Chicago, IL
1904
---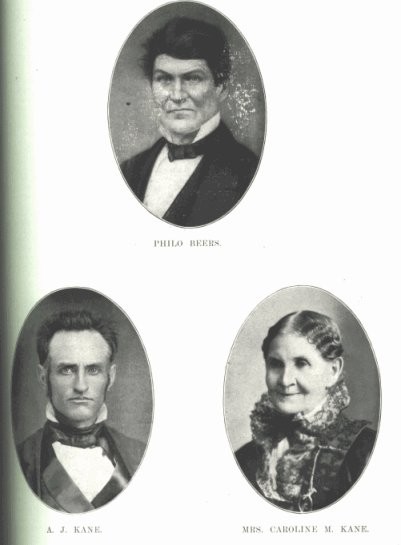 Page 419
ELDER ANDREW J. KANE - Elder Andrew J. Kane, whose life work as a minister of the gospel was so inseparably interwoven with the moral development of central Illinois as to make his history an integral part of the annals of Sangamon county, was born in Guilford county, North Carolina, on the 11th of February, 1817. He was left an orphan in infancy and in his early boyhood was taken by his oldest brother, Morrison Kane, to Indiana, where he was reared. At the age of twenty-one he started out in life for himself, going to Illinois. Not pleased with the outlook of Chicago then an uninviting village half sunken in the mire, he went to Peoria and afterward came to Springfield, which city was the place of his residence until his death, with the exception of a brief period of about three years, from 1851 until 1854. Arriving in the vicinity of Springfield in 1839 he assisted in building the first bridge across the Sangamon river in this county.
Having united with the Christian church at Indianapolis in 1836 at a meeting conducted by John O'Kane and Love Jamieson, he at once connected himself with the congregation in his own home. Urged by the brethren he decided to enter the ministry and to this end took up the study of Hebrew, Latin and Greek and English literature under private tutors - Rev. Francis Springer, a clergyman of the Lutheran church, Dr. Dressler, rector of St. Paul's, and Professor Beaumont Parks. In 1842 he was ordained to preach by the Christian congregation at Springfield. His field was central Illinois, though at times he passed the boundaries of this state. Before the age of railways and telegraphs in the sparsely settled country where few pastors were permanently employed, he preached continuously, riding on horseback to various towns with his saddlebags behind him, in one side of which was his Bible and in the other his necessary articles of wearing apparel. No name was better known than his, no views more widely heard in those early days for the development and settlement of Illinois. Meetings were held, church organized, infant congregations cared for and occasionally an encounter was had with some champion of the opposition in public debate. Some of his evangelistic meetings were marvelously successful for the times and his converts were numbered thousands. He heeded not the storms of winter nor the heat of summer in his efforts to carry the gospel to the people of this thinly settled district and it was with the greatest reluctance that within a year of his death, when eighty years of age, he relinquished all further effort to preach.
Elder Kane was a passionate lover of the bible. He devoured its pages and his familiarity with the scriptures from Genesis to Revelations was most remarkable. He was jealous, too, of its integrity and interpretation. Always abreast with the religious thought and discussion of the day, he vigorously opposed the trend of destructive criticism or a departure from the scriptural conditions of salvation. In a sermon on the nature and purposes of the church, he declared: "The church must exist as a safe depository of the divine records. They should be kept sacred and inviolable. Guard well the Bible."
And again: "He who introduces a foreign element into the gospel is guilty of offering strange fire upon the altar."
Assailing human creeds, he said: "I plant myself on the revealed word of God and for vindication appeal to the supreme court of Heaven."
Elder Kane was a steadfast friend of the cause, of missions, and never lost an opportunity publicly to advocate the divine enterprise of converting the world. I quote from one of his sermons: "Go teach all nations; we can not be saved without obedience to this command; our salvation is linked to it; the heathen has a right to demand it, it is his birthright. Go, teach. God's army is under marching orders to the ends of the world and the earth seems to be rocking beneath its tread."
He took an active part in the organization of the American Christian Missionary Society and of the Illinois Christian Missionary convention.
Of his ability as a preacher the testimony is manifold and abundant. Mr. Bailey D. Dawson, of Chicago, formerly of Jacksonville, Illinois, contributed to the Journal, published in the latter place, in May, 1902, a series of papers relative to the organization and history of the Christian church in Jacksonville. In speaking of Elder Kane's pastorage, 1851-4, Mr. Dawson says: "Shortly after the dedication of the new church edifice, Elder A. J. Kane was chosen pastor. Through many successful years, by his excellent good sense, clever practical gospel preaching, his exemplary Christian walk and conversation, he won many precious souls to Christ and achieved an enviable name as a good pastor - the ablest minister this church ever had then or in later times, worthy of all emulation and imitation."
Elder W. W. Weedon, for many years pastor of the church at Taylorville, and now pastor at Marion, Illinois, writes of him in these appreciative words: "I considered Elder Kane one of the soundest gospel preachers in my knowledge and it was always a delight to me to listen to his systematic, masterly sermons; they were so plain pointed, pungent and practical, and at times marked by oratory that was captivating and sublime."
Elder A. P. Cobb, who delivered the address at his funeral, said: "Elder Kane was a devout man, full of the Holy Spirit and faith. His delight was in the law of the Lord and in it did he meditate day and night. He knew as well as loved the sacred book. When, as frequently was the case, he was in my study I could find a scriptural quotation more quickly by asking him than by looking in my concordance. His mind was saturated with the Bible. To him it was in the fullest sense God's word. He was a reasoner, rather than an exhorter, a natural theologian - a preacher to preachers. He would have graced and filled the chair of the Bible in any of our colleges. In her personal characteristics he was a Christian gentleman - the highest type of manhood the world has ever seen.
In 1853 Alexander Campbell, then upon a visit to Illinois, thus writes of him to the Harbenger: "Brother Kane was obliged to give the parting hand at Jacksonville and attend to his pastoral duties. My loss of his aid will no doubt be a gain to the cause he so ably and faithfully sustains in his own proper field of labor. We want a hundred such men in this great state of Illinois, for here indeed as well as everywhere, in my observation and knowledge, the harvest is truly great and the laborers, the choice laborers are few."
T. B. Holton, who was an intimate acquaintance of Elder Kane for twenty-eight years, said: "We visited together the sick, the discouraged, the newcomers and the wanderers. In this delicate work he was never rash and hasty, but always took time to think so that when he spoke his words were prudent and wise. * * * * He was a great reader and he knew how to select good, strong, thought-provoking books. His library was not in a select corner under lock and key. His books were for use. There lay a noble volume on the desk, perhaps one or two on a chair and another on the window sill. Indeed, there were books in every room and his library in a sense was all over the house and there was at all times an air of literature and culture. In an afternoon visit at his house we might converse for a time, but by and by we would both be lost, as it were, in some stately volume. * * * In my associations with this Godly man there was never a word uttered by him that might not have been spoken in the presence of a saintly woman." vElder Kane was born in 1817. His life of nearly four score years embraced a period replete with the wonders of history. His birth was only eight years after the declaration and address of Thomas Campbell; ten years after Robert Fulton's steamboat made its first trip on the Hudson; two years after Waterloo and the victory of New Orleans. He was one year of age when Illinois entered the Union; three years old when the first iron plow was made; four when Bonaparte died at St. Helena; thirteen when the first passenger train was run, and sixteen when the first Lucifer match was made. At twenty-one he might have seen the first steamship start to cross the Atlantic; at twenty-seven sent the first telegram; at forty-one read the first cablegram that flashed under the sea. He died in 1896, having witnessed the achievements of science in the departments of steel, steam and electricity, which will ever mark the nineteenth century, as one of the most remarkable epochs in the world's history.
Elder Kane was partly contemporary with Alexander Campbell, Isaac Errett, O. A. Burgess, John O'Kane, John Sweeney, L. B. Wilkes, Love Jamison, J. W. McGarvey, and H. W. Everest, with all of whom he was a personal acquaintance and friend and whom he had entertained as his guests. He was an appreciative reader of our prominent church writers and especially esteemed the pens of Campbell, Errett, Pendleton, Lard, Longan and Lamar. Occasionally he associated himself with others in editorial work, but he loved preaching and actively engaged in the work of the ministry for fifty-three years.

---
Return to 1904 Biographies Index
Return to Sangamon County ILGenWeb
---