Sangamon County ILGenWeb © 2000
In keeping with our policy of providing free information on the Internet, data and images may be used by non-commercial entities, as long as this message remains on all copied material. These electronic pages cannot be reproduced in any format for profit or for other presentation without express permission by the contributor(s).
---
PAST AND PRESENT OF THE CITY OF SPRINGFIELD AND SANGAMON COUNTY ILLINOIS
By Joseph Wallace, M. A.
of the Springfield Bar
The S. J. Clarke Publishing Co., Chicago, IL
1904
---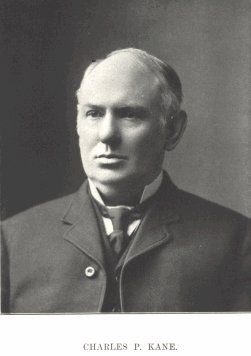 Page 416
HON. CHARLES P. KANE - Hon. Charles P. Kane, lawyer and judge, who has also figured in financial circles and in the public affairs of the city, was born in Springfield, December 15, 1850, his parents being Andrew J. and Caroline M. (Beers) Kane. Zachariah Beers, his great-grandfather on the maternal line, was a soldier of the Revolutionary war, serving as orderly sergeant in the Connecticut Militia, enlisting at the age of sixteen years. He also became a poet of considerable repute and the author of many patriotic songs which were popular during the administration of President Jefferson. Hon. Philo Beers, the grandfather, was a native of Woodbury, Connecticut, and was a member of the New York militia during the war of 1812. Subsequently he removed to Illinois and in 1825 served in the general assembly of this state, which met at Vandalia, then the state capital. He married Martha Stillman, a native of East Bloomfield, New York. They were the first white couple married within the present limits of Sangamon county and Mr. Beers erected the first brick dwelling house in the city of Springfield, at the corner of Fifth and Madison streets. The wedding was celebrated November 2, 1820, Stephen England officiating. As the minister had no suitable shoes to wear to the wedding he borrowed a pair of Indian moccasins from Evan Brittin, his brother-in-law. Just sixty-one years after this first wedding was celebrated C. P. Kane, grandson of Philo Beers, and the granddaughter of Evan Brittin, were married in the same county. The opportunities for providing a desirable feast at the original wedding were few. The family of the bride borrowed all of the flour in the neighborhood, but then did not have enough white flour to make cake, so corn bread was made and covered with icing.
Andrew Jackson Kane, father of Charles P. Kane, was a native of Guilford county, North Carolina, and was prominently identified with material improvement and of moral upbuilding of central Illinois. He assisted in building the first bridge over the Sangamon river in this county at Carpenter's mill in 1830. In 1842 he was ordained a minister of the gospel of the Christian church an was actively engaged in preaching for more than a half century. He died in 1896 when about eighty years of age. His wife, Mrs. Caroline M. Kane is the only surviving child of Philo and Martha (Stillman) Beers. She was born in Sangamon county, was a woman of superior intelligence and strong character and like her husband has had marked influence for good in the circle of society in which she has moved. She is a member of the Daughters of the American Revolution and is very active in social and religious affairs in Springfield. Further mention of Rev. Andrew J. Kane is made on another page of this volume.
After completing a course in the Springfield high school Charles P. Kane entered upon preparation for the legal profession as a student in the law office of the firm of Hay, Green & Littler. Following his admission to the bar when twenty years of age, Mr. Kane at once began the practice of law and has attained to a position of distinction at the Springfield bar. He served for three years as city attorney and in 1884 he was elected judge of the county court. On the bench his course fully sustained the dignity of the office, which is the conservator of the rights and liberties of men, and his record as a judge was in harmony with his record as a man and citizen - characterized by a masterful grasp of every question presented for solution and by unfaltering loyalty to duty. Upon his retirement from office he resumed the private practice of law and now has a large clientage of a distinctively representative character.
Aside from his profession his activities have been extended to other fields. For five years he was a member of the Springfield board of education and in 1892 he was a candidate of the Republican party for congress. He was connected with the Illinois National Bank at one time and aided in its organization. He is now a member of the board of supervisors of Sangamon county. Well known in social and fraternal circles, he is a member of the Sons of the American Revolution and has been grand commander of the Knights Templar of Illinois. The knowledge and culture which result from travel are his and supplementing strong intellectuality render him an entertaining companion.
On the 2nd of November, 1881, Mr. Kane was united in marriage to Miss Flora Brittin, of Springfield, Illinois, and they have three children living: Caroline M., Flora E. and Philo B.

---
Return to 1904 Biographies Index
Return to Sangamon County ILGenWeb
---