Sangamon County ILGenWeb © 2000
In keeping with our policy of providing free information on the Internet, data and images may be used by non-commercial entities, as long as this message remains on all copied material. These electronic pages cannot be reproduced in any format for profit or for other presentation without express permission by the contributor(s).
---
PAST AND PRESENT OF THE CITY OF SPRINGFIELD AND SANGAMON COUNTY ILLINOIS
By Joseph Wallace, M. A.
of the Springfield Bar
The S. J. Clarke Publishing Co., Chicago, IL
1904
---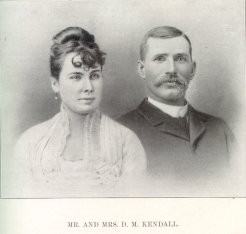 Page 292
DANIEL M. KENDALL, who is residing on section 17, Gardner township, is the owner of an excellent farm of one hundred and twenty acres, supplied with all modern equipments and accessories. He was born in the city of Springfield, November 29, 1853, and is a son of Benjamin Kendall, whose birth occurred in Kentucky in 1825. His paternal grandfather, John Kendall, was a native of Virginia and became one of the early settlers of Kentucky, whence he emigrated to Sangamon county, Illinois, in 1829, locating on a farm seven miles west of Springfield. Benjamin Kendall was reared to manhood in this county and wedded Nancy Taylor, a sister of Daniel Taylor, of Springfield. He then devoted his attention to agricultural pursuits in Sangamon and other counties of this state until 1865, when he removed to Jefferson county, Kansas. There he purchased a farm, upon which he spent his remaining days. His death occurred in March, 1879. His wife survived him for a number of years.
Daniel M. Kendall was the only son in a family of four children who reached mature years. He was reared in Sangamon county until twelve years of age and then accompanied his parents to Kansas, where he resided for ten years, returning to this county in 1875. His educational privileges were those afforded by the common schools and after arriving at years of maturity he engaged in teaching for eight years, following that profession for two years in the Sunflower state and for six years in Gardner township, Sangamon county, Illinois. On the expiration of that period, with the capital he had acquired through his own labor, he purchased the farm upon which he now resides and has since devoted his time and energies to the cultivation of his fields and to the raising of stock. His business interests have been successfully conducted, owing to his capable management and diligence, as well as his unflagging perseverance.
Upon this farm Daniel M. Kendall was united in marriage April 27, 1878, to Lulu M. Catlin, a native of Sangamon County and a daughter of Truman Catlin, one of the early settlers of this locality, who emigrated westward from Litchfield, Connecticut. Our subject and his wife began their domestic life upon the place which is still their home, and their union has been blessed with five children: Nellie, now the wife of Roy Pond, of Berlin, Illinois; Truman, Metella, Justina, and Donald, all at home.
In his political views Mr. Kendall is a stanch Jeffersonian Democrat, following in the political footsteps of his father and grandfather. Our subject cast his first presidential ballot for Samuel J. Tilden in 1876, and has supported each presidential nominee of the party since that time, with the exception of one occasion when he voted for Benjamin Harrison. He has never sought or desired office, yet he was elected to the position of justice of the peace, serving for four terms in that capacity. He is a friend of the cause of education, believes in hiring good and competent teachers and advancing the standard of the schools. For many years he has served on the school board and is now clerk of the district. Throughout the greater part of his life Mr. Kendall has resided in Sangamon county and has been a witness of much of its cultivation and growth, having seen the timber and brush cleared away in order that the land might be placed under the plow and developed into productive farms. He has also seen Springfield advance from a small village to one of the important cities of the central west. A man of unquestioned integrity and sterling worth, he has gained the warm esteem of all with whom he has come in contact and this regard is shared by his estimable wife.

---
Return to 1904 Biographies Index
Return to Sangamon County ILGenWeb
---