Sangamon County ILGenWeb © 2000
In keeping with our policy of providing free information on the Internet, data and images may be used by non-commercial entities, as long as this message remains on all copied material. These electronic pages cannot be reproduced in any format for profit or for other presentation without express permission by the contributor(s).
---
PAST AND PRESENT OF THE CITY OF SPRINGFIELD AND SANGAMON COUNTY ILLINOIS
By Joseph Wallace, M. A.
of the Springfield Bar
The S. J. Clarke Publishing Co., Chicago, IL
1904
---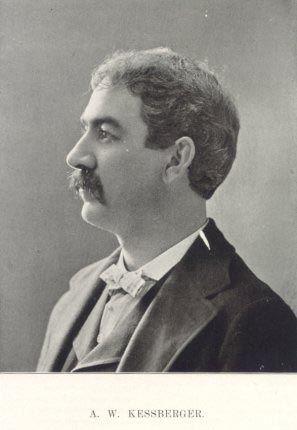 A. W. KESSBERGER. - A. W. Kessberger, ranking among the leading photographers of Central Illinois and conducting a studio in Springfield, was born August 6, 1862, in this city, his parents being August and Christiana (Hagedorn) Kessberger, both of whom were natives of Germany. The father was born in Weisbaden, Germany, October 21, 1835, and in 1853 he crossed the Atlantic to America. His wife was born in Arenheim on the Rhine, October 12, 1839, and sailed for the new world in 1854. They were married in Springfield on the 26th of September, 1861, and became the parents of the following named: A. W., of this review; William; George Philip; Edward; Bertha Lois; and Dorothy M. They lost two children, Clara and Henry.
Reared in the parents' home, A. W. Kessberger acquired his education in the public schools and in the high school of Springfield, but when in his senior year he put aside his textbooks. He was also for one term a student in the business college here. Choosing photography as a lifework, he studied under a well-known artist for about six years. He early displayed marked artistic talent, and when only fourteen years of age he made pen-and-ink maps for the Centennial Exposition at Philadelphia, on which he won first prizes, the size of the drawings being thirty-six by forty inches. He also has a picture which he made October 10, 1877, of an old castle on the Rhine and many evidences of his art adorn his home. In his boyhood days he was apprenticed to learn the blacksmith's trade with his father, but his desire for work along artistic lines and his evident talent therefore caused his parents to give him the opportunity of mastering photography, and this profession he has followed for many years. He was first connected in business with Mr. Halliday, under the firm name of Halliday & Kessberger, a relation that was maintained for ten years. He next entered into partnership with Victor George under the firm style of Kessberger & George, and they conducted their studio for five years. In August, 1902, Mr. Kessberger opened a studio at No. 419 and 421 East Adams street, where he has since been located. It is splendidly equipped with every modern accessory known to the photographic art. He has arrangements whereby he can take very large pictures or groups and he is continually studying along lines that have made marked advancement in his work until he stands today as one of the most able representatives of his chosen calling in central Illinois.
On the 21st of October, 1884, Mr. Kessberger was united in marriage to Miss Gussie Leona Hopkins, who was born at the old family home on the 16th of April, 1864, the thirteenth child of a family of fourteen children. She was educated in the public schools and is a daughter of Captain Caleb and Elizabeth (Dennis) Hopkins, mention of whom is made in this volume. Unto this union have been born five children: Minnie Leona, Mabel Irene, Elsie Christine, Clara Augusta and Lawrence August. This son is the only direct male descendant of the Kessberger name in America. The children are being provided with excellent school privileges and are also quite accomplished in music, inheriting taste and talent in this art from both the Hopkins and Kessberger families.
Mr. Kessberger is a member of the First Church of Christ, Scientist, and his children are believers in that faith. He belongs to the Masonic fraternity, in which he has attained to the Knight Templar degree, and he is also connected with the Independent Order of Odd Fellows and the Knights of Pythias. Prompted by laudable ambition and love of art, he has so directed his labor in the line of his profession that he stands today among the most prominent artists of his native city, and through his persistent and earnest effort he has won success that makes him one of the well-to-do residents of Springfield.

---
Return to 1904 Biographies Index
Return to Sangamon County ILGenWeb
---