Sangamon County ILGenWeb © 2000
In keeping with our policy of providing free information on the Internet, data and images may be used by non-commercial entities, as long as this message remains on all copied material. These electronic pages cannot be reproduced in any format for profit or for other presentation without express permission by the contributor(s).
---
PAST AND PRESENT OF THE CITY OF SPRINGFIELD AND SANGAMON COUNTY ILLINOIS
By Joseph Wallace, M. A.
of the Springfield Bar
The S. J. Clarke Publishing Co., Chicago, IL
1904
---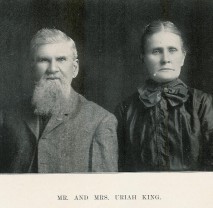 Transcribed by Mary Ann Kaylor
Page 1524
Uriah King, who is now living a retired life in Rochester, was born about a mile east of Riverton, August 20, 1842, a son of Thomas A. and Ann (Mann) King. His paternal grandparents were William B. and Annie R. (Greening) King, natives of Virginia, who became prominent pioneer setters of Sangamon county, the former being actively connected with the growth and development of this region. He died October 19, 1863, and his wife March 27, 1873. Their son, Thomas A. King, was born in Clark county, Kentucky, April 22, 1809, and after arriving at years of maturity he married Ann Mann, a daughter of Peter and Elizabeth (Gaterel) Mann. Thomas A. King arrived in Sangamon county in October, 1831, and settled on a farm three miles east of Springfield. Unto him and his wife, were born twelve children, of whom five died in childhood. Elizabeth, the eldest who reached mature years, became the wife of Anderson Todd, by whom she had ten children and their home is in this county. William died January 23, 1862, at the age of twenty-seven years. Melvin, who enlisted in July, 1862, as a member of Company I, One Hundred and Fourteenth Illinois Infantry, served for three years and was honorably discharged in August, 1865. He was married in Sangamon county, November 12, 1867, to Artemesia M. Tipps, who was born in Cobb county, Georgia, July 2, 1850. They have a family and live in Sumner, Kansas. Uriah is the next of the King family. John H. is deceased. Julia was married December 11, 1872, to John G. Turney, who was born in Northumberland county, Canada, July 27, 1844. Thomas A., Jr., completes the family. The father was a farmer by occupation and after following that pursuit for many years he retired to live in Riverton, Illinois, where his death occurred in October, 1885. For five years he had survived his wife, who died May 11, 1880.
Uriah King obtained a common school education and was reared to farm life. He has seen the county develop from a sparsely settled region to one of the densely populated districts of the state in which are found all the evidences of an advanced civilization in the various departments of life. He assisted in the work of the home farm until June 17, 1861, when, in Chicago, he enlisted in Company E, Twenty-fourth Illinois Infantry, for three years. He was wounded in the battle of Chickamauga, September 19, 1863 and the next day was captured by Texas Rangers. He endured all the hardships and horrors of the southern prisons - Richmond, Danville, Andersonville, Savannah, Millen, Thomasville, and was sent a second time to Andersonville, after which he was released March 25, 1865. He returned home by way of Vicksburg and St. Louis, to Springfield, where he arrived May 7, 1865, and on the7th of June was honorably discharged, his military service covering almost a year more than his term of enlistment.
On the lst of October, 1868, Mr. King wedded Miss Melvina Bailey, who was born in Sangamon county, March 17, 1850, a daughter of Daniel Bailey. His birth occurred in Hawkins county, Tennessee, September 7, 1824, a son of Thomas and Melvina (Moore) Bailey, who were natives of Virginia, and the former died in eastern Tennessee, in 1830, while the latter died in Sangamon county, Illinois, in 1862. Daniel Bailey was reared in a log house among the mountains of his native state. He was left fatherless at the age of six years and lived with his uncle, Wesley Ball, until his eighteenth year. He was then married to Barbara Jane Lawson, who was left an orphan at an early age and was reared in the home of a Baptist preacher. She was born September 28, 1823, at a place then called the New Purchase, in Tennessee. Her father's death was occasioned by a spear would received in the war of 1812. Mr. and Mrs. Bailey became the parents of eleven children: Mrs. King; Charles C., of Sangamon county, who married Minnie Havman and has one child; Mrs. Emma j. Mullbyhill, of Springfield, who has two children; Nettie B., the wife of Samuel B. Coe, of Rochester township; Mrs. Sarah Nesbitt, deceased; George, deceased; and four who died in infancy. In 1849 Mr. Bailey made his way down he Tennessee river to Chattanooga, thence by team to Nashville and on by boat to Keokuk, Iowa. From there he came to Sangamon county and spent a year on Round Prairie. In 1858 he bought a small farm in Clear Lake township, and July 25, 1862 he enlisted in the One Hundred and Fourteenth Illinois Infantry as second lieutenant. He was then promoted to first lieutenant, was in the siege of Vicksburg forty-seven days and in the battles of Jackson, Guntown and Tupelo. He led his command through Arkansas and Missouri in pursuit of General Price, was in the thickest of the fight at Nashville and Mobile, and although his clothing was pierced by bullets several times he escaped without a wound. Although sick, he never went to the hospital and was always ready to respond to the call for duty. In July, 1865 he was mustered out at Vicksburg, and was discharged at Camp Butler. Returning to Sangamon county, he was a worthy and respected citizen here for many years, and died February 26, 1898, while his wife passed away April 23, 1894. Both were members of the Baptist church.
Unto Mr. and Mrs. King have been born fourteen children: Julia Belle, the wife of Charles E. Martin, of Clear Lake township, by whom she has four children, Elsie M., Grace G., Melvina R. and Beulah; Marietta, who became the wife of William Foss and died January 21, 1901, leaving two children, Una Clair and Russell King Foss; Gertrude Jane, who was born in 1874 and is the wife of Thomas Bennett, Jr., by whom she has a son, Valmore King; Persis Ann, who is the twin sister of Gertrude and the wife of Frank Chandler, by whom she has three children, Daniel Harold, Hildred Gertrude and Mary Dorothy Chandler; Georgia Augusta, at home; Daniel Bailey, also in Rochester; Nettie L., the wife of John W. Woodruff, of Rochester, by whom she has one child, Vernon; Elizabeth Emma, who is a graduate of the Rochester school and now a teacher in this county; Thomas Roy, who died August 11, 1885, at the age of ten years; an infant who was born and died April 14, 1888; Tilly Beryl, Fred Uriah and Amelia Madeline, all at home.
The parents and their elder children are members of the Christian church. Mr. King has held the office of tax collector at different times in Clear Lake township and is a Republican in his political adherence. He belongs to Camp Butler Post, G.A.R., at Riverton, and deserves the gratitude which should ever be given to the old soldier who fought for the Union. For many years he continued farming, but now he is living retired in Rochester, enjoying a well earned rest form further labor.

---
Return to 1904 Biographies Index
Return to Sangamon County ILGenWeb
---