Sangamon County ILGenWeb © 2000
In keeping with our policy of providing free information on the Internet, data and images may be used by non-commercial entities, as long as this message remains on all copied material. These electronic pages cannot be reproduced in any format for profit or for other presentation without express permission by the contributor(s).
---
PAST AND PRESENT OF THE CITY OF SPRINGFIELD AND SANGAMON COUNTY ILLINOIS
By Joseph Wallace, M. A.
of the Springfield Bar
The S. J. Clarke Publishing Co., Chicago, IL
1904
---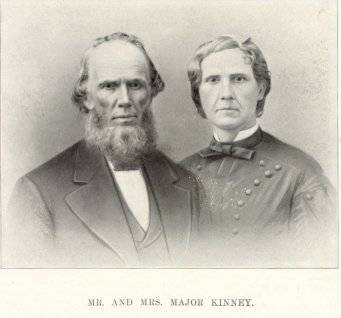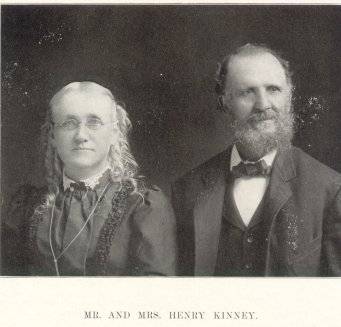 HENRY KINNEY. - One of the representative citizens of New Berlin township is Henry Kinney, who is successfully engaged in general farming, stock raising and dairying on section 35, his farm being a well improved and valuable tract of two hundred and forty acres, pleasantly located within a mile and a half of Loami. The greater part of his life has been passed in this state, for he is a native of Illinois, his birth having occurred in Greene county, on the 21st of November, 1844.
His father, Major Kinney, was born in Cazenovia, Erie county, New York, in 1809, and was a son of Henry Kinney, a native of the same county, where the family was established at an early day in the development of that region. In the spring of 1822 the grandfather of our subject brought his family to Illinois, and settled in Loami township, Sangamon county, where in the midst of the wilderness he opened up and improved a farm. He was a Baptist in religious faith and took a very active and prominent part in church work, services being held in his home before the erection of a house of worship in his locality. He continued to reside on the old homestead in this county throughout the remainder of his life and died honored and respected by all who knew him.
Major Kinney was a lad of about thirteen years when he accompanied his parents on their removal this state and in Sangamon county he grew to manhood and married Miss Sarah M. Pond, a native of Pennsylvania, who was born near the northern boundary of that state. The farm belonging to her father, Martin J. Pond, lay partly in Pennsylvania and partly in New York state. He, too, came west at an early day and took up his residence in Sangamon county, being one of the "snow bird," a name given to those who located here prior to the winter of the deep snow in 1830-31. After his marriage, Major Kinney removed to Greene county, Illinois, and after a short residence there went to Morgan county, locating at old Bethel, where he developed a farm from a wild tract. Later he removed to Concord, making his home there until called to his final rest in 1881. His wife still survives him, and is now eighty-two years of age. To this worthy couple were born five children, two sons and three daughters, namely: Julius M., who died at the age of sixteen years; Mrs. Dicie Farrar, a widow living in Osage county, Kansas; Amanda, who married and died some years ago; Henry, of this sketch; and Alice, who is still with her mother.
Henry Kinney passed his boyhood and youth upon the old home farm in Morgan county, and remained with his father until reaching man's estate, assisting in the operation of the land. In 1865 he went to Osage county, Kansas, where he was engaged in the raising of Osage orange plants for hedging purposes, and spent about three years in that locality. Returning to Morgan county, Illinois, he was married in 1868 to Miss Anna F. Hesser, who was born near Palmyra, Missouri, and was a daughter of George Hesser. Her father spent his last years in Jacksonville, Illinois, where he died of whooping cough at the age of sixty years. Unto Mr. and Mrs. Kinney were born two sons, but Ernest E. died at the age of twenty-six years. Willys H. died November 30, 1903, in Fort Meyers, Florida. Ten years before his death he married Miss Ella Beaver, who was reared near Springfield, and they had two children, Julius H. and Esther Eloise.
For three years after his marriage Mr. Kinney engaged in the operation of his father's farm in Morgan county, and then removed to Sangamon county, renting the old Kinney homestead for five years. For the following ten years he rented the Samuel Workman farm, and at the end of that time purchased his present farm of two hundred and forty acres on section 25, New Berlin township, to the cultivation and further improvement of which he has since devoted his time and attention. He has erected thereon a good, commodious residence, barn and outbuildings, has laid over three miles of tiling, has set out an orchard, and made many other useful and valuable improvements, which stand as evidence of his thrift and enterprise. Besides this fine piece of property Mr. Kinney owns an orange grove in Lee county, Florida, near the gulf of Mexico. He is a good reliable business man, progressive and energetic, and the prosperity that has come to him is well merited, it being but the just reward of honor, effort and untiring industry. Since casting his first presidential ballot for Abraham Lincoln in 1864, he has never failed in his allegiance to the Republican party. His wife, is a member of the Presbyterian church at Bates, and both are held in high regard by all who know them.

---
Return to 1904 Biographies Index
Return to Sangamon County ILGenWeb
---