Sangamon County ILGenWeb © 2000
In keeping with our policy of providing free information on the Internet, data and images may be used by non-commercial entities, as long as this message remains on all copied material. These electronic pages cannot be reproduced in any format for profit or for other presentation without express permission by the contributor(s).
---
PAST AND PRESENT OF THE CITY OF SPRINGFIELD AND SANGAMON COUNTY ILLINOIS
By Joseph Wallace, M. A.
of the Springfield Bar
The S. J. Clarke Publishing Co., Chicago, IL
1904
---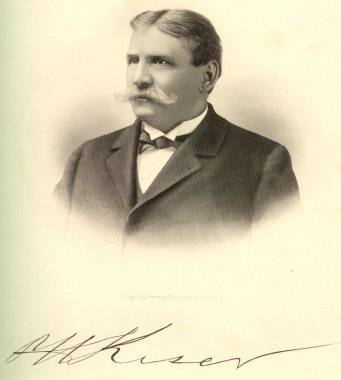 CAPTAIN PEARSON H. KISER. - A valuable farm of three hundred and seventy-five acres near Mechanicsburg is the property of Captain Pearson H. Kiser, one of the leading and influential agriculturists of Sangamon county, and an honored veteran of the civil war. He first came to this county in 1853, and is a native of Ohio, his birth having occurred in Shelby county, of the latter state, September 12, 1839. His father, Nicholas Kiser, is a native of Pennsylvania and was of German ancestry. In the Keystone state he was reared and when a young man he removed to Clark county, Ohio, where he was married to Margaret Kiser, a native of that state and a daughter of John Kiser, whose birth occurred in Germany, and who became one of the pioneer settlers of Ohio. Nicholas Kiser was a blacksmith by trade and followed that pursuit in early life in Cincinnati, Ohio, for a number of years. Later he removed to Shelby county, Ohio, where he worked at his trade and where his last years were spent, his death occurring there about 1842, when his son Pearson was only three years of age. His widow survived him for a number of years and carefully reared her family.
Captain Kiser attended the public schools of Ohio, but quite early in life he had to put aside his text books in order to provide for his own support. During the summer of 1853 he drove on the Miami canal, and when it was frozen over in the fall he went to Chicago, but did not remain long in that city, however. He then came to Mechanicsburg, Sangamon county, where he engaged in clerking in a grocery store for three years, after which he went upon the road as a traveling salesman for a jewelry business, being thus engaged for one year. In the summer of 1858 he worked in a machine shop at Dayton, Ohio, and then returned to Mechanicsburg, where in 1859 he and Cyrus Corell began the manufacture of corn planters. They disposed of all they made the following year and could have sold more had they had them. Captain Kiser next took up the study of law and at the same time became interested in patent rights, in which business he lost all that he had previously saved.
At the outbreak of the Civil War he was pursuing his legal studies, but laid aside all personal considerations and on the 7th of July, 1862, joined Company A of the Seventy-third Illinois Volunteer infantry, known as the preachers regiment. He enlisted as a private, but was promoted to the rank of second corporal, afterward to fifth sergeant, and subsequently became first lieutenant. The regiment was attached to the Army of the Cumberland, and was first under fire at Perryville, Kentucky. Later he participated in the engagements at Edgefield, Stone River, Cowan Station, Bridgeport and Chickamauga, and at the last named was wounded by a gunshot in the left shoulder. Being thus disabled he remained in the hospital at Nashville until granted permission to rejoin his regiment, with which he went to Knoxville to relieve General Burnside, spending the winter in that locality. His command thence returned to Cleveland, Tennessee, and from there went on to the Atlanta campaign, during which Captain Kiser was under fire every day. He took part in the siege that resulted in the surrender of the city of Atlanta, and afterward returned with his regiment to Chattanooga, thence proceeding to Mount Pulaski and participating in a slight engagement at Columbus. In the Atlanta campaign he was knocked down by a spent ball and quite seriously injured, but he managed to remain with his company. In the battle of Franklin he sustained another gunshot would in the back, and was sent to the Louisville hospital, where he remained for several months, when he returned to his regiment, then in eastern Tennessee. He was there in charge of a squad to protect the railroad, and continued in that service until the close of the war, when he returned to Blue Springs, thence marched to Knoxville and on to Nashville Tennessee. Later he was mustered out at that place and honorably discharged at Camp Butler. He made for himself a most creditable military record, never faltering in the performance of any duty, no matter into what service it led him.
Following his return from the war Captain Kiser engaged in buying and shipping stock. He afterward purchased a farm near Mechanicsburg of one hundred and forty acres, later added a tract of one hundred and seventy-five acres and subsequently bought one hundred and sixty acres in Cooper township. Throughout these years he continued farming and stock raising, and is today one of the leading representatives of this line of business in Sangamon county. He likewise has a business house and other property in Mechanicsburg, and that he has led an active and useful life is indicated by the fact that, although he started out with no capital, he is today the possessor of two valuable farms, a good home and other realty.
In 1867 Captain Kiser was united in marriage to Mrs. Mary Correll, a daughter of James Brown of Pike county, Illinois. There are two children by this union. Ned L., a well educated young man, was graduated at Eureka College, after which he studied law for two years and held the position of justice of the peace in this county for eight years. He is now occupying a responsible position in Stamps, Arkansas. Ethel is the wife of Jacob Hall, a teacher of mechanicsburg. Mrs. Kiser had a daughter by her first marriage, who is now Mrs. Cora Lee Ragland.
Politically Captain Kiser is a stanch Democrat, having upheld the party since casting his first presidential ballot for Stephen A. Douglas in 1860. He has served on the school board for many years, and was also police magistrate for twenty-eight years. He has, however, never been an aspirant for political honors, preferring to devote his energies to his private business interests. In the Masonic fraternity he is well known, having become a Master Mason in the lodge of Mechanicsburg, in which he has filled all of the chairs, being now a past master. He is a man of excellent business capacity, enterprising and progressive, and is well known in Springfield and the southern part of the county. In matters of citizenship he is as loyal to his country as he was when he followed the old flag upon southern battlefields.

---
Return to 1904 Biographies Index
Return to Sangamon County ILGenWeb
---