Sangamon County ILGenWeb © 2000
In keeping with our policy of providing free information on the Internet, data and images may be used by non-commercial entities, as long as this message remains on all copied material. These electronic pages cannot be reproduced in any format for profit or for other presentation without express permission by the contributor(s).
---
PAST AND PRESENT OF THE CITY OF SPRINGFIELD AND SANGAMON COUNTY ILLINOIS
By Joseph Wallace, M. A.
of the Springfield Bar
The S. J. Clarke Publishing Co., Chicago, IL
1904
---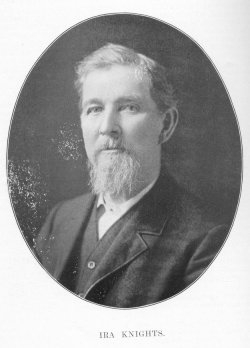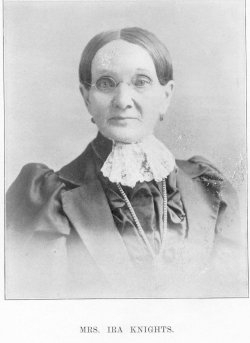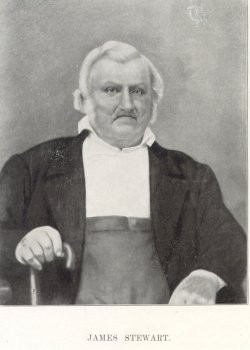 Page 566
IRA KNIGHTS - It was on the 28th of September, 1850, that Ira Knights took up his residence in Sangamon county and for many years he has been actively connected with its farming interests and is still the owner of a fine place of three hundred acres in Williams township, but he now leaves the operation of the farm to younger hands, while he lives retired, enjoying a well earned rest. He is widely and favorably known throughout the county and is familiarly called Uncle Ira by his many friends.
A native of New York, Mr. Knights was born in St. Lawrence county, on the 6th of February 1833, and is a worthy representative of a good old New England family. His father, John Knights, was born in Vermont in 1808, and was a son of Eli Knights, who was a native of the same state and died when John was a lad a of six years. The latter grew to manhood in St. Lawrence county, New York, and there married Adeline Perrin, who was born in the Empire state. Being a blacksmith by trade, he followed that occupation in early life, but after coming to Illinois in 1851 he gave his attention to farming, first in Sangamon county and later in Champaign county, where he passed his last years, dying there in 1895. His wife departed this life the following year. This worthy couple were the parents of nine children, all born in St. Lawrence county, New York. Four sons reached mature years and are still living, namely: Luman, a resident of Champaign county; William, of Farmer City, Illinois; Charles, of Rantoul, this state; and Ira, of this sketch.
Ira Knights spent the first eighteen years of his life in his native county and received good educational advantages. As previously stated, he came to Sangamon county, Illinois in 1850, and for one year worked on a farm by the month. He then engaged in farming on his own account, operating rented land for several years, and after his marriage had charge of the Stewart place for a number of years. In 1881 he rented the farm and removed to Williamsville, where he erected a commodious and pleasant residence, and here he has since lived retired.
On the 30th of January, 1873, Mr. Knights was united in marriage to Miss Roxana Stewart. She is a daughter of James Stewart, who was born in Washington county, New York, September 28, 1777, and was married in that state. Coming to Sangamon county, Illinois, in 1820, he entered from the government the land now owned by Mr. Knights and upon that place spent over half a century. He was in very feeble health during his last years, but was tenderly cared for by his daughter, Mrs. Knights, and with her he made his home until called to his final rest on the 16th of April, 1872, at the extreme old age of ninety-five years.
Mr. and Mrs. Knights are both members of the Christian church, with which she has been connected since the winter of 1836-7, and has ever taken an active interest in church work. In his political views Mr. Knights is a pronounced Republican and supported Abraham Lincoln when a candidate for the legislature. His first presidential vote was cast for Millard Fillmore. He has taken quite an active part in local politics; served four years on the central committee; and has been a delegate to state and congressional conventions. For twenty-five years he served as township school trustee and was a member of the village board for ten years. His opinions have carried weight in councils of his party and he has used his influence to promote the best interests of his town and county. For two years he served as president of the Farmers' Institute. After a useful and honorable career, he can well afford to lay aside all cares and spent the remainder of his life in ease and quiet.

---
Return to 1904 Biographies Index
Return to Sangamon County ILGenWeb
---