Sangamon County ILGenWeb © 2000
In keeping with our policy of providing free information on the Internet, data and images may be used by non-commercial entities, as long as this message remains on all copied material. These electronic pages cannot be reproduced in any format for profit or for other presentation without express permission by the contributor(s).
---
PAST AND PRESENT OF THE CITY OF SPRINGFIELD AND SANGAMON COUNTY ILLINOIS
By Joseph Wallace, M. A.
of the Springfield Bar
The S. J. Clarke Publishing Co., Chicago, IL
1904
---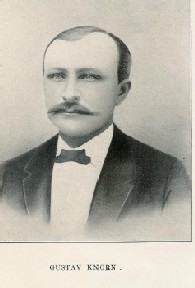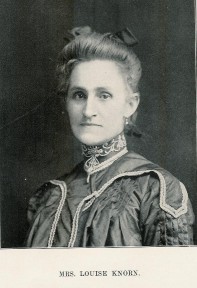 Transcribed by Mary Ann Kaylor
Page 1604
Gustav Knorn, who for many years was well known in business circles in Springfield as a dealer in groceries, contributed to the prosperity and upbuilding of the city, which always depends upon its commercial activity and enterprise of its individual citizens. He was a native of Germany, born on the 21st of May, 1848, and was a son of Gustav Knorn, who has spent his entire life in Germany, where he held various city positions. He is now retired at his old home in that country and has reached the advanced age of eighty-eight years. His wife, however, passed away in 1902.
Gustav Knorn of this review was the only one of the family that ever came to America. On his arrival in New York city he made his way direct to Chicago, shortly after the big fire, and there he began earning his living by working in a foundry, having a natural taste for iron work. At the same time he attended night school there and acquired a good education. When the state capitol was erected in Springfield he was sent to this city to assist in the construction of the iron work on that building and was much pleased with Springfield and its prospects. Soon, however, he returned to Chicago, and worked in a foundry there until 1877.
In that year Mr. Knorn was married in Chicago to Miss Louise Diefenbach, a native of Lancaster, Pennsylvania, and a daughter of Ferdinand and Mary (Seibert) Diefenbach, the former of Pennsylvania and the latter of Germany. Her father resided in the Keystone state until 1859, when he removed to Springfield, where he was engaged in the saloon business for some time. He afterward turned his attention to farming, which he followed for a few years and subsequently he began dealing in wood, hay and coal, following that pursuit until his death, which occurred in 1888. His wife passed away October 19, 1891. After his marriage Mr. Knorn removed at once to Springfield and established a saloon on North Second street, but remained there for only a brief period, after which he sold his property and purchased a business block at the corner of West Carpenter and Rutledge streets. There he conducted both a grocery and saloon, continuing in the business until his death, which occurred on the 16th of March, 1891, when he had reached the age of forty-three years, ten months and five days. He was an enterprising business man, alert and progressive, and he put forth every effort in his power to advance his business interests and win success for himself and family. As the years have passed he built up a very good trade and his energy and perseverance were thus crowned with a substantial financial return.
Unto Mr. and Mrs. Knorn were born three children: Ferdinand, who married Minnie Blakesly and resides in Springfield, where he is occupying the position of bookkeeper in Alfred Booth's grocery store; William, who resides with his mother and is employed by the Pacific Express Company; and John, who makes him home with his mother and has a good position in Springfield as a stationary engineer.
Mr. Knorn was a supporter of the Democratic principles, but did not consider himself bound by party ties and often cast his ballot for the candidates for office regardless of party affiliations. He was a member of the Foresters' Society of Chicago, and both he and his wife were consistent members of the English Lutheran church of Springfield. After her husband's death, Mrs. Knorn continued the business until 1900, when she sold out. She has since disposed of all her property, save her pleasant home at No. 305 West Carpenter street, where he and her two sons are now living.

---
Return to 1904 Biographies Index
Return to Sangamon County ILGenWeb
---