Sangamon County ILGenWeb © 2000
In keeping with our policy of providing free information on the Internet, data and images may be used by non-commercial entities, as long as this message remains on all copied material. These electronic pages cannot be reproduced in any format for profit or for other presentation without express permission by the contributor(s).
---
PAST AND PRESENT OF THE CITY OF SPRINGFIELD AND SANGAMON COUNTY ILLINOIS
By Joseph Wallace, M. A.
of the Springfield Bar
The S. J. Clarke Publishing Co., Chicago, IL
1904
---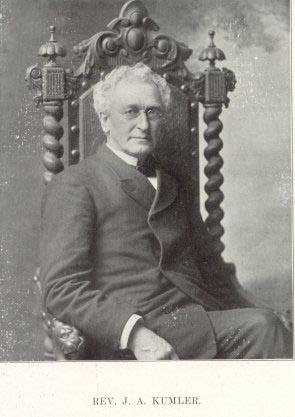 REV. JOHN A. KUMLER, D.D. - Rev. John A. Kumler is a son of Michael and Nancy (Beam) Kumler and his parents, descended from worthy ancestry. The family originated in Switzerland and in that country as well as in America representatives of the name were prominent as leaders in education, the ministry and in official life. For more than fifty years different Kumlers have held important offices in Switzerland, including that of governor or chief of the canton of Basel, while in this country they have been ministers, bishops or distinguished professional men, and different industries have likewise found them skilled workmen in wood, iron, brass, gold, coal, stone, earth, wool and also in the various kinds of factories where mechanical principles are continually brought into play. Rev. Kumler comes from a long lived ancestry on both the paternal and maternal side. In the record of the latter line we find mention of several who were centenarians or had passed the age of one hundred at the time of death. The mother of John A. Kumler is still living on the old homestead at the age of ninety-four years and is enjoying good health.
John A. Kumler was born in Butler county, Ohio, April 20, 183i, and was reared on the farm where the mother still resides. The home was noted for its hospitality and ministers always found there a place of entertainment, hardly a week passing when some preacher of the gospel was not heartily welcomed there. This same spirit has also been a dominant quality at the fireside public schools such as were then common, when the rod as well as the text books were considered a necessary element of education. When seventeen years of age he attended a select school for three months and during that period there came upon him a thirst for collegiate work, which he afterward found opportunity for gratifying. He prepared for a classical course of study which he pursued in Otterbein University, of Westerville, Ohio, being graduated with the degree of Bachelor of Arts in 1862. He next entered the law department of the State University of Michigan at Ann Arbor, where he was graduated with the degree of LL.B. in 1864, and thus prepared for the bar he entered upon the practice of his profession in Danville, Illinois, where he remained for about five years, during which time he served as city attorney for two years. He practiced with success in the courts of Vermilion, Ford and Champaign counties, being largely engaged with chancery cases in the settlement of estates, partitions of lands and the settlement of titles and mortgages. He also represented the collecting agency and reporting department of R. G. Dunn & Company for Vermilion county for three years or until he retired from the practice of law to enter the ministry.
In 1865 his alma mater had conferred upon him the degree of Master of Arts, and in 1896 he received the degree of Doctor of Divinity from the Illinois Wesleyan University. He is a member of the Illinois Annual Conference of the Methodist Episcopal church and has held prominent places in the church, having served as presiding elder and as a member of the general conference in 1896 and again in 1900. He has been a member of the joint board of trustees of the Illinois Wesleyan University for the last twenty-five years and for ten years has been a trustee of the Walden University, at Nashville, Tennessee. He was chancellor of the Illinois Wesleyan University for three years and thus he has labored for the spread of Christian education, while at the same time he has carried on his work in connection with the ministry, his influence being of no restricted order.
Mr. Kumler possessed excellent business and executive ability, which enters into his church work as well as his secular affairs. He successfully manages two farms and he was for three years the proprietor of the Springfield News, a daily paper of marked political, municipal and public business enterprise. He was the projector of the Domestic Missionary and Church Aid Society of his conference and had the same incorporated to aid weak churches and to start systematic religious work in neglected places in his conference. This society is proving of great benefit in supplying the funds to meet pressing necessities. Dr. Kumler has been especially successful in raising money for church and college debts, his work for the Kumler Methodist Episcopal church of Springfield and the Illinois Wesleyan University, at Bloomington being notable examples thereof.
On the 20th of April, 1864, Dr. Kumler was married to Miss Susan A. Meharry, a daughter of Hugh Meharry, Esquire, of Montgomery county, Indiana, who was well known as a philanthropist and one of the founders of the Meharry Medical, Dental and Pharmaceutical College at Nashville, Tennessee, which is now the largest professional college for colored people in the world. It is now a part of the Walden University at Nashville, Tennessee, and Mr. Kumler is deeply and actively interested in its work. His wife died in Springfield, Illinois, December 19, 1900, leaving two children, Hon. Harry A. Kumler and Mrs. Mary K. Anderson, the wife of the manager and editor of the Springfield News. Mr. Anderson received the appointment under President Roosevelt in April, 1904, as consul to Hong Chow, China. Mr. Kumler gives his support politically to the Republican party, having voted for Abraham Lincoln, and, to use his own words, kept it up ever since. He is a member of the Junior Order of Mechanics.

---
Return to 1904 Biographies Index
Return to Sangamon County ILGenWeb
---