Sangamon County ILGenWeb © 2000
In keeping with our policy of providing free information on the Internet, data and images may be used by non-commercial entities, as long as this message remains on all copied material. These electronic pages cannot be reproduced in any format for profit or for other presentation without express permission by the contributor(s).
---
PAST AND PRESENT OF THE CITY OF SPRINGFIELD AND SANGAMON COUNTY ILLINOIS
By Joseph Wallace, M. A.
of the Springfield Bar
The S. J. Clarke Publishing Co., Chicago, IL
1904
---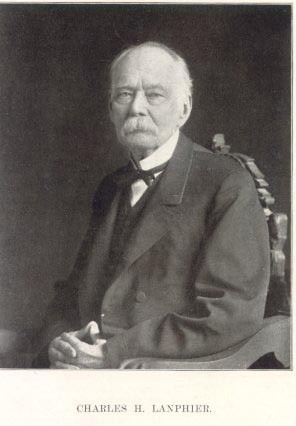 CHARLES H. LANPHIER - (By Joseph Wallace.) - Charles Henry Lanphier, the subject of the present writing, was for more than sixty years a prominent and influential resident of the city of Springfield. He was born in Alexandria, Virginia, April 14, 1820, and came of French-Huguenot lineage. His parents, Robert Goin and Elizabeth (Sears) Lanphier, were both natives of Alexandria, and his grandfather, Goin Lanphier, was one of the early settlers of that old town. Goin Lanphier was by occupation a contractor and builder, which business his son, Robert also pursued. He was of Irish birth, having come to Virginia as an infant with his father, Thomas Lanphier, in 1732, from County Cork, Ireland, where the family had settled on quitting France about the year 1650. Upon his arrival in America, Thomas Lanphier first located at Accomack, Virginia, and afterward at Port Tobacco, Maryland. After his death, in 1742, the family settled in Alexandria, then a place of considerable importance for trade.
In 1824, when Charles H. Lanphier was four years old, his father removed with his family to Washington, D.C., where the son passed his early years and received a good English education in the private schools of that city. In May, 1836, at the age of sixteen, young Lanphier came to Illinois with his brother-in-law, William Walters, who in February of that year had begun the publication of the Illinois State Register at Vandalia, then the capital of the state. Mr. Walters was a native of Wilmington, Delaware, and for some years was a journeyman printer in Washington and foreman in the office of the National Inteligencer. During the session of the Illinois legislature of 1836-37 he was elected to the office of state printer, and the Register thus became the official paper of the state. Mr. Lanphier entered the establishment of Mr. Walters as an apprentice to the printing business, and when the printing office was removed to Springfield, in the fall of 1839, he came hither with it. After completing his apprenticeship he continued his connection with the paper as a compositor, clerk or reporter until 1846. At the time of the removal of the State Register to Springfield, George R. Weber, who, with John L. Roberts, had established the Illinois Republican here, in 1835, discontinued the publication of that paper and purchased an interest in the Register, which was thereafter edited and published jointly by Messrs. Walters and Weber until 1845, when Mr. Weber sold his interest to Mr. Walters. In the spring of 1846, when war was declared with Mexico, Mr. Walters leased the Register office to Charles H. Lanphier and enlisted as a private in the Fourth Regiment (Colonel Baker's) of Illinois Volunteers, being afterward appointed commissary. He, however, did not live to reach the front, but was taken sick and died at Jefferson Barracks before the departure of his regiment for the seat of war. On the death of Mr. Walters, Mr. Lanphier became proprietor of the Register and continued its publication. At the next session of the legislature (1846-47) he was elected public printer, being the last person to fill that office under the old state constitution. In 1847 he associated himself with George Walker and the Register was thenceforth published by Lanphier & Walker until January 1, 1858, when their partnership was dissolved by mutual consent.
George Walker was born in 1820, at Peacham, Vermont, and obtained his early education in that state. In 1836 he removed with his parents to Belvidere, Illinois, of which town his father was the original proprietor. He studied law with his brother-in-law, Ebenezer Peck, and was admitted to the bar, but never practiced. Subsequently he was appointed a deputy clerk under Mr. Peck, of the state supreme court, and served in that capacity until he became connected with the State Register. Mr. Walker was a fine scholar, a polished writer and an amiable gentleman. After retiring from the Register he engaged in no regular business and died a bachelor at the residence of Mr. Lanphier in February, 1864.
Upon the retirement of Mr. Walker, Edward Conner was associated with Mr. Lanphier in the publication of the Register until June 10, 1859. From that time forward Mr. Lanphier continued the publication of the paper alone until the autumn of 1863, when he sold the establishment to a printing company, of which George Judd was the business manager. Thus ended, after the lapse of twenty-seven years, Mr. Lanphier's connection with the Illinois State Register. During that extended period he was for ten or more years a leading member of the Democratic state committee, and through his paper was a potent factor in shaping and directing the policies of the Democratic party in Illinois. As a practical politician and party manager he was a strict disciplinarian. A contemporary and intimate friend of Stephen A. Douglas through almost his whole public career, Mr. Lanphier was an earnest champion of the senator's political course, sharing his confidence and commanding his highest esteem. Mr. Douglas sought and received the advice of Mr. Lanphier on all important political questions, and perhaps relied to a greater extent upon his judgment respecting party matters than on that of any other man of the state.
As editor of the State Register Mr. Lanphier was bold and fearless in expressing his views of men and principles. His ready perception enabled him to judge almost unerringly of the motives of men, and while respectful to honest opponents, he was unsparing in his criticism of those whom he believed to be unprincipled or corrupt. His integrity was unquestioned. His style as a writer was terse and pointed. What he desired to say he said plainly, without prolixity or circumlocution. In fine, his entire editorial career was able and consistent as his private life was upright and honorable. During all the years of his active life Mr. Lanphier was intimately acquainted with most of the public men of the state of Illinois and was influential in securing the adoption of many measures concerning the upbuilding and development of this state; and few men of his day had a better knowledge or insight of affairs than he.
Mr. Lanphier was not only an alert and capable leader in party politics, but he also took great interest in municipal affairs and in all enterprises having for their object the building up of the city. He was a member of the city council of Springfield for a number of years - from 1854 to 1858, and 1862 to 1864 - and was instrumental in the passage of much important city legislation and in organizing the existing system of public schools. During his period of service as an alderman, he took the initiative in the establishment and laying out of Oak Ridge cemetery and afterward served for several years as a member of the Oak Ridge board. He also gave special attention to the opening and extension of Grand avenue along the corporation line around the city - a total length of eight miles.
When the war of the Rebellion was precipitated in the spring of 1861, Mr. Lanphier subordinated his partisan predilections and opinions to the higher demands of patriotism and in his paper took decided ground in favor of preserving the Union and of upholding the national government in the maintenance of its just authority. In May of that year, he was appointed by Governor Yates one of the three members comprising the board of army auditors, to audit claims against this state in connection with the war. In November, 1864, Mr. Lanphier was elected to the then lucrative office of clerk of the circuit court of Sangamon county and filled the position so acceptably that he was re-elected in 1868. During his eight years incumbency of that office, his chief deputy was the late James A. Winston, and his deputy recorder was Daniel O'Crowley. In 1872 Mr. Lanphier was nominated as the Democratic candidate for state treasurer, but was defeated in the election with his whole party ticket.
In February, 1886, on occasion of the fiftieth anniversary of the State Register, Mr. Lanphier contributed an interesting article entitled "Register Reminiscences: in which he paid handsome tributes to William Walters and George Walker, two of his former associates in the publication of that paper. Having acquired a competency, mr. Lanphier retired a number of years ago from all active business pursuits, and subsequently lived a quiet life, surrounded by his children and grandchildren. When burdened with the weight of more than four-score years, he was still well preserved in appearance with an erect figure, a strong, intellectual face, and the manner and bearing of a well bred gentleman.
From the foregoing summary of his personal and public career, we turn to speak of his domestic relations. On the 25th of February, 1846, Charles H. Lanphier was joined in marriage to Margaret Taylor Crenshaw, of Gallatin county, Illinois. Mrs. Lanphier was born December 4, 1827, at Equality in that county, and was the daughter of John Hart and Francine (Taylor) Crenshaw, the former a native of North Carolina and the latter of Virginia. The Crenshaws first settled at New Madrid, Missouri, but being compelled to remove from that locality by the earthquake of 1811, they took up their residence in Gallatin county, Illinois. After a serene wedded life of forty-three years duration, Mrs. Lanphier died October 24, 1889, in the sixty-second year of her age. She had long been an invalid and a sufferer, but bore her suffering with Christian patience and fortitude. She was a superior woman intellectually and possessed much original force of character; was a true wife, a devoted mother and a generous sympathizing friend. Mr. and Mrs. Lanphier had born until them seven children, five of whom are living, namely: Robert G., a farmer residing on the old Crenshaw homestead in Gallatin county; John C., a prominent lawyer of Springfield; Charles H., Jr., an electrician; Francine E., wife of Hon. James W. Patton, and Margaret C., wife of George W. Chatterton, of Springfield. William died at the age of fifteen, and Anna at the age of seventeen years. Fourteen grandchildren and two great-grandchildren also survive him.
Mr. Lanphier was devotedly attached to his family and children. He delighted to have them around him and in his last illness often expressed the pleasure and comfort it gave him to have them with him. But the end of his long pilgrimage was now at hand. He had been in failing health for some time, though his final illness was not protracted. He died at his home on South Seventh street, in this city, at six o'clock on the morning of March 19, 1903, aged eighty-two years, eleven months and four days. In the presence of those he loved so well, he calmly and peacefully passed from this life to the life beyond. The funeral of Mr. Lanphier was held at the residence in the afternoon of the 20th of March, and was very generally attended, especially by the older citizens of Springfield. The religious services were conducted by the Rev. Dr. W. N. McElroy, of the Methodist Episcopal church. The officiating pall bearers were sic grandsons of the veteran editor, and his mortal remains were tenderly deposited in the family lot at Oak Ridge cemetery. May he rest in peace.

---
Return to 1904 Biographies Index
Return to Sangamon County ILGenWeb
---