Sangamon County ILGenWeb © 2000
In keeping with our policy of providing free information on the Internet, data and images may be used by non-commercial entities, as long as this message remains on all copied material. These electronic pages cannot be reproduced in any format for profit or for other presentation without express permission by the contributor(s).
---
PAST AND PRESENT OF THE CITY OF SPRINGFIELD AND SANGAMON COUNTY ILLINOIS
By Joseph Wallace, M. A.
of the Springfield Bar
The S. J. Clarke Publishing Co., Chicago, IL
1904
---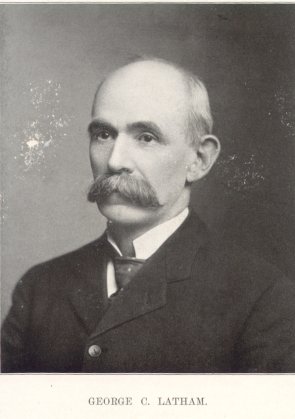 GEORGE CLAYTON LATHAM. - George Clayton Latham, who is engaged in the real estate and loan business in Springfield, represents one of the oldest families of central Illinois. His paternal grandfather, James Latham, was born October 25, 1768, in Loudoun county, Virginia, and was of English parentage. When a young man he emigrated to Kentucky and was there married June 21, 1792, to Miss Mary Briggs, whose birth occurred February 3, 1772, in Virginia, and who was of Scotch descent. Nine children were born unto them in Kentucky and they afterward removed to Illinois, settling in what was Elkhart Grove, near Elkhart, Logan county, although at that time the district formed a part of Sangamon county. They took up their abode there in 1819 and Mr. Latham and his son Richard built a mill at Elkhart in 1823 that was operated by horse power. It was the first mill north of the Sangamon river, the nearest one up to that time being at Edwardsville, more than one hundred miles to the south. When Sangamon county was organized James Latham was appointed Judge of the probate court, becoming the incumbent in that office on the 27th of May, 1821. He was also justice of the peace and was very prominent and influential in public affairs in pioneer days, aiding largely in shaping the early development and progress of his adopted state. After he had served for a year or two as judge of the probate court of Sangamon county he was appointed by the United States Government to superintend Indian affairs around fort Clark and not long afterward he removed his family to that fort, making the place his headquarters. The town of Peoria was laid out on land which included the fort. There Judge Latham continued to reside until called to his final rest on the 4th of December, 1826. His widow afterward returned with her family to Elkhart Grove, Logan county, where she passed away. Of the nine children born unto this worthy couple Elizabeth, the eldest, became the wife of James W. Chapman, of Kentucky, and both died at Elkhart Grove, Illinois; Lucy married Grant Blackwell and died in Kentucky; Richard was twice married, his first wife being Emily Hubbard, while his second union was with Mrs. Mary Broadwell, nee Stephenson, and he had thirteen children, and has now passed away; Mary L. became the wife of John Constant; Philip C., was the father of our subject; Nancy was the sixth of the family; Maria became the wife of A. Constant and is deceased; John married Lucy Bennett; Robert B. was twice married, his first union being with Georgiana Gillette, who died in 1853. For his second wife he chose Savilla Wyatt. He was elected sheriff of Logan county in 1850 and represented his district in the Illinois legislature in 1861-2. He then raised a regiment for service in the Civil war and became colonel of the One Hundred and Sixth Illinois Volunteer Infantry, with which he served for twenty months and then resigned on account of impaired health.
Philip Clayton Latham, the father of George Clayton Latham, was born in Bowling Green, Kentucky, January 25, 1804, and accompanied his parents on their removal to Elkhart Grove, Illinois, in 1819. In February, 1827, he entered the office of the county clerk at Springfield, serving under C. R. Matheny. He remained in that position for eight years and was afterward engaged in land speculating. In Springfield on the 15th of May, 1831, he married Miss Catherine Rue Tabor, who was born February 25, 1812, in Champaign county, Ohio, and was also one of the "snow birds." She was one of the most popular ladies of Springfield in early days, her home being the center of a cultured society circle. Unto Mr. and Mrs. Latham were born six children, one of whom died in infancy while five reached mature years. Mary Ellen became the wife of Dr. Alexander Halbert and died June 26, 1900, leaving one child, Katharine Todd, who married William W. Fondey. Julia Maria is the wife of Benjamin Drake Magruder, who is a native of Baton Rouge, Louisiana, and is now living in Chicago, being one of the justices of the supreme court of the state of Illinois. Two children were born to them: Ella, who died at her home in Chicago after reaching maturity, and Harry Latham, who is still living. William Henry enlisted for three years in company B, One Hundred and Fourteenth Illinois Infantry. He was elected a first lieutenant at the organization of the regiment and was afterward promoted to adjutant. He died in December, 1863, of disease contracted in the army. George Clayton, born May 16, 1842, is the fourth of the family. Philip Clayton died suddenly February 16, 1871. He married Lucy George, of Canada, and left one child. Henry Irwin resides in Phoenix, Arizona. Our subject's father was killed by lightning near Shawneetown, Illinois, May 25, 1844, while returning from a visit to his sister in Kentucky, and his widow, who survived him for many years, died May 5, 1889. She made her home in a dwelling which was erected by her husband in 1838 and is now the Prince Sanitarium at the corner of Seventh and Capitol avenue.
George C. Latham, whose name introduces this record, acquired his early education in what was then the Illinois State University at Springfield, where he was a schoolmate of Robert T. Lincoln, the son of the martyred president. After leaving that institution the two young men attended Phillips Exeter Academy in New Hampshire, and subsequently Mr. Lincoln entered Harvard, while Mr. Latham became a student at Yale, where he spent two years. He entered upon his business career as a shoe merchant of Springfield under the firm style of Latham & Company and conducted the enterprise with success for a number of years. Later he engaged in the stove and furniture business with his father-in-law, John W. Priest, the connection being continued for fifteen years or until the time of Mr. Priest's death. Subsequently Mr. Latham owned an interest in the business of the Springfield Carpet Company for four years and then sold out, turning his attention to the real estate and loan business, in which he has since been engaged, maintaining an office in the Latham building at No. 519½ East Washington street on the north side of the square. He is thoroughly reliable in all of his business transactions, paying the strictest regard to commercial ethics, and among the representative business men of the city he occupies a high position, receiving the trust and respect of all with whom he has been associated.
On the 2d of October, 1867, Mr. Latham was united in marriage to Miss Olive L. Priest, a daughter of John W. Priest, who is represented elsewhere in this work. By this union four children were born. Olive Priest, born September 2, 1868, is the wife of Stuart Broadwell, whose sketch also appears in this volume. Mary Magruder, born September 6, 1870, died January 9, 1892. She was one of the most popular young ladies of Springfield at the time of her demise and had a host of friends, being a splendid entertainer and of a jolly disposition. She was an excellent horsewoman and very fond of athletics. John Priest, born January 31, 1875, was graduated at the Springfield high school and is now engaged in agricultural pursuits, operating his own land in Springfield township. He is a member of the Sangamo Club, a leader in social circles, and as a Republican takes an active part in politics. Georgie Clayton, born September 8, 1882, is at home and is also a favorite in society. The two oldest daughters attended the public schools of Springfield and Monticello Seminary at Godfrey, Illinois. The youngest was a student in the high school of Springfield and also attended the Mary Baldwin Seminary in Virginia and spent one year at Lasell Seminary near Boston, Massachusetts. Mrs. Latham, who was a graduate of the Springfield high school and a woman of literary tastes, took an active interest in educational matters and was very prominent in social circles and active in church work. She passed away September 9, 1882, beloved by her family and all who knew her.
Mr. Latham has many vivid impressions of early events in Springfield and Sangamon county and can remember the city when much of the district now included within the corporation limits was covered with grass and was crossed by many sloughs. The work of progress and improvement, however, has been carried steadily forward. At times the fiery element has destroyed business blocks, but these have been replaced by more substantial and modern ones and the growth of Springfield has been continuously promoted along safe and substantial lines. Mr. Latham has ever taken a deep and sincere interest in community affairs and has been a co-operant factor in many measures that have contributed to the general good. His political support has always been given the Republican party and he cast his first vote for Abraham Lincoln. He accompanied the president to Washington as an invited guest of the inaugural party and remained at the White House for over a week, being present at the inauguration and participating in the inaugural ball and all the public dinners and functions that took place at that time. It might be mentioned here as a matter of history that owing to the troubled condition of the times at Baltimore it was deemed advisable for the president elect to enter the city of Washington without any display. He left the inaugural party at Harrisburg and proceeded to Washington accompanied by Colonel Ward H. Lamon. In his fraternal relations Mr. Latham is a Mason and has attained the Knight Templar degree. His life has been in harmony with the beneficent spirit of the craft and in Masonic circles as well as in social, business and political ranks he is held in the highest esteem, respected by all for his manly character and many excellent traits.

---
Return to 1904 Biographies Index
Return to Sangamon County ILGenWeb
---