Sangamon County ILGenWeb © 2000
In keeping with our policy of providing free information on the Internet, data and images may be used by non-commercial entities, as long as this message remains on all copied material. These electronic pages cannot be reproduced in any format for profit or for other presentation without express permission by the contributor(s).
---
PAST AND PRESENT OF THE CITY OF SPRINGFIELD AND SANGAMON COUNTY ILLINOIS
By Joseph Wallace, M. A.
of the Springfield Bar
The S. J. Clarke Publishing Co., Chicago, IL
1904
---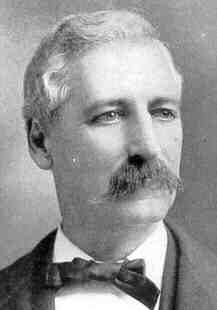 Richard Lathrop
RICHARD LATHROP - Richard Lathrop, now deceased, was born in Newark, New Jersey, May 17, 1839, and was descended from French ancestry. The common schools afforded him his educational privileges, and after putting aside his text books he served a three years apprenticeship to the harness-maker's trade and subsequently followed that pursuit as a journeyman for about five years. In 1868 in Newark, New Jersey, he was united in marriage to Miss Harriet W. Smith, who was born in Milburn, that state. and in the spring of the same year they came to Springfield, where Mr. Lathrop began business as a produce merchant. He purchased a small store of two gentlemen and then began the manufacture of candy being located on West Jackson street, where he remained for five years. He had erected a small building, and when he desired a change of location, he took his shop with him. After a time he established his store on Sixth street and for a brief period was associated with a partner, but soon he sold out there and opened another store on Fifth street. Later he carried on business on the north side of the square, where he remained for eight or ten years. Gradually his trade grew until it had assumed extensive and profitable proportions and he carried on both a wholesale and retail business. He received patronage from many of the small towns in the county and his annual sales reached a large figure, but in 1899 he met with misfortune losing nearly all that he had accumulated. Later he again began business on a small scale, engaging in the manufacture of confectionery and selling to the wholesale trade. Whatever success Mr. Lathrop achieved was due entirely to his perseverance, capable control of business affairs and executive ability. At one time he was accounted a very prosperous business man and in all of his undertakings he was honorable and reliable.
Unto Mr. and Mrs. Lathrop during their residence in Springfield nine children were born, but three of the number died in infancy and Percy W. died at the age of twenty-eight years. He was engaged in business as a retail confectioner at Cedar Rapids, Iowa. The other members of the family are as follows: Richard, who was educated in public schools and in the Business College, was born in October, 1868, and since his father's death has been the mainstay of his mother. He is a professional candy-maker and is now conducting the business left by his father. Fred E. was born in March, 1873. Harry S. was born in October, 1880. Bessie born in October, 1882, is a graduate of the grammar schools and for a time was a student in the high school of Springfield. Jessie P. born in September, 1885, is still in school. The children were surrounded with all the comforts and luxuries of life that the father could obtain, for his interests centered in his family and he did everything in his power to promote the happiness and enhance the welfare of his wife and children. The son Richard P. now conducts the business under the name of R. Lathrop, being engaged in the manufacture of confectionery, which he sells to the wholesale trade. He makes specialties as well as handling all staple lines of goods, and he caters to the Springfield trade. His connection with this line of business dates from the time when he was six years of age. At that early age he began wrapping butterscotch for his father and when not in school he has since devoted his attention to the business, which is now being satisfactorily built up until it has become a leading enterprise of the city.
In 1886 Richard Lathrop, Sr., erected for his family a home at No. 1115 North Fourth street and there he resided until his demise, which occurred on the 23d of May, 1900. He was a prominent Mason, belonging to the lodge, chapter, council and to Elwood commandery, K. T. He took an active interest in the workings of the craft and for one term served as master of the lodge. He was also connected with the Improved Order of Red Men, The Royal Arcanum and Camp No.872, M.W.A. A Repubican in politics, he was elected tax collector in 1899, but died before the completion of his term of office. He early had to make his own way in the world and throughout his entire life he placed his dependence upon the substantial qualities of integrity and indsutry. He made friends with almost all with whom he came in contact and his demise was deeply regreted by those who knew him well as well as by his immediate family.

---
Return to 1904 Biographies Index
Return to Sangamon County ILGenWeb
---