Sangamon County ILGenWeb © 2000
In keeping with our policy of providing free information on the Internet, data and images may be used by non-commercial entities, as long as this message remains on all copied material. These electronic pages cannot be reproduced in any format for profit or for other presentation without express permission by the contributor(s).
---
PAST AND PRESENT OF THE CITY OF SPRINGFIELD AND SANGAMON COUNTY ILLINOIS
By Joseph Wallace, M. A.
of the Springfield Bar
The S. J. Clarke Publishing Co., Chicago, IL
1904
---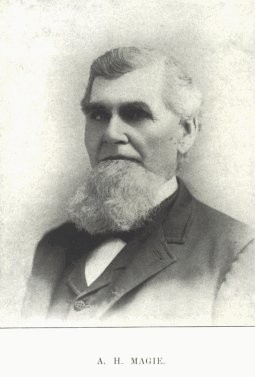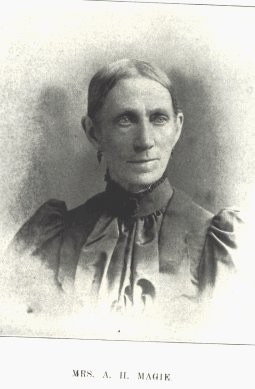 Page 1334
AMBROSE HOWELL MAGIE - Ambrose H. Magie is one of the honored and venerable citizens of Springfield, who, although he has attained to the advanced age of four score years, yet possesses in remarkable degree the mental strength which has ever been one of his dominant qualities and has made him a successful business man. He is now living retired, his capable management and careful investment in former years enabling him to put aside the more arduous duties of business life. Mr. Magie is a native of New Jersey, the first representatives of the name in America locating at Elizabethport, that state. They were members of a company that had been captured in Scotland and left on the New Jersey coast. The family name at that time was spelled Maghie. A settlement was made by a Magie, according to tradition, in the country just west of what is now Elizabeth, New Jersey, in 1685. Joseph Magie, the great-grandfather of our subject, married a Miss Genung and among their children was Joseph Magie, Jr., the grandfather of our subject, who at the time of the Revolutionary war lived in Elizabethport, while the Tories were just opposite on Staten Island. In his family were five daughters and three sons, namely: Phoebe, Mary, Hannah, Malissa, Betsey, Abraham, Samuel and Alfred, all of whom reached years of maturity.
Abraham Magie, the father of our subject, married Miss Phoebe Tunis. Both were natives of New Jersey and remained residents of the east until 1856, when they came to Illinois, settling at a small place called Terre Haute in Henderson county. There the father engaged in farming, securing a tract of new and unimproved land. He continued to make his home at that place until his death, which occurred in his seventy-fourth year, while his wife survived him and reached the age of seventy-six years. In their family were nine children: Jane, William, Ambrose H., James, Horton, John, Malissa, Maria, and one that died in infancy. Of this family J. K. Magie became very prominent and was identified with public life for many years. He was a popular newspaper man and also as a political speaker won public favor. During the campaign that Benjamin Harrison and Grover Cleveland were the presidential candidates of their respective parties he delivered thirty-four speeches, many of them in New York and New Jersey, being at that time employed by the national central committee. He was appointed by Governor Beveridge as printer expert in the public printing office of Illinois. He had been a clerk in the printing office at Washington previous to this. For a number of years he was the editor and publisher of the Register of Canton, Illinois, and was a well informed man, having particularly broad knowledge concerning political history and the growth and development of the two great parties of America. He is now deceased.
Ambrose H. Magie was born in New Jersey, January 6, 1825, and acquired his early education in the old time subscription schools. He declares that he gained more education after he was married than ever before and possessing an observing eye and retentive memory he has indeed added largely to his knowledge, becoming a well informed man. He was reared upon the home farm until sixteen years of age and was then apprenticed to learn the wagon and carriage-maker's trade, serving for a term of four and a half years. That was in the '40s when everything connected with the construction of a wagon was made by hand. Mr. Magie well remembers the time when spokes were first made by machinery, the work being done in his native town and being of great curiosity to him. After completing his apprenticeship he worked as a journeyman for a few years. In May, 1856, like others of the family, he emigrated westward, becoming one of the pioneer settlers of Henderson county, Illinois. There he resided, following his trade until after the inauguration of the Civil war, when on the 9th of August, 1862, he enlisted in the Ninety-first Illinois Infantry under Colonel Day and Captain Joseph A. James, the command being attached to Buell's Army Corps. Mr. Magie was at the front for a year, engaged in guarding bridges, and was captured by John Morgan and sent back to St. Louis. While in the hospital there the post surgeon gave him his discharge papers because his health unfitted him for further duty. the only battle in which he participated was at Elizabethtown, Kentucky.
Mr. Magie, following his military experiences, returned to Henderson county in 1863 and built a wagon and carriage shop. he then followed his trade in connection with blacksmithing, painting and carriage-trimming and continued in business at that point until 1875. He then removed to Sangamon county and received a legislative appointment. He had previously been in the employ of the state and occupied a position in connection with the capitol when Senator Cullom was speaker of the house. Mr. Magie had charge of his private rooms in the old state house and also acted as clerk for the bill clerk of the house. Through the careful husbanding of his resources Mr. Magie has become the possessor of considerable property and has erected a number of dwellings in Springfield. He built and owned his first dwelling on West Edwards street at the corner of Lincoln avenue, just opposite from where he now lives. All around him was wild prairie and farming land. Later he sold his first house and built another where he now resides, adjoining the home of his daughter, Mrs. George D. B. Hopkins. At the present time he has other real estate and is now living retired, his income from his property being sufficient to supply him with all the nece3ssities and comforts together with many of the luxuries of life.
It was on the 30th of March, 1847, in New Jersey, that Mr. Magie was united in marriage to Miss Sallie Ann Bruen, also a native of that state, born December 25, 1823. She was a daughter of Isaac and Mary Ann (Pierson) Bruen, who belonged to a very distinguished and prominent family of the east. Rev. Arthur T. Pierson preached the funeral sermon of the distinguished evangelist and divine, Rev. Spurgeon. Mr. and Mrs. Magie lived together for fifty-six years and a half and celebrated their golden wedding, on which occasion one hundred guests were present. They received many substantial tokens of the esteem in which they were held by their friends, including two rocking chairs, while a gold headed umbrella was presented to Mrs. Magie and from his comrades of the Grand Army Post Mr. Magie received a gold headed cane, appropriately inscribed. On the 23d of October, 1903, they were separated in death, Mrs. Magie being called to her final rest. Both had long been active and earnest members of the Methodist church. Mrs. Magie taking a very helpful part in the church work. She belonged to the Ladies' Aid Society and only a short time prior to her death assisted that organization in making a quilt. She also held membership with the Women's Relief Corps. For long years husband and wife had traveled life's journey together, sharing with each other its joys and sorrows, its adversity and prosperity, their mutual love and confidence increasing as the years went by. Their acquaintance had begun at a debating society held in her home and the friendship soon ripening into love, resulted in marriage. Six children were born unto them, of whom two died in infancy. Those still living area as follows: Austin P. Magie, who resides in Spokane, Washington, wedded Mary Burchett and they are the parents of two children. Rebecca and Harold. Fannie A. became the wife of Edwin Smith and at her death left one child, Cora May, who resides with her father in Springfield. Flavia F. is the wife of Martin Speulda, of Springfield, and has two children, Alta and Albert, Eliza Flora is the wife of George D. B. Hopkins, a son of Captain Caleb Hopkins, Jr., who is represented elsewhere in this work. They are the parents of three children, D. Barker, Arthur A. and Clarence I. Hopkins. The Hopkins family is well known in musical circles of Springfield, the father being a member of the Illinois Watch Company band, while the eldest son, a young man of nineteen years, possesses superior musical ability, being able to play several instruments. Mrs. Hopkins is also well known as a musician.
Mr. Magie served for one term in Henderson county as justice of the peace and has also filled that position for three terms in Springfield. He has voted the Republican ticket at every election, except that at which John C. Fremont was the presidential candidate, giving his support twice to Abraham Lincoln and twice to William McKinley. he is now a member of the Lincoln & McKinley Club of Springfield. He also voted for Richard Yates, Sr., for governor and for his son, the present chief executive of Illinois. he is a member of the Grand Army of the Republic, connected with Stephenson Post, of Springfield. He possesses a number of valuable relics, which he prizes highly, one being an early copy of the New York Daily Sun, published in New York city, September 3, 1833. It is a sheet eight by ten inches and is in the style of an ordinary program, B. H. Day being the printer at that time. Through the maternal line he received a small trunk, which was used as a toy by his great-great-grandmother and which has been handed down from one generation to another. Mr. Magie has lived through many presidential administrations, has seen the growth and development of the country through long years and has taken great pride in what has been accomplished in America through her people and her institutions. He has always been loyal in citizenship as true to his country in days of peace as when he enlisted in defense of the old flag. His eye sight is remarkably good and he is able to read the finest print. Strictly temperate in habits, he has never taken a drink of any kind of intoxicating liquors. He is indeed an honored and respected citizen of Springfield and one who deserves prominent mention in the history of Sangamon county, having for so many years been a resident of Illinois.

---
Return to 1904 Biographies Index
Return to Sangamon County ILGenWeb
---