Sangamon County ILGenWeb © 2000
In keeping with our policy of providing free information on the Internet, data and images may be used by non-commercial entities, as long as this message remains on all copied material. These electronic pages cannot be reproduced in any format for profit or for other presentation without express permission by the contributor(s).
---
PAST AND PRESENT OF THE CITY OF SPRINGFIELD AND SANGAMON COUNTY ILLINOIS
By Joseph Wallace, M. A.
of the Springfield Bar
The S. J. Clarke Publishing Co., Chicago, IL
1904
---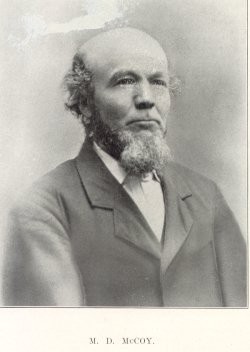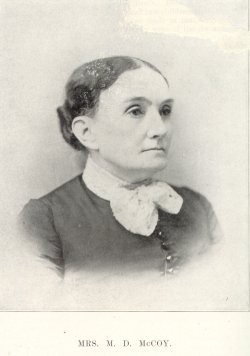 Page 812
M. D. MCCOY - The representatives of the McCoy family have ever been active and honorable in business and loyal in citizenship and have therefore been valued residents of the community in which they have lived. James McCoy was bor4n in Nicholas county, Kentucky, July 25, 1791. His parents were John and Mary (Ebermen) McCoy, who were born and reared in Pennsylvania, but were married in Kentucky. The McCoy family, to which our subject belongs, is descended from one of three brothers who came to this country at an early day from Scotland. Two of the number settled in the south and one in Pennsylvania and it is from the Pennsylvania branch of the family that James McCoy was descended. John McCoy, the grandfather, was born July 11, 1763, and died October 26, 1823. He married and reared a large family, the eldest of whom was James, the others being Polly, who was born October 13, 1793, and died October 3, 1855; Elizabeth, born November 3, 1795; Joseph E., born October 5, 1797; John A., who was born September 13, 1799, and died July 14, 1835; Nancy, who was born November 16, 1801; Prudence, born March 10, 1804; Zillah, March 5, 1806; Sophia, October 5, 1809; Andrew T., November 26, 1811; and Jessie C., October 9, 1815.
In Nicholas county, Kentucky, on the 15th of September, 1814, James McCoy was married to Jane Murphy, who was born of German parentage and they became the parents of ten children. Previous to his marriage, however, James McCoy had served as a soldier in the war of 1812 in Kentucky, being with the Dragoons under Colonel Dick Johnson; and he was in the battle in which Tecumseh, the noted Indian chief, was killed. After his return he was married to Miss Murphy, who was born in Nicholas county, Kentucky, March 29, 1794. Two of their children were born in Kentucky, after which they removed to Sangamon county, Illinois, arriving on Horse creek in what is now Cotton Hill township in the fall of 1818. Mr. McCoy and Levi W. Gooden were together the owners of a wagon and each had a horse so that they thus formed a team and drove to Illinois. Each man was accompanied by his wife and two children and the removal of both families was made in that wagon. The two ladies of the party were of the six women who arrived in Sangamon county that year, the others being two Mrs. Drennans, Mrs. Joseph Dodds and Mrs. Vance. Unto Mr. and Mrs. McCoy in Cotton Hill township twins were born, but one died in infancy. In the spring of 1819 they removed to what is now Rochester township, where seven children were added to the family. Caroline M., their eldest child, became the wife of Lewis A. Grimsley and reared a family. Sylvester G. wedded Mary Robinson and also had several children. Joseph E., who is believed to have been the first white child born in Sangamon county and who had a twin that died in infancy, was married after reaching mature years to Evaline Jones, by whom he had several children. Her death occurred while they were residing in Kansas and he afterward wedded Mary F. Hudnut, a native of Kentucky, by whom he had two children. About the time that Joseph E. McCoy and his twin sister were born there were also twins in another family and triplets in a third family, thus making seven children who arrived in three families in Sangamon county about the same time. Isaiah T. McCoy, the fourth member of the family of James McCoy, was married three times. He first wedded Lucilla Robinson, by whom he had some children. After her death he married Helen Thompson, who also passed away, and his third wife was Isabelle Kinney. There were seven children by this marriage. The fifth member of the family is M. D. McCoy, who was born October 16, 1823, on the farm where he now resides at Rochester, and is now in his eighty-first year. His life history, if given in detail, would present a clear picture of pioneer experiences in Sangamon county. His father, James McCoy, bought the first full sack of salt ever sold in Springfield, paying for it in coon skins. Salt at that time was brought to the west in sacks containing about four bushels. His brother Joseph E. assisted him in catching the coons and it required a winter's work to procure a sufficient number of skins to pay for the salt. The purchase was made about 1821.
Joseph E. McCoy, a brother of James McCoy and an uncle of our subject, was born in Nicholas county Kentucky, October 5, 1797, and in 1821 made his way to the home of his brother James in this county. He served as a soldier from this county in the Black Hawk war in 1832. James McCoy was constable for Illinois in the territorial days of the state and was one of the commissioners who helped to divide this county into school districts. In fact, he

---
Return to 1904 Biographies Index
Return to Sangamon County ILGenWeb
---