Sangamon County ILGenWeb © 2000
In keeping with our policy of providing free information on the Internet, data and images may be used by non-commercial entities, as long as this message remains on all copied material. These electronic pages cannot be reproduced in any format for profit or for other presentation without express permission by the contributor(s).
---
PAST AND PRESENT OF THE CITY OF SPRINGFIELD AND SANGAMON COUNTY ILLINOIS
By Joseph Wallace, M. A.
of the Springfield Bar
The S. J. Clarke Publishing Co., Chicago, IL
1904
---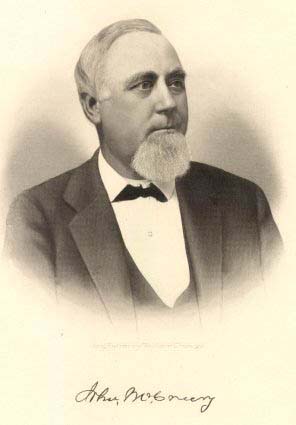 HON. JOHN MCCREERY. - Modern Springfield is the enduring memorial to John McCreery. He raised it from the depths of an over grown village of mud to the dignity of a city of the first class. The Springfield of the twentieth century is a monument to his perseverance, executive ability and honesty and The State Register epitomized the views of every citizen when it said, editorially: "Springfield owes to John McCreery a debt of gratitude, and will preserve his memory as one of its benefactors. In every public office he held and in his business and personal relations, Mr. McCreery was conscientious, industrious, faithful and just. Wise in counsel, energetic in action, sound in judgment, his advice was sought and his assistance invoked in every proposed public business enterprise of any magnitude. He was not ambitious for public honors or office, but was content to devote his time to his family, his church and to the city to whose material benefit he contributed so largely."
John McCreery was a forceful man - a man of action. Before he was mayor, Springfield was a by-word and a reproach. The depth of the mud in its streets was measured by the length of the spokes in the vehicles dragged through it. Mayor McCreery paved mile after mile of streets and alleys in two years. Unsightly and dangerous wooden awnings disfigured the business houses. He succeeded without friction in having all of them torn down. Springfield wanted the annual encampment of the Illinois militia. John McCreery was foremost in raising money for a bonus to induce the legislature to establish the magnificent park northwest of the city now known as Camp Lincoln, and used every year as a camp of instruction and drill by the Illinois militia. Springfield wanted the Illinois state fair located permanently here - and, also, did many other cities - and again John McCreery was urged to be the leader in the movement by the citizens who knew his capacity and popularity. It involved the gift to the state of the Sangamon county fairgrounds, the paving of a mile or more of streets and the raising of a large sum of money by popular subscription and bonds. No man is entitled to more credit for the splendid result than Mr. McCreery.
While mayor he reorganized and improved the police and fire departments and vigorously enforced the city ordinances. Under the McCreery administration the citizens of Springfield were proud of their home. Springfield needed industries and John McCreery placed his shoulder to the wheel and with his brains and money and energy established and was president of the Springfield Furniture factory, assisted brick making plants, the boiler works and other industries of less moment. He encouraged the building of the railroad line from Litchfield to Springfield, which reduced freight rates and furnished another rail line to the east. Springfield was paying two dollars and fifty cents for gas. The price was reduced to one dollar under Mayor McCreery. There was a monopoly in electricity in the city and Mr. McCreery joined with others in establishing an independent electric plant which brought competition. Springfield aspired to be the honor of "the convention city" of Illinois, but had no adequate building to accommodate a large convention, nor the hotel facilities for the delegates. Mr. McCreery enlarged his hotel, making it one of the largest in the state, and personally contributed one thousand dollars toward the new state armory, and today no other city in Illinois is considered seriously as a meeting place for assemblies or conventions.
All this and much more did John McCreery do for Springfield. Nor was his own business permitted to languish. Year by year he added to the accommodations and efficiency of his property, the St. Nicholas Hotel, making it the best popular price hotel in Illinois.
He was a born leader - a masterful man. Others followed where McCreery blazed the way. He was convinced that Springfield had a splendid future and he knew within its limits were the tools to place the city abreast or even in the van of other state capitals. That is Springfield's position today. There is no city of the same population more beautiful, more progressive, more liberal, or more prosperous. And Springfield was awakened by John McCreery.
Mr. McCreery was the sole architect of his own fortunes, for he was not aided by influential friends or wealthy relatives. He molded his own character and shaped his own destiny. Whether as the chairman of the board of commissioners to expend a million dollars in finishing the state capitol, as chief executive officer of Springfield, as a large employer of labor, or as a plain citizen he never shirked a duty or evaded a responsibility. The magnitude or apparent hopelessness of a task did not appall him; rather, he was spurred to increased effort. He was successful in everything he undertook. His death was regarded as a public calamity, and the most poignant sorrow was manifest by those closely associated with him in business life.
John McCreery was a native of New York. He was born in Rochester, April 15, 1832. His parents were Joseph and Abigail (Van Riper) McCreery, also natives of the Empire state. Joseph McCreery was a miller and followed that business. When John McCreery was still quite young his father moved to Dunville, Canada, on the St. Lawrence river, opposite Buffalo, where he established extensive sawmills and owned a line of packets which plied on the canal near Dunville. This was about the time of the great patriot uprising or rebellion. The Canadian government demanded that Joseph McCreery take the oath of allegiance to the queen but he refused, and most of his property was confiscated in consequence and he was compelled to flee in the middle of winter to save himself and family. He fled to Rochester with two sleighs and a few necessaries for his family. One of the horses died from exposure and one was borrowed from a farmer to take its place. Arriving at Rochester Mr. McCreery had little of his fortune left and sold his wife's silk dress, the most valuable article left, for three dollars, in order to reach his friends in Rochester. He did not long remain in that city, but as soon as the family had recovered from the hardships incident to their forced departure from Canada he moved to Illinois. This was in 1844 and he settled at Plainfield, Will county, devoting himself to breaking land and establishing himself as a farmer.
John McCreery was a youth of twelve at this time, and remained with his father for seven years on the farm, when he entered business life as a clerk for North & Company, lumber and grain dealers of Lockport. He remained with this firm for two years, and then returned to Plainfield, where he was employed in a similar capacity by McAllister & Company. In the spring of 1857 he came to Springfield and embarked in merchandising on his own account, at the age of twenty-five. He handled house furnishings and stoves and as his patronage increased new lines were added and he extended his efforts to other fields of commercial and industrial activity.
It is appropriate here to quote a paragraph from the biography of William Wallace Culver, founder of the famous Wrought Iron Range Company, of St. Louis, who pays a sincere and unexpected tribute to the character of John McCreery, as follows: "Mr. Culver entered into the task of selling smoothing irons. While thus engaged he toured central and northern Illinois and in the town of Plainfield he accosted a shrewd looking, pleasant faced gentleman, John McCreery, of Springfield, who was struck with the ardor of his efforts and bought one from him. On returning to Springfield he delivered the iron to Mr. McCreery and was then offered by him an engagement to sell stoves for him at an increased salary, thirty dollars per month and expenses. He accepted the offer and on the following Monday commenced as a seller of stoves for Mr. McCreery, and with the same almost unexampled success as in his former occupation. * * * In a biographical sketch of Mr. Culver, Mr. McCreery is entitled to more than a mere passing mention. Mr. Culver considers his accidental meeting with Mr. McCreery as providential. To the impression which he formed of that gentleman's sterling character and to the valuable lessons in business life and conduct which he received from him, Mr. Culver ascribes most of his after success in life. No man, Mr. Culver says, could come in harmonious contact with John McCreery without being materially and permanently benefitted thereby."
Mr. McCreery's connection with the hotel business extended over forty years. In 1863 he formed a partnership with James Sponsler and became one of the proprietors of the St. Nicholas Hotel. Five years later he purchased his partner's interest and from that time until his death was sole proprietor and continued active in its management until about two years prior to his demise, when he practically retired, leaving the business to his son. From time to time he built additions to the hotel, made extensive improvements, and today the St. Nicholas is one of the largest and most popular hotels in the state. He was also identified with the Springfield Furniture Company, as its president and was instrumental in establishing the Springfield Boiler Works.
In speaking of his business career one of the Springfield papers said: "The generous and kind disposition which was so modestly displayed by Mr. McCreery was nowhere more evident than in his relations with his employees. He had the faculty of enlisting their sympathy and interest in his business, and in turn was every ready to advance their own. Instances are related of his helping them in various ways. It is told that when one of them, having purchased a home, was unable to make the improvements which he had contemplated, Mr. McCreery told him to go ahead with the work and he would see that he had the money." In his dealings with his employees he was always just and generous, and in return he required form them the full measure of service. He never sought to take advantage of the necessities of his fellow men in any trade transactions and he never asked a man to work for him for less than good living wages. His sagacity was one of the strong elements in his success and his close application was also a salient feature in his enterprising and prosperous career. His advice was often sought in relation to private business concerns and public measures and was always based upon a clear and correct judgment. He never counseled a course that he would not himself have followed under similar circumstances.
In the public service there are many monuments to the progressive and patriotic spirit of Mr. McCreery. His aid and influence made him a co-operant factor in many measures for the public good. When the Sangamon County Fair Association was organized, he was chosen its president, and he placed it upon a substantial basis, and made it an important element in the life of the city and county. It stimulated progress along all lines of productive activity and ultimately led to the permanent establishment of the state fair in Springfield.
Mr. McCreery gave his political allegiance to the Democratic party and, as every American should, regarded it as his duty as well as his privilege to exercise his right of franchise and uphold the principles in which he believed. Two terms he served as mayor of the city. At his first election in 1881, he received the largest majority ever given any candidate for mayor in Springfield up to that time. As the chief executive of the city he promoted many leading measures - measures that have led to its permanent improvement , substantial upbuilding and material progress.
In the legislative session of 1885 an appropriation was made to finish the capitol building and a commission of three was appointed by the governor to do the work, Mr. McCreery being named as one of its members, and although of the minority political party, was chosen as president of the commission. The commission made several radical changes in the construction of the building, which greatly improved not only the architectural beauty, but also gave to the edifice a more modern appearance. To Mr. McCreery is largely attributable the splendid results which crowned the efforts of the commission. He also had much to do with the establishment of the waterworks system of Springfield.
On the 25th of February, 1856, Mr. McCreery was united in marriage to Miss Louise Rose, a native of Cayuga county, New York, and a daughter of Phillip and Caroline Frances (Powers) Rose, the former born in New York, and the latter just across the boundary in Connecticut. In her girlhood Mrs. McCreery came with her parents to Illinois, the family home being established near Morris in 1846. They traveled overland to Rochester, New York, thence by canal to Buffalo and by way of the lakes to Chicago, finding there a little unsightly town, the mud being very deep in its principal streets. There the father bought teams to haul his household goods to Morris, a distance3 of sixty miles, and it required two days to make the trip. Pioneer conditions existed throughout this part of Illinois at that day and Mrs. McCreery enjoyed only such educational advantages as the times afforded. In her father's family were five children, of whom she was the second, and three are now living, her brothers being, David, a resident of Grundy county, and George F., who is living in Garnett, Kansas. Mr. and Mrs. McCreery had two children, but the daughter, Fannie, died, in infancy. The son, John H. McCreery, is the present proprietor of the St. Nicholas Hotel.
Mr. McCreery was a Mason of high degree, belonging to Tyrian Lodge, No. 333, A.F. & A.M.; Springfield Chapter, No. 21, R.A.M.; Springfield Council, No. 2, R. & S.M.; and Elwoood Commandery, No. 6, K.T. He held membership in the Central Baptist church and was indefatigable in his efforts to promote its growth and extend its influence, and in his daily life and his relations with his fellow men his religious faith was manifest.
Mr. McCreery passed away March 21, 1903, in Daytona, Florida, whither he had gone to escape the inclement weather. The death of no citizen of Springfield has in years caused such uniform regret and profound sorrow, and expressions of grief were heard on every hand and from all classes of people when it was known that he was dead.

---
Return to 1904 Biographies Index
Return to Sangamon County ILGenWeb
---