Sangamon County ILGenWeb © 2000
In keeping with our policy of providing free information on the Internet, data and images may be used by non-commercial entities, as long as this message remains on all copied material. These electronic pages cannot be reproduced in any format for profit or for other presentation without express permission by the contributor(s).
---
PAST AND PRESENT OF THE CITY OF SPRINGFIELD AND SANGAMON COUNTY ILLINOIS
By Joseph Wallace, M. A.
of the Springfield Bar
The S. J. Clarke Publishing Co., Chicago, IL
1904
---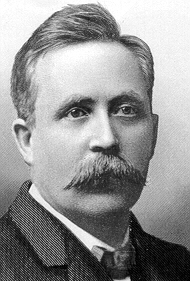 S. S. McElvain
Ancestor of Dan Dixon

SAMUEL S. McELVAIN - Banking institutions are the heart of the financial body, indicating the healthfulness of trade. There is no other one enterprise which so soon feels a depression in the market or a period of prosperity, and the bank which follows a safe, conservative business policy does more to establish a feeling of confidence in times of widespread financial panic than does any other interest in the world of trade. Mr. McElvain is serving as cashier of the Farmers' State Bank, and with a thorough understanding of his business, he has labored for the success of the institution along lines that have awakened public confidence and made the bank one of the safe, reliable moneyed concerns of this portion of the county. His attention, however, has not been confined alone to one line for at the present time he is connected with various interests of both a public and private nature, being the city treasurer of Auburn, the vice-president of the Auburn Electric Light Compa ny and a director of the Auburn Building & Loan Association.
The McElvain family has been represented in Sangamon county since 1831, and Samuel S. McElvain was born in Auburn, August 27, 1860, his parents being William A. and Angeline A. (Sowell) McElvain, the former a native of Adair county, Kentucky, and the latter of Loami, Sangamon county, Illinois. The paternal grandfather of our subject bore the name of Samuel McElvain and removed with his family from Adair county, Kentucky, to Sangamon county in 1831. Here he purchased a tract of land near Auburn, and in connection with general farming he also conducted a country tavern, when such institutions were a feature of every thriving community. He was thus in business for several years, long before any railroads were built through this section of the state. At this tavern or hotel he had the honor of entertaining Abraham Lincoln and Stephen A. Douglas on several occasions. Other prominent men were also his visitors and be became widely known to distinguished travelers of that day. He conducted his tavern and operated his farm up to the time of his death and his farm property is still in possession of members of the family. William A. McElvain was reared upon that farm and after his father's death took charge of the old homestead, devoting his energies to the cultivation of grain and the raising of stock throughout his remaining days. His death there occurred in 1890, after which his widow removed to Auburn, and she and her daughters are now living together in this town. In their family were eight children, of whom two died in infancy. The others are Howard A., who is engaged in the grain trade in Auburn, in partnership with J. W. Bronaugh; Samuel S., of this review; James W., who now resides on the old homestead in Auburn township; Nellie, who died at the age of twenty-one years; Maggie A, who resides with her mother in Auburn, and is employed as a bookkeeper in the Farmers State Bank; and Elizabeth, who is also with her mother.
Like other members of the family, Samuel S. McElvain was educated in the common schools of his native county and later went to Springfield, where he entered the Springfield Business College, in order to complete a commercial course. He was graduated there in the class of 1882 and then returned to the farm, whereupon he remained until 1891. In that year the Farmers State Bank of Auburn was organized and he then removed to the town and accepted the position of cashier, in which capacity he has since served. He has gained a thorough and practical knowledge of banking methods and has made the institution, of which he is a leading representative, one of the strong financial concerns of his locality. In 1895 he also became a factor in mercantile circles, opening a clothing establishment in the store adjoining the bank. For seven years he continued in that business in connection with banking, but sold out in October, 1902, in order that he might give his entire attention to the growing business of the bank, which has now reached large and profitable proportions. He has also been the promoter of other business enterprises, and is the director of the Auburn Building & Loan Association and the vice-president of the Auburn Electric Light Company.
Mr. McElvain was united in marriage to Miss Laura E. Beechley, a native of Ohio, born near Dayton, June 8, 1867, and a daughter of John and Susana (Garber) Beechley. Her father, a native of Dayton, removed from Ohio to Sangamon county in 1868 and settled on a farm near Auburn, where he resided, until his death. His widow now resides in Auburn. She was born in Rockingham county Virginia. The home of our subject and his wife has been blessed with but one child, Helen O., born October 13, 1895.
Mr. McElvain is now serving as city treasurer of Auburn, and has filled the position for eight consecutive years, a fact which indicates the confidence and trust reposed in him by his fellow townsmen and his fidelity to the duties of the office. He belongs to Ark and Anchor Lodge, No. 354, A. F. & A. M., of Auburn, of which he is now the treasurer, and be has also taken the royal arch degrees in Auburn Chapter, No. 92, and is a member of other fraternal organizations. His wife is a member of the United Brethren church here. There is no family better known in the southern part of the county than the McElvains', of which our subject is a worthy representative. Since the early pioneer days, when his grandfather came to the county, representatives of the name have borne an active and helpful part in all that pertains to public progress and improvement. This work is now being continued by Samuel S. McElvain, one of the influential, active and highly respected citizens of Auburn.
---
Return to 1904 Biographies Index
Return to Sangamon County ILGenWeb
---