Sangamon County ILGenWeb © 2000
In keeping with our policy of providing free information on the Internet, data and images may be used by non-commercial entities, as long as this message remains on all copied material. These electronic pages cannot be reproduced in any format for profit or for other presentation without express permission by the contributor(s).
---
PAST AND PRESENT OF THE CITY OF SPRINGFIELD AND SANGAMON COUNTY ILLINOIS
By Joseph Wallace, M. A.
of the Springfield Bar
The S. J. Clarke Publishing Co., Chicago, IL
1904
---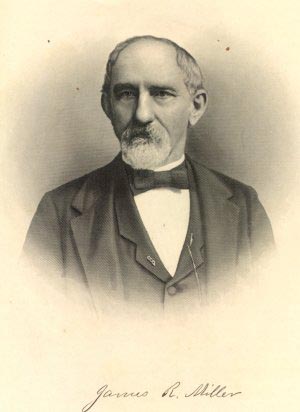 JAMES R. MILLER - James R. Miller was one of Nature's noblemen, adorned with her insignia of rank - an upright character, an unfaltering fidelity to truth and a broad humanitarian spirit. His business associates trusted him, his political associates respected him, but the people loved him. Honored in the ranks of Odd Fellowship he had a very wide acquaintance with the fraternity throughout Illinois and in other states, but it was in the communities in which he lived and in which he was best known that he was most loved. No higher eulogy could be pronounced than this. It indicates a life record that would bear the closest investigation and show forth those traits of character which bind man to man in indissoluble ties of friendship. He became a resident of Illinois in 1856 and of Springfield in 1894, and the capital city was honored by the presence of one whose labors were of so marked benefit to the municipality.
Mr. Miller was a native of Ohio, his birth having occurred in Warren county on the 31st of October, 1831. Owing to the straightened financial circumstances of his parents his educational privileges in youth were limited, but the years brought him knowledge, a receptive mind taking its lessons from experience, observation and reading, and interpreting them by means of a kindly spirit. Mr. Miller was desirous, however, for further educational advantages and he worked hard during the summer months in order to earn the money which would pay his tuition. He received some assistance from his mother and in this way found it possible to spend three winter terms in Farmers' College, near Cincinnati, Ohio, leaving that institution in 1850. He then engaged in teaching school in Cynthiana, Kentucky, but the west with its mining possibilities attracted him and in 1851 he made his way to California. He did not engage in mining, however, but followed farming near Sacramento, remaining on the Pacific coast until 1856, when he returned to the Mississippi valley, settling near Collinsville, in Madison county, Illinois. For many years he gave his attention to agricultural pursuits, but gradually the claims of his work in the Odd Fellows society caused him to relinquish other duties and devote his entire time to its work. He retained possession of the old homestead of ninety acres, however, up to the time of his demise. Viewed from a financial standpoint the life of James R. Miller was not highly successful. He had too large a heart and too great charity to become a capitalist. The world needed his services and his fellow men received from him a generous assistance, but while he left only a moderate estate he lives enshrined in the hearts of all who knew him and thousands have reason to bless him for his efforts in the amelioration of conditions affecting mankind.
Mr. Miller's connection with the Odd Fellowship began while he was living near Collinsville. On the 14th of January, 1857, he was initiated into Madison Lodge, No. 43, I.O.O.F., of which he remained a member until 1870, when with ten others he organized Crescent Lodge, No. 246, at Caseyville, and remained one of its members until his death. It is not strange that this fraternity appealed strongly to him, for its basic element is truth and the brotherhood of mankind. The spiritual and charitable features of the work appealed to him most strongly, yet he did not allow it to take the place in his affections that rightfully belonged to the church and the home. He regarded it as a co-operant factor to these and found in the organization a field of activity wherein he could labor with good result. Various offices he filled in the local lodge and then came to him state honors in connection with the organization. In 1865 he entered the grand lodge of Illinois and was a regular attendant upon its sessions from that time until his death. In 1880 he was elected deputy grand master; in 1883 was elected grand master; in 1885 was chosen grand representative to the sovereign grand lodge, and he served the grand lodge in that capacity up to and including the year 1892. At the session of the sovereign grand lodge in that capacity up to and including the year 1892. At the session of the sovereign grand lodge held in Portland, Oregon, in 1892, he was strongly urged to allow his name to be used in connection with the candidacy for secretary of the sovereign grand lodge, but he declined to have his name put upon the ticket. On the 1st of May, 1892, he as appointed grand secretary of Illinois to fill a vacancy and he was elected at each session of the lodge from that time until his demise. From the 1st of September, 1894, he was associated with John H. Sikes in the publication of the Odd Fellows Herald, the official organ of the grand lodge of Illinois. Mr. Miller was held in the highest regard by his brethren of the fraternity and the grand lodge which met in Springfield in the summer of 1899 presented him with a diamond studded veteran badge as a token of the esteem which his fraters entertained for him. He was recognized as authority in all matters pertaining to Odd Fellowship and his advice and counsel were eagerly sought. At the time of his death he was a member of the Odd Fellows Orphans' Home at Lincoln, Illinois, and the Odd Fellows Home, at Mattoon, and he did everything in his power to further the interests of those institutions.
Odd Fellowship, however, does not represent the extent and scope of his labors. He was intensely interested in the political issues of the country, affecting the weal or woe of the nation. He regarded it the duty as well as the privilege of every citizen to advocate the principles in which he believed and to uphold them by his ballot. Early in the development of the Republican party he became one of its adherents and the same zeal and energy which he manifested in other walks of life he gave to his political work. In 1862 he was elected a member of the general assembly of Illinois and was re-elected two years later. At the first session of his service he was made chairman of the committee on federal relations and in the following session he was made chairman of the committee on education, an exceedingly important committee, especially at the time. He was appointed a member of the special committee of the legislature to visit Chicago when that city was stricken by a disastrous fire, and the committee to which he belonged ascertained what steps were necessary for the restoration of the burned records of the city. He left the impress of his individuality upon the legislation enacted during his membership in the assembly and he was ever an active and zealous working member of the house. At the time of his death he was serving as one of the aldermen of Springfield, and the mayor, in speaking of him, said: "Alderman Miller was a conscientious worker for his ward, and strove to do everything which he thought beneficial to the city. While we did not agree on certain questions, I believe that he was honest in his beliefs that he expressed as against the opinions I held, and I am sorry to learn of his untimely taking off. I believe he acted as he thought for the best interests of the people he represented." The Illinois State Register said: "His many stubborn and almost single-handed combats for right in the council are well known to the people of Springfield. He was master of intellectual powers to a marked degree, which he invariably used in the direction his conscience indicated. He belonged to that class of the world's people who are plain and unostentatious in disposition and action, but who, because of their merits, rightly constitute the nobility of the earth."
Throughout his life Mr. Miller was an earnest advocate of the temperance question and his labors in its behalf were effective and far-reaching. At the time of his death he was also a member of the board of directors of the Young Men's Christian Association of Springfield. His Sunday afternoon talks to the members of the organization were remarkable for their wisdom and clear-sightedness, and he was beloved by them all. A lifelong member of the Presbyterian church he labored effectively for its upbuilding and the extension of its influence.
James R. Miller was twice married. He first wedded Miss Nichols, who died near Collinsville. They were the parents of four children: Professor John E., Charles and Mrs. Elsie Blake, all living in East St. Louis; and Mrs. Mary Bruce, a resident of Peoria, Illinois. On the 6th of March, 1895, Mr. Miller was united in marriage to Mrs. Mary (Patterson) Pittman, a daughter of Isaac and Sarah (Hall) Patterson. The Hall family was one of the first established in Menard county. Mrs. Miller's mother is living in this county, making her home with a daughter in Springfield. Isaac Patterson settled in this county in 1840. He was a carpenter by trade and assisted in erecting some of the first buildings in Springfield. He is now deceased. Mrs. Miller had two children by her first marriage. Nellie, the elder, is now the wife of Philip H. Sanford, who is engaged in farming near Springfield; and Mary is attending school in Des Moines, Iowa, studying osteopathy. Mrs. Miller and her daughter reside in a pleasant home at No. 1405 North fourth street. Mrs. Miller is secretary for the Rebekah Assembly of Illinois and has her office in her home. She is most estimable lady and shared with her husband in his deep interest in philanthropic, benevolent and church work.
James R. Miller reached the allotted span of three core years and ten, and yet they who knew him felt that one had gone whom they could ill afford to lose. His was a busy and useful career and his activity did not abate even in his last years. In spirit and interests he seemed yet in his prime and there were few men in Springfield so helpful in many lines for the general good as Mr. Miller. Death claimed him April 17, 1902, after a very brief illness, and throughout the state in business, social, fraternal, political and church circles, expressions of the deepest regret and sorrow were hard. Perhaps no better estimate of his life and character can be given than to quote from addresses delivered at his funeral. After a brief service at his home the remains were taken to the Presbyterian church and afterward were interred in the cemetery in Collinsville. His pastor, Rev. Irwin, said: "Swiftly and suddenly James R. Miller passed from the activities of earth to heaven; so unexpectedly that it is difficult today to adjust ourselves to the changed condition, to make any adequate analysis of a strong character. After all his versatility and fidelity and honors are spoken of, the most is said, the secret is out, in a declaration of his manliness. Mr. Miller, aside from all else, was a true man, because he most thoroughly recognized the natural and spiritual development of manhood in his life with God. He not only believed but taught in many ways and places that a man was not wholly a man - was something much less than a man - until the spiritual was cultivated. In the spirit of Him who came not to be ministered unto but to minister. Mr. Miller gave his time, his thought, his apparently inexhaustible energies to mankind. In the church his fitness and faithfulness raised him to the highest office possible in our form of government, that of the eldership. He was for some time president of the Men's Club, and whenever his duties permitted him to be in town, he was at work in the Sunday school. No one ever was at work in the Sunday school. No one ever heard him say it was impossible to be a Christian and a successful business man and politician at the same time. He placed duty above every other consideration in the exercise of his powers as a public man. He was charged with no littleness, no corruption. However much men differed from him they still believed that he was acting according to the dictates of his conscience."
Judge Humphrey said: "One of the distinguishing features of Mr. Miller's character was his intense interest in humanity. He gave himself in service for others to the extent of self-sacrifice. From all the teachings of the Master he seized upon that great central truth of the fatherhood of God and the brotherhood of man and made it the controlling text of his life. He believed in liberty but he believed that the sovereignty of self over self is the highest liberty. He believed in equality and made it the basis of that monument of society of which liberty is the summit. He believed in fraternity but his definition was that portion of each one's self which he gives up for others. This it was which broadened his influence, extended his horizon and gave him unusual power among men. His memory is worthy to be enshrined in our hearts among the great ones of the earth. Fro a man's true greatness consists in a superiority of those qualities which distinguish him as a man; if true greatness consists in a disinterested love of goodness and truth and the energy with which they are caused to prevail, then, judged by this standard, James R. Miller was a great man.

---
Return to 1904 Biographies Index
Return to Sangamon County ILGenWeb
---