Sangamon County ILGenWeb © 2000
In keeping with our policy of providing free information on the Internet, data and images may be used by non-commercial entities, as long as this message remains on all copied material. These electronic pages cannot be reproduced in any format for profit or for other presentation without express permission by the contributor(s).
---
PAST AND PRESENT OF THE CITY OF SPRINGFIELD AND SANGAMON COUNTY ILLINOIS
By Joseph Wallace, M. A.
of the Springfield Bar
The S. J. Clarke Publishing Co., Chicago, IL
1904
---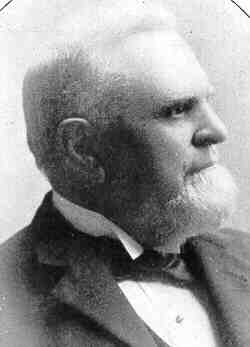 JOHN L. MILLION, M. D. - Dr. John L. Million was one of the early and prominent physicians of Springfield and Sangamon county, having settled here prior to the Civil war. For years he followed his profession with success, and his efforts in the complex work to which he directed his energies were crowned with excellent results, proving of benefit to himself and of marked help to those who enjoyed his professional services. Progression was one of the salient characteristics of his nature and never did he allow himself to fall behind the demands in the slightest degree, but kept abreast with the continual advancement made by the medical fraternity, so that his usefulness and efficiency in his chosen calling continually increased.
The Doctor was a native of Bourbon county, Kentucky, born on the 8th of October, 1826, his parents being Dr. Daniel A. and Fannie (Chamblin) Million, who were also natives of the Blue Grass state. The father attended medical school in St. Louis, and afterward located in Lewis county, Missouri, where he practiced for several years. Subsequently he returned to St. Louis, where he and his wife made their home until he was called to his final rest.
Dr. Million, whose name introduces this record, obtained a very good literary education in the public schools of Lewis county, Missouri, and he then went to the city of St. Louis to enter upon his medical studies, being matriculated in the McDowell Medical College, where upon the completion of a thorough course he was graduated and received his diploma. About 1860 he came to Sangainon county, taking up his abode first in the village of Pleasant Plains. There he began practice, entering upon what proved a life of marked usefulness, because of the skill which he gained during the years of a long experience. While residing in Pleasant Plains the Doctor was married, the lady of his choice being Miss Mary J. Crafton, a native of Kentucky, and a daughter of Wiley and Agnes (Chalfant) Crafton, the former a native of Virginia and the latter of Kentucky. They were also early settlers of Sangamon county, but returned to Kentucky for a short time. Again, however, they came to this county, taking up their abode in Richland, where the father was engaged in farming for several years. He then removed to Springfield.
Dr. Million had resided in Pleasant Plains for only a short time when the Civil war broke out, and, feeling that his first duty was to his country, he offered his services, enlisting in the Thirty-first Illinois Volunteer Infantry, under General John A. Logan, and was appointed by Governor Yates as surgeon-in-chief. Previous to this time, however, he had served as examining physician for the army at Jacksonville, Illinois, by the governor's appointment. He remained in the service about three years, and in 1864 came to Springfield.
As his old patrons in Pleasant Plains were loath to give up his service he continued to practice there, going hack and forth between these places. In Springfield, too, his ability was quickly recognized, and he enjoyed a large and growing patronage, continuing his active practice up to the time of his death. He had a deep and sincere interest in his profession, both from the scientific and the humanitarian standpoint, and his ministrations 1o the sick were attended by good results.
Unto the Doctor and his wife were born two children. The elder is Dr. Edward Million now an oculist who travels throughout this country engaged in the practice of his chosen calling. He makes his home, however, with his mother in Springfield. John L. Million, the younger son, resides in this city at No. 1400 South Seventh street. He is engaged in the real estate and insurance business. He married Miss Mary E. Grant of this city, also a representative of an old family here, and they have five children: Mary Ruth, Francis Ashby, John Edward, Brainard and Elizabeth Jane.
Dr. Million served as supervisor, and was also a member of the board of education in Springfield for several years. He served as grand medical examiner for the Ancient Order of United Workmen for the state of Illinois and as pension examiner, for twenty years each. He was also medical examiner for the Equitable Life Insurance Company, of New York, for many years. He belonged to the United Workmen Lodge, and was also a member of the Masonic fraternity in Springfield. In early days he gave his political support to the Democracy, but subsequently became an advocate of Republican principles.. He held membership in the Baptist church, to which his widow belongs, and both were earnest Christian people. Mrs. Million new resides at her beautiful residence at No. 508 South Sixth street, and in addition to this she owns valuable property in other parts of the city, her son John supervising her invested interests. As the result of a successful business career Dr. Million left his family in comfortable circumstances. He passed away on the 14th of February, 1902. His natural endowments were a quick and strong temper and a warm heart, a gentle manner and a quiet courtesy. To control the first and to make his life the flower and expression of the other traits was the task which nature assigned him. We know nothing of the struggle, but were daily witnesses of the victory. Kindness was the motive of his life. He had a well-spring of affection, and a quick and generous sympathy, which increased by giving and became richer by his generosity. He was most liberal, especially toward anything that would tend to advance the interests of the community in which he lived. For a great many years he was manager of the poor farm, and was chairman of the committee that built the present county jail. Such was the life record of one of the leading and distinguished physicians of Sangamon county.

---
Return to 1904 Biographies Index
Return to Sangamon County ILGenWeb
---