Sangamon County ILGenWeb © 2000
In keeping with our policy of providing free information on the Internet, data and images may be used by non-commercial entities, as long as this message remains on all copied material. These electronic pages cannot be reproduced in any format for profit or for other presentation without express permission by the contributor(s).
---
PAST AND PRESENT OF THE CITY OF SPRINGFIELD AND SANGAMON COUNTY ILLINOIS
By Joseph Wallace, M. A.
of the Springfield Bar
The S. J. Clarke Publishing Co., Chicago, IL
1904
---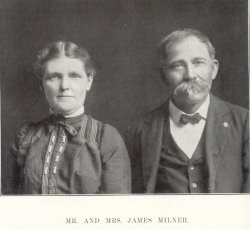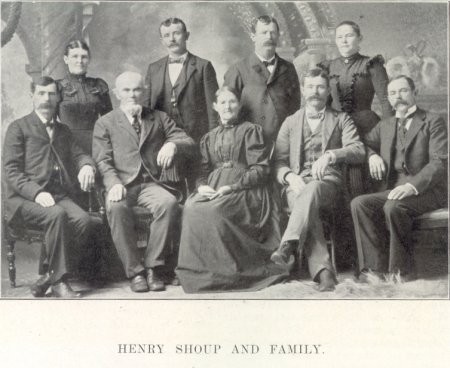 Page 1318
JAMES MILNER , who follows farming and stock-raising on section 22, Ball Township, was born in Wayne county, Illinois, January 27, 1846. The family is of Scotch descent, and the grandfather removed at an early day from Virginia to Kentucky. Subsequently he became a resident of Illinois, settling in 1835 in Wayne county, where his remaining days were passed. His son, Joseph B. Milner, father of our subject, was born in Grayson county, Kentucky, in 1825, and was reared to manhood in Wayne county, Illinois, where he married Frances Jane Wonack, who was born in that county, a daughter of James Wonack, also a native of Kentucky. Mr. Milner cleared and opened a farm of eighty acres, entering the land from the government. Subsequently, however, he sold that property and in 1852 removed to Sangamon county, settling in Woodside township. Later he bought a tract of raw prairie land of eighty acres, which he broke, fenced and tilled and thus developed a good farm in Pawnee township. Three years later, however, he sold it and returned to Wayne county, where he still makes his home, being a hale and hearty old man of seventy-eight years. He lots his first wife in 1861 and afterward married again. In the family were four sons and three daughters, all of whom are yet living and are heads of families. These are James; Mrs. C. W. Barnes, of Springfield; William, who resides near Mount Pulaski in Logan county, Illinois; Martha A., the wife of Jacob Shoup, of Sangamon county; Edward, of Ball township; Harvey, who is engaged in the livery business in Pawnee; and Mrs. Elizabeth Green, of Woodside township.
James Milner was reared in Wayne and Sangamon counties and at the age of eighteen years he enlisted in behalf of the Union cause in February, 1864, joining Company I, of the Forty-eighth Illinois Infantry. Going to the south he joined the Army of the Tennessee under General John A. Logan and he participated in the Atlanta campaign, taking part in the battles of Resaca, Altoona, Sandtown, Kenesaw Mountain, Marietta, Jonesboro and the capture of Atlanta. He sustained a scalp wound at Atlanta, which disabled him for a time and he was afterward in the hospital corps at Marietta, Georgia, and later at Chattanooga and at Cleveland, Tennessee. There the wounded that had sufficiently recovered were formed into a regiment and did guard duty. Mr. Milner was afterward sent with others to herd beef cattle, taking them to Knoxville for the army. When this was done he returned to Cleveland and in February, 1865, he went to Chattanooga, Tennessee, and thence to Parkersburg, Virginia. From the latter place he proceeded by boat to Cincinnati and on by train to Pittsburg, to Harrisburg and to Baltimore, Maryland. By transport he went to Annapolis and there boarded the Great Eastern and was sent to Morehead City, North Carolina, where he disembarked, marching thence to Kingston. With his command he engaged the troops of General Johnson, drove them away from their station and later formed in battle line again at the junction. He was with General Sherman at Goldsboro, North Carolina, and marched to Raleigh, where he remained in camp for four weeks. During that time the army was reviewed by General Grant. Mr. Milner afterward marched to Richmond, a distance of two hundred miles, in six days, and on to Washington, where he participated in the grand review at the close of the war. Then came the order to proceed to Louisville, Kentucky, where he remained in camp for about four weeks and was then sent to Little Rock, Arkansas, where a similar time was passed. On the expiration of that period he returned home and was honorable discharged at Camp Butler on the 15th of September, 1865.
Following his services in the Civil war Mr. Milner attended school through three winter terms and during the summer months worked on the farm owned by Elijah Bradshaw. He was employed by that gentleman for three years, after which he operated the farm on which he now resides and began to further improve and cultivate it. He has since tiled and fenced his land, has built a good stable and wind pump, has planted an orchard and made other substantial improvements which add to the value of the farm. He is also engaged in the raising and feeding of good graded horses, cattle and hogs and is recognized as a successful and enterprising farmer and stock raiser.
Mr. Milner was married in Ball township, December 14, 1871, to Sarah Ella Shoup, a native of this county, reared and educated here. Her father was Henry Shoup, one of the pioneer settlers from Ohio, and because of his residence here during the memorable winter of the heavy snow was known as a "snowbird". Unto Mr. and Mrs. Milner were born five children: Frank E., who is married and resides in Glenarm; Jessie L.; Lela Ethel; Nellie May; and Carrie J. The family has a remarkable record, having never had to employ a physician for any of the children.
Politically Mr. Milner is a stanch Republican and has voted for every candidate of the party since casting his first ballot for General Grant in 1868. He has served as highway commissioner and as a member of the school board, but has never sought or desired office, preferring to give his time and attention to his farming interests. His wife is a member of the Christian church and he belongs to A. J. Weber Post, No. 421, G.A.R., of Pawnee. He has filled all of its offices and is a past commander. His entire life has been spent in Illinois and through the greater part of the period he has been a resident of Sangamon county. In matters of citizenship he is as true and loyal as when he followed the old flag on southern battle fields. He and his wife are much esteemed as kindly, hospitable people and their home is always open for reception of their many friends.

---
Return to 1904 Biographies Index
Return to Sangamon County ILGenWeb
---