Sangamon County ILGenWeb © 2000
In keeping with our policy of providing free information on the Internet, data and images may be used by non-commercial entities, as long as this message remains on all copied material. These electronic pages cannot be reproduced in any format for profit or for other presentation without express permission by the contributor(s).
---
PAST AND PRESENT OF THE CITY OF SPRINGFIELD AND SANGAMON COUNTY ILLINOIS
By Joseph Wallace, M. A.
of the Springfield Bar
The S. J. Clarke Publishing Co., Chicago, IL
1904
---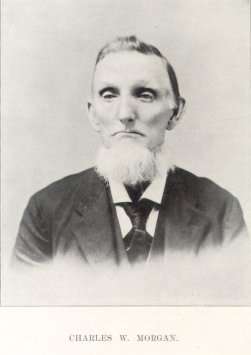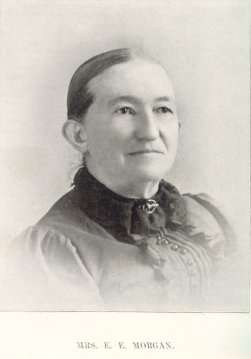 Page 824
CHARLES W. MORGAN , deceased, whose name was an honored one in Sangamon county because of the active part which he took in church and temperance work, laboring earnestly for the moral development of the community, was born in this state, May 23, 1829. His parents. Charles and Elizabeth (Constant) Morgan, were natives of Kentucky, but at an early day removed to Illinois, settling west of Mechanicsburg, where the father engaged in farming. Both he and his wife spent their remaining days there and it was upon the old family homestead that Charles W. Morgan was born and reared. He was one of a large family and like the other children of the household he pursued his education in the old time primitive schools of the period and did his full share in the work of the home farm so that he gained a practical knowledge of agricultural life. When he attained man's estate he determined to follow the same pursuit as a life work and in 1851 he removed to his farm, comprising a quarter section of land in Macon county adjoining the John Constant farm. He took, up his abode there in the month of April. All was wild prairie and the town of Illiopolis had not been established. He turned the first furrow upon his land and, in fact, the first in that locality and was an active factor in the early development. His first home was thirty by twenty-eight feet, but as the years advanced he was enabled to establish a more commodious residence for his family and to make many modern improvements upon his land. He worked hard, improved his farm and in later years erected many substantial buildings upon the place. His life was one of untiring activity and keen discrimination in business affairs, but at length on account of failing health he removed to Illiopolis, where he spent his remaining days.
In 1850 Mr. Morgan was united in marriage near Rochester, Illinois, to Miss Elizabeth E. Derry, a daughter of Michael and Ann B. (Kalb) Derry. She is a native of Virginia, born October 26, 1830, and is one of a family of twelve children, ten of whom reached adult age. She now has one brother and two sisters living. She was reared and educated in the Old Dominion and came to Illinois at the age of nineteen years. Her father was one of a family of fourteen children, seven sons and seven daughters. After reaching the west Elizabeth E. Derry formed the acquaintance of Mr. Morgan and in 1850 gave her hand to him in marriage. It was the following year that they took up their abode upon the old homestead farm, living in primitive style in the early years of their married life. Mr. Morgan sawed all the lumber for their first home and they lived in one room until the remainder of the house was finished. They also witnessed the entire development of the surrounding country as it was transformed from a wilderness into a richly cultivated section of the county containing many excellent homes in the midst of valuable farms. Their own home was blessed by the appearance of eleven children, five of whom died in early life. Of the six now living, Minerva is the wife of Benjamin Cox, of Shelbyville, Illinois, and has seven children; James R., who married Miss Rachel Stearns, of Decatur, Illinois, and has three children, is now serving as postmaster at Maroa, Illinois; Elijah E., who married Miss Hopper, of Farmdale, Illinois, and has two children, is a practicing physician of Decatur; Laura A. is the wife of Jerry Oaks, of Maroa, Illinois, and has one child; Luella is the wife of James Bradley, of Illiopolis, and they have three children; Charles A., married Nellie Burns, by whom he has one child and they reside in Illiopolis. Mrs. Morgan has sixteen grandchildren and three great-grandchildren.
Mr. Morgan continued to engage in farming until failing health forced him to put aside the more arduous duties of that life and he removed to Illiopolis, taking up his abode in the home now occupied by his widow. There he spent his remaining days, his death occurring February 3, 1900. He had served as school director and was a very prominent and active factor in the moral development of the community. At the age of fifteen years he united with the Methodist church and was ever one of its consistent members. He aided in building the old church and did all in his power to promote the cause of Christianity, serving for some time as class leader of his church. He was also a strong advocate of temperance and did everything in his power to banish the liquor habit. Mrs. Morgan is also a member of the church and her life has been in consistent harmony with her religious principles. She now makes her home in Illiopolis and her elder son, James, is acting as administrator of the estate. The family has long been well known in central Illinois and at the time of his death Mr. Morgan was one of the oldest native sons, having been a resident here for about seventy-one years. He had watched with interest the progress and development of the state and he witnessed the transformation of Sangamon county from a wild and unimproved district where pioneer conditions existed to a richly improved portion of this great commonwealth, having all the industrial, commercial and financial advantages known to the oldest east as well as the opportunities for educational and moral development.

---
Return to 1904 Biographies Index
Return to Sangamon County ILGenWeb
---