Sangamon County ILGenWeb © 2000
In keeping with our policy of providing free information on the Internet, data and images may be used by non-commercial entities, as long as this message remains on all copied material. These electronic pages cannot be reproduced in any format for profit or for other presentation without express permission by the contributor(s).
---
PAST AND PRESENT OF THE CITY OF SPRINGFIELD AND SANGAMON COUNTY ILLINOIS
By Joseph Wallace, M. A.
of the Springfield Bar
The S. J. Clarke Publishing Co., Chicago, IL
1904
---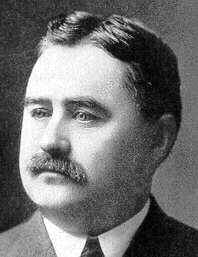 Patrick Murphy
Ancestor of Dan Dixon

PATRICK F. MURPHY - Patrick F. Murphy, the president of the Capital Coal Company of Springfield and general manager of the Latham Coal Company of Lincoln, Illinois, stands as a representative of a high type of American citizenship, belong to that class of men who owe their success to consecutive effort, guided by sound judgment and characterized by honorable dealing. He now owns one-third interest in the Latham Coal Company and is a stockholder in the Capital Coal Company. He is also prominent and influential in community affairs and takes an especially active part in politics, doing everything in his power to promote the growth and insure the success of the party, whose platform he believes contains the best elements of good government.
Mr. Murphy was born in St. Louis, Missouri, in January 1865, a son of Patrick and Annie (Brennnan) Murphy, both of whom were natives of Ireland, and at an early day came to America, settling in St. Louis, Missouri. The father was a horse-shoer by trade and worked at that pursuit in St. Louis until his death, which was occasioned by cholera in 1866. His widow afterward became the wife of Nicholas Crudden, who is now living a retired life in Springfield, but Mrs. Crudden died in January 1902. There were five children born unto Mr. and Mrs. Murphy, Mrs. James Ryan, who is residing in Springfield; James J. and John, who are plumbers of this city; Nicholas, who is conducting a saloon in Springfield; and Patrick F.
The father died when Patrick F. Murphy was an infant and when a mere boy he began working in the mines at Riverton, Illinois in order to help support the family. His educational privileges were limited in consequence, but he attended the night schools and made the most of his opportunities there. He worked in the mines until fifteen years of age, when in 1880 he came to Springfield and accepted the position of driver in the mines of the Capital Coal Company, of which he is now president. He continued for two years and was afterward employed as a miner for the same company for thirteen years. His reliability and faithfulness won recognition and secured his consecutive advancement until he now stands at the head of the business. He continued the work as a miner until 1891, when he was made general manager for the Capital Coal Company and acted in that capacity until 1902. In the meantime he began buying stock in that company and also invested in the stock of the Latham Coal Company at Lincoln, Illinoi s. In 1902 he was made general manager of the latter and has since filled that position. He was then made vice-president of the Capital Coal Company of Springfield and continued to serve in that capacity until April, 1904, when he was chosen president. He is now the largest stockholder of the company, but as he is general manager of the Latham Coal Company he spends most of his time in Lincoln, Illinois, and is in Springfield only on Saturday and Sunday. The Latham coal mines are the largest in that part of the state, employment being furnished to over three hundred men. Under the guidance of Mr. Murphy the business has rapidly developed along substantial lines, and while contributing to his own prosperity he has also advanced the financial interests of the corporations.
Mr. Murphy was married in Springfield to Miss Catherine F. Kenney, who was born in this city November 25, 1868, and is a daughter of Thomas and Mary (Cussick) Kenney. Her father, an early settler in Springfield, arrived here in 1854 and engaged in teaming during the greater part of his life. Both he and his wife passed away here. There were six children born unto Mr. and Mrs. Murphy, but the eldest, Thomas, who was born May 17, 1895, died July 1 1896. The others are: John, born March 1897; Willie, born April 13, 1899; Francis, born October 1, 1900; Patrick F., Jr., born April 5, 1902; and Annie, born December 1, 1903.
Mr. Murphy is deeply interested in political questions and in the success of his party. He gives a stanch support to the Republican organization and does all in his power to promote its growth and extend its influence. In 1891 he was elected alderman of Springfield from the first ward and held that office for two Years. Socially he is connected with the Knights of Columbus, the Court of Honor and the Modern Woodmen lodge, all of Springfield, and he and his wife are members of St. Agnes Catholic church of this city. They now reside at No. 205 West Jefferson street and he also owns other property and building lots and expects soon to erect a new residence. Starting out in life for himself at an age when most boys have parental support and guidance, he has since depended upon his own resources and has met with most gratifying success, at the same time making for himself a business record that excites the admiration and commands the respect of his contemporaries.
---
Return to 1904 Biographies Index
Return to Sangamon County ILGenWeb
---