Sangamon County ILGenWeb © 2000
In keeping with our policy of providing free information on the Internet, data and images may be used by non-commercial entities, as long as this message remains on all copied material. These electronic pages cannot be reproduced in any format for profit or for other presentation without express permission by the contributor(s).
---
PAST AND PRESENT OF THE CITY OF SPRINGFIELD AND SANGAMON COUNTY ILLINOIS
By Joseph Wallace, M. A.
of the Springfield Bar
The S. J. Clarke Publishing Co., Chicago, IL
1904
---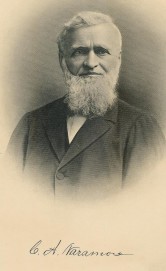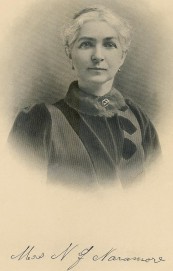 Transcribed by Mary Ann Kaylor
Page 266
Chauncey A. Naramore , now deceased, was born April 24, 1834, in Watersfield, Wyoming county, New York, a son of Edward Naramore, who was of American ancestry, but the mother was of English descent. The grandfather and an uncle of Edward Naramore were soldiers of the Revolutionary war and two of his sons were valiant defenders of the union cause during the Civil war. He is survived by two sisters, one of whom is now ninety-one years of age. Edward Naramore was born in Duanesburg, New York, February 9, 1808, and after obtaining a common school education worked in the woolen mills of the east, being thus employed from the age of fifteen years until early in the '50's, when he went to Chicago. In the meantime he had become part owner of a woolen mill of the Empire state. He was living in Chicago at the time of the great fire, which started just two blocks from his store, but the wind blew it in the opposite direction, and he therefore suffered no loss from the flames. In 1879 he retired from business there. His wife died in that year when she was about sixty-six years of age, and in 1886 he went to California, where he is now making his home with his daughter, Mrs. Ida French, of Los Gatos. He is a well preserved man and has a host of warm friends. In their family were six children, of whom one died in infancy. Frank, the second, was a soldier of the Civil war and went with Sherman to the sea. He afterward died in Savannah, Georgia, while engaged in the real estate business, passing away in August, 1884, at the age of fifty years, while his wife died in 1881. The living members of the family are: Mrs. Emily Augusta Chapman of Chicago; Charles, who is employed as a clerk in the post office of Chicago, and Mrs. Ida French, of Los Gatos, California.
Chauncey A. Naramore, whose name introduces this record, attended the common schools of New York and afterward entered the woolen mills owned by his father, where he learned all the various branches of the business, becoming thoroughly competent to act as foreman of any department. With his father he came to the west and in Chicago was employed by a Mr. Hull, a real estate agent. He afterward opened a confectionery store in that city and was there living at the time of the Civil war, when he responded to the call for three months' troops. He was in Camp Douglas for a time, and because of sciatic rheumatism, brought on by exposure, he received an honorable discharge for disability. In 1861 he went to Wisconsin, where he was employed in a woolen mill, and in 1862 came to Springfield to accept the position of spinner in the woolen mill here. After a short time he was promoted to foreman of the carding room and was connected with the mills until 1873, when, on account of ill health, he turned his attention to farming near Delavan, in Tazewll county, where he remained for three years. On the expiration of that period he located in Sangamon county and carried on agricultural pursuits a mile north of Springfield for two years, and for four years in the northwest part of the same township. In December, 1881, however, he abandoned farming and for a year was employed by Mr. Johnson, of the Revere house. For eight years he was night foreman in the watch factory, and in 1890 he purchased a lot and erected a brick business block at No. 1001 North First street. There he had a stock of groceries, and in course of time built up a good business, which he continued until his life's labors were ended in death. In the meantime he spent about a year in California for his health.
In Springfield, in 1864, Mr. Naramore was married to Nancy J. Patterson, who was born in this city, April 20, 1843, a daughter of Frederick Avery Patterson, who came to Springfield in 1839. He engaged in teaming in St. Louis and also conducted a stage coach line, and with mules he hauled the first cars for the old Wabash railroad to Jacksonville. His death occurred in Tennessee in 1847. In Springfield, in 1831, he had married Sarah Bruce, who was born in South Carolina and whose parents were from Virginia. She died in Springfield in 1869, leaving two daughters, Sarah Alzira and Mrs. Naramore. The latter attended the Edwards school and also the Trapp school, and after putting aside her textbooks she began working in the woolen mills, where she met Mr. Naramore. The first money she ever earned, however, was by folding and sewing the records of legislative actions for the state. Unto Mr. and Mrs. Naramore were born three children: Alice, the eldest and a graduate of the high school and a teacher for six years, is now the wife of H. H. Boysel, by whom she has three children - Almer Avery, Leona G. and Ashley Naramore. They reside at 1009 North First street. Sarah Eunice is the wife of A. M. Little, who is conducting a grocery business, and they have two children - Chester Lee and Ben Ervel. For four years Mrs. Little was a bookkeeper in the time room at the watch factory. Charles Ernest, who was connected with his father's business for one year before and two years after the death of his father, is now traveling salesman in the employ of F. Wiedlocher. In early life he learned the machinists' trade in the watch factory. He married Mollie Logan, by whom he has a son, Wayne, and they reside at No. 917 North Eighth street.
Mr. Naramore was a well read man who kept abreast of the times and took a deep interest in the history of his country and its progress. He voted with the Republican party and was a member of the Cumberland Presbyterian church. He built a home on Klein street in 1868 and in 1899 he purchased a lot at No. 1001 North First street and the following year erected the residence which is now occupied by his widow. He was a reliable business man and one whose genuine worth was acknowledged by many friends. He was without ostentation or display, but the salient traits of his character were manifested in his daily life and were of a nature to win for him uniform confidence and respect.

---
Return to 1904 Biographies Index
Return to Sangamon County ILGenWeb
---