Sangamon County ILGenWeb © 2000
In keeping with our policy of providing free information on the Internet, data and images may be used by non-commercial entities, as long as this message remains on all copied material. These electronic pages cannot be reproduced in any format for profit or for other presentation without express permission by the contributor(s).
---
PAST AND PRESENT OF THE CITY OF SPRINGFIELD AND SANGAMON COUNTY ILLINOIS
By Joseph Wallace, M. A.
of the Springfield Bar
The S. J. Clarke Publishing Co., Chicago, IL
1904
---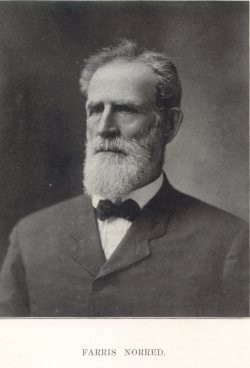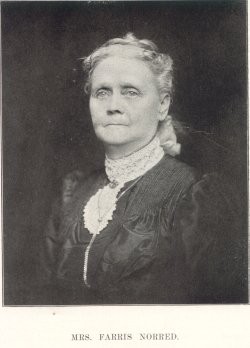 Transcribed by Mary Ann Kaylor
Page 796
FARRIS NORRED has been a resident of Illiopolis for sixteen years and for almost a half century prior to this time was numbered among the substantial farmers of Christian and Sangamon counties. He is today one of the oldest pioneer settlers of this portion of the state, his residence in central Illinois covering the period from 1835 down to the present. He was born in Knox county, Ohio, October 15, 1832. His father, Dr. Richard Norred, was born in Virginia in 1784 and his grandfather, Squire Norred, was also a native of the Old Dominion and was a soldier of the Black Hawk war. Leaving Virginia he removed to Knox county, Ohio, and it was there that Dr. Richard Norred was reared and married. After arriving at man's estate he cleared and developed a farm and made further preparations for having a home of his own by his marriage to Miss Elizabeth Jenkins, who was born in Ohio and was a daughter of Samuel Jenkins. Dr. Norred continued to follow farming in the Buckeye state for a number of years and two of their children were born there. In 1835 he removed to Sangamon county, Illinois, settling in Mechanicsburg township, where he purchased two sections of land and improved a large and splendid farm, becoming one of the most prominent agriculturists of the county as well as one of the pioneer physicians. He spent his last years in this portion of the state, dying about 1844, when his son Farris was a lad of only nine years. In their family were five sons and four daughters, but Farris Norred is now the only survivor. He was reared to manhood in Mechanicsburg township and though his educational privileges in youth were very limited he has continually broadened his knowledge through the years of his manhood by reading, experience and observation. Following the discovery of gold in California, he made an overland trip to that state in 1852 in company with one hundred and twenty men. He joined Pomeroy and Martin and started from Lexington, Missouri, driving eighteen hundred head of fat cattle, on hundred and fifty head of mules and sixteen brood mares. There were also thirty-five loaded wagons, carrying goods of all kinds. They made a quick trip for a stock train, being less than four months upon the way. On arriving at Marysville, California, Mr. Norred engaged in a search for the precious metal, continuing in the mines for about fifteen or eighteen months. He then went to San Francisco, where he engaged in the dairy business, continuing in that pursuit until 1856. Determining then to again come to his native state he returned by way of the Panama route to New York city and thence by train proceeded across the country to Illinois, where he arrived in the fall of that year. On once more reaching Sangamon county Mr. Norred began farming, operating a tract of rented land for a few years. In 1864 he purchased a half section in Christian county of bottom land along the Sangamon river and although it was wild and unimproved at the time he soon broke and cleared it and developed a good farming property. He erected substantial buildings, planted an orchard, tiled his land and also constructed a levee clear around his farm on the river side. This is now a very valuable and highly improved tract and in addition to this Mr. Norred constructed a levee around another farm of nearly twelve hundred acres for other parties. He has since had charge of that tract of land and thus is giving his personal supervision to the operation of fifteen hundred acres of land. About 1887 he built a residence in Illiopolis and has since made his home in the town. He also owns three hundred acres of land in Scott and Stoddard counties of Missouri. He commenced life for himself a poor man, without a dollar and through his labor and enterprise he has accumulated valuable realty possessions and a good home in Illiopolis. Mr. Norred was married in Illiopolis township on Christmas day of 1856, to Miss Ruby Ann Enlow, a native of Pennsylvania, born in Washington county, an a daughter of George Enlow, who came to Illinois about 1846, spending his last years as a farmer here. Unto Mr. and Mrs. Norred were born nine children: Albert, who is married and resides in Sikeston, Missouri; Charles Jefferson, who is a veterinary surgeon; Edward, who was a farmer of Mechanicsburg township and is represented elsewhere in this work; Jennie, the wife of Theodore Taylor (should be Kaylor) of Sangamon county; F. W., a resident farmer of Christian county; Ella, the wife of L. G. Cantrell, of Illiopolis township; Anna F., the wife of William S. Graham, of Henry county, Missouri; William, who is farming in Macon county; and Dora May, at home. Politically Mr. Norred was a Democrat at the time he proudly cast his first ballot for James Buchanan and he supported that organization for a number of years, but is now identified with the Prohibition party. He and his wife are members of the Methodist Episcopal church and he belongs to the Masonic fraternity, in which he has attained the degree of a Master Mason. He also belong to the Independent Order of Odd Fellows, having joined the lodge at Rochester, Illinois, in 1859. He is familiar with the history of pioneer life in Sangamon county and his efforts have been of vast benefit in the development of the agricultural resources of this portion of the state. He has broken many an acre of raw prairie land with four yoke of oxen and he has carried on his work through the years until as the result of his strong purpose and indefatigable energy he is now one of the substantial residents of the county. Today, having passed the Psalmist span of three score years and ten, he is largely living retired, giving his supervision to farming interests, but leaving the active work connected with agriculture to others.

---
Return to 1904 Biographies Index
Return to Sangamon County ILGenWeb
---