Sangamon County ILGenWeb © 2000
In keeping with our policy of providing free information on the Internet, data and images may be used by non-commercial entities, as long as this message remains on all copied material. These electronic pages cannot be reproduced in any format for profit or for other presentation without express permission by the contributor(s).
---
PAST AND PRESENT OF THE CITY OF SPRINGFIELD AND SANGAMON COUNTY ILLINOIS
By Joseph Wallace, M. A.
of the Springfield Bar
The S. J. Clarke Publishing Co., Chicago, IL
1904
---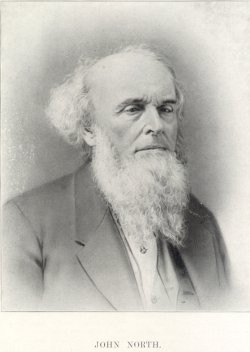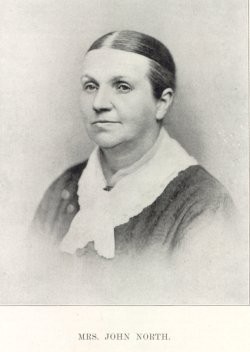 Page 1232
ROBERT FRANKLIN NORTH - One of the most prosperous and successful farmers of Cooper township is the gentleman whose name introduces this sketch. He owns and operates a fine farm of four hundred acres on section 10 and is quite extensively engaged in the raising of stock. A man of good business and executive ability, as well as a practical and progressive agriculturist, he has met with gratifying success in his work and ranks today among the substantial men of his community.
Mr. North was born March 31, 1859, in the very house where he now resides, his entire life having been passed in Cooper Township. His father, John North, came to this county from Tennessee in 1829 and was therefore classed among the "snow birds" - a name given to those who located here prior to the winter of the deep snow. He was three times married, his first wife being Anna Giger, his second Susan Eckle and the third Permelia A. Woodruff, a native of Kentucky, by whom he had three children, Frank, of this review being the eldest. Edward E. owns and operates a farm in Cooper township, and Permelia A. is the wife of W. H. Lord, a resident of Mechanicsburg. The father purchased the farm where our subject now resides and continued to make his home thereon until his death, which occurred on the 15th of December, 1880. His third wife survived him some years, dying in Mechanicsburg, November 25, 1894.
During his boyhood Frank North attended the public schools, and after completing his education aided his father in the cultivation of the home farm until the latter's death, when he took charge of the place and business interests connected with the estate. Later he purchased the interests of the other heirs in the property and is now in possession of what has been the North homestead since 1829. He raises considerable stock, fattening about two carloads for market annually, and he now has a fine herd of Aberdeen Angus cattle, of which he makes a specialty. He is an excellent judge of stock, and being also a practical and progressive farmer he has met with success in the occupation which he has chosen as a lifework.
Mr. North was married in this county at noon, March 4, 1885, at the time President Cleveland was first inaugurated, the lady of his choice being Miss Tabitha Mcginnis. She was born and reared in Curran township, where her father, W. W. McGinnis, is still living at the ripe old age of seventy-four years. Mr. and Mrs. North have four children: Frankie Louise, Charlotte, Ruth and Russell, twins. Mr. North is now living in Mechanicsburg in order to better educate his children by giving them the advantages of the village schools.
Since casting his first presidential vote for General Hancock, Mr. North has never wavered in his allegiance to the Democratic party and its principles, but he has never cared for political honors. Fraternally he is a prominent member of the Knights of Pythias Lodge at Mechanicsburg, in which he has filled all the chairs and is now past chancellor. He has also represented the lodge in the grand lodge of the state several terms. Mr. North is well known throughout the county where he has always made his home, and by the possession of those qualities which in every land and clime command respect he has won many friends. His career has been one of unfaltering industry, and through strong purpose and diligence he has worked his way upward to the plane of affluence.

---
Return to 1904 Biographies Index
Return to Sangamon County ILGenWeb
---