Sangamon County ILGenWeb © 2000
In keeping with our policy of providing free information on the Internet, data and images may be used by non-commercial entities, as long as this message remains on all copied material. These electronic pages cannot be reproduced in any format for profit or for other presentation without express permission by the contributor(s).
---
PAST AND PRESENT OF THE CITY OF SPRINGFIELD AND SANGAMON COUNTY ILLINOIS
By Joseph Wallace, M. A.
of the Springfield Bar
The S. J. Clarke Publishing Co., Chicago, IL
1904
---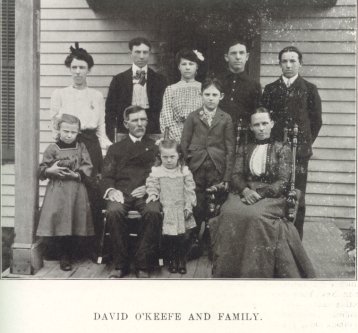 DAVID O'KEEFE. - David O'Keefe, who carries on farming in Divernon township, was born December 10, 1839, in Cayuga county, New York, about five miles from Niagara Falls, and is a son of Arthur and Ellen (Britt) O'Keefe, both of whom were natives of the Emerald Isle. When quite young the father came to America with his brother, David, who served as a colonel during the Mexican war and who owned the tract of land on which John Lewis Childs maintains his __oral park in New York state. It was in honor of this brother that David O'Keefe of this review was named. He is the oldest in his father's family, the others being Daniel, John, James and Gertrude.
When our subject was about twelve years of age, he left home and spent some time in travel, then seeing much of the country. In 1856 he went to Toronto, Canada, and from city to city traveled through the northern part of the Dominion and afterward proceeded to Chicago. He spent a year on the lakes, sailing between Chicago and Buffalo, New York. The year 1858 witnessed his arrival in Auburn township, Sangamon county, where he lived on a farm until 1861.
He then offered his services to the government when the question of slavery involved the country in civil war, and on the 23d of July he enlisted as a member of Company I, Seventh Illinois Volunteer Infantry, which he joined at Springfield. He was under the command of Colonel John Cook and of Captain Noah E. Mendle, who was killed at Fort Donelson and was then succeeded by Edward Johnson, who is now the custodian of the Lincoln monument in Springfield. Mr. O'Keefe went with his regiment direct to Mound City, Missouri, and afterward to Fort Hall, later participating in the battles of Fort Henry and Fort Donelson. At the last named place he was engaged in battle for three days. The regimen went into camp at Clarksville Tennessee, and afterward proceeded to Pittsburg Landing, where Mr. O'Keefe was taken ill with brain fever before the battle and was sent to the hospital in St. Louis. He then rejoined his regiment at Corinth, Mississippi, where the winter was spent. At that place the regiment purchased repeating rifles, for which they paid forty-eight hundred dollars. They were also mounted and divided into guerilla squads, acting in that way until the battle of Corinth, after which they guarded the Tennessee river until General Sherman reorganized his army, when they proceeded to Athens, Tennessee, where they did picket duty. Later they were sent to Pulaski, Tennessee, and there Mr. O'Keefe was honorably discharged on the 21st of December, 1863, but the next day he re-enlisted as a veteran. He was then given a thirty days' furlough, which he spent at home, and on rejoining the army he was transferred to Sherman's command and moved with his regiment to Rome, Georgia, and later he took part in the battle of Altoona Pass, Georgia, where he was wounded by a piece of shell, and because of this he was sent to the hospital. He rejoined his regiment at Goldsboro, North Carolina, and took pat in the grand review at Washington, D. C., the most celebrated military pageant ever seen on the western hemisphere. After the war Mr. O'Keefe was mustered out of service at Camp Butler, in Springfield, after having been discharged at Louisville, Kentucky, July 9, 1865.
Returning home, Mr. O'Keefe resumed farming, and has made that occupation his lifework. He was married November 29, 1877, to Miss Edna Jane English, who was born in Auburn township, March 11, 1859. Her parents, George and Henrietta (Stone) English, were natives of Zanesville, Ohio. Her mother was a granddaughter of one of the Zanes, for whom that city was named, the family having been quite prominent in the early wars of this country. It was during the infancy of Mrs. O'Keefe that her mother died, and she was adopted by Mr. and Mrs. William Winters, who were very dear friends of her father. Mr. English died August 17, 1903, in Idaho. Of the three children born to George and Henrietta (Stone) English, two are still living: Mrs. O'Keefe and William H., a resident of Portland, Oregon. Mr. and Mrs. O'Keefe have eight children: Elizabeth Ellen, who was born September 17, 1878, and is now teaching school in Warren county, Illinois; Arthur, who was born February 20, 1881, and is attending school in Lincoln, this state; Winter, born July 23, 1883; Taylor David, born July 29, 1886; Gertrude Pearl, born March 15, 1889; John Ernest, born December 15, 1891; Margaret Adelia, born June 1, 1895; and Mildred Edna, born on the 18th of May, 1899.
The family home is situated on a farm of one hundred and twenty acres in the north part of Divernon township. It is under a high state of cultivation, indicating the careful supervision of the owners, whose progressive farming methods have made this a valuable farm, productive fields returning good harvests. Mr. O'Keefe and his family are members of the Cumberland Presbyterian church, and his services in the Civil war also entitle him to membership in the Grand Army of the Republic and he is now identified with J. W. Doods Post, No. 390, of Auburn. The government, in recognition of the aid which he rendered in the dark hours of the Civil war, grants him a pension of six dollars per month. He votes with the Republican party and has been assessor of Divernon township for two terms.

---
Return to 1904 Biographies Index
Return to Sangamon County ILGenWeb
---