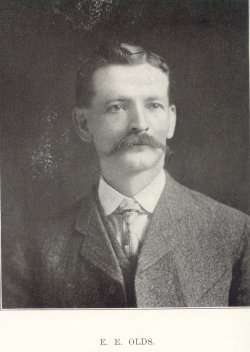 Page 892
E. EVERETT OLDS - E. Everett Olds is engaged in the real estate and insurance business in Springfield and has resided continuously in the city since 1897. He first came here in 1885, but for an interval of five years lived elsewhere. He is a native of Menard county, Illinois, born February 2, 1866. His father, V. D. Olds, was born in Ohio in June, 1831, a son of Lyman Olds, who brought his family to Illinois and settled in Menard county. He spent his remaining days in this state and died at the home of his son in Bloomington at the age of eighty-four years. The family is of German descent.
V. D. Olds, the father of our subject, was but six years of age when he accompanied his parents to Illinois and he has since lived in Menard county within three miles of the place where the family first located, his present home being now in the village of Sweetwater. He was educated in the early schools of Menard county and after arriving at years of maturity he was married to Elizabeth Whipp, who was born there in June, 1836. The Whipp family was also from Ohio. Her father, Wesley Whipp, died at the age of thirty-six years. Her grandfather secured land from the government on coming to this state from Ohio. In the family of Wesley Whipp were three sons and a daughter who are yet living. One of these, Leonard, has spent his entire life in Petersburg and David and Frank are now residents of California, the latter having gone to that state in 1849. V. D. Olds is one of a family of five children who are yet living: James; Calvin, who is a resident of Bloomington, this state; William, who is living in Pontiac, Illinois; Walter, whose home is in Lincoln, Nebraska; while V. D. is the youngest. Throughout his entire life the father of our subject has carried on agricultural pursuits. Unto him and his wife were born nine children: John W., who is a florist of Petersburg, Illinois; William H., a contractor and builder of Sweetwater, Menard county, Illinois; Lewis E., who resides in Chicago and is a traveling salesman; E. Everett, of this review; and five who died in early childhood. All were reared upon the home farm and were educated in the common schools.
In the district schools like the other members of the family, E. Everett Olds mastered the branches of English learning and remained upon the home farm until fifteen years of age, when he went to Greenview, Illinois, where he attended a graded school, paying his own way. He then came to Springfield and entered the store of S. C. Hampton & Son, occupying a clerkship in that establishment for a year. He then began working for J. E. Hemmick & Co., grocers, with whom he remained for three years, and on the expiration of that period he secured a position in a watch factory at Peoria in 1889. He worked at different times in Elgin and Rockford, Illinois, and in Canton, Ohio, and he then returned to Springfield and began business for himself as a real estate and insurance agent. He had no assistance at the outset of his career here, but by persistence, correct business principles and straightforward methods he has gradually worked his way upward and has earned the proud American title of a self-made man. Since establishing his office in Springfield he has negotiated a number of important real estate transfers, handling much valuable property and has written quite a large amount of insurance. His business is constantly increasing and has now reached profitable proportions.
In 1885 occurred the marriage of Mr. Olds and Miss Rebecca Harris, who was born in England, a daughter of William Harris, now a resident of Greenview, Illinois, and formerly of Pleasant Plains. He was a coal operator and was actively engaged in business until he removed to his present place of residence in 1890. In his family were thirteen children, of whom ten are living, while two are residents of Sangamon county; George of Pleasant Plains and Mrs. E. E. Olds. The latter was educated in the schools of Pleasant Plains and in the Thomas White school and by her marriage has become the mother of one son, Paul Everett, who was born in Athens, Illinois. Mr. Olds has made a success of his work and is entitled to much credit for the way he has conducted his business. His name is a synonym for honor and integrity in all business transactions and wherever he has gone he has made friends by reason of his intrinsic worth of character and his fidelity to all the principles of an upright, honorable manhood.

---
Return to 1904 Biographies Index
Return to Sangamon County ILGenWeb
---