Sangamon County ILGenWeb © 2000
In keeping with our policy of providing free information on the Internet, data and images may be used by non-commercial entities, as long as this message remains on all copied material. These electronic pages cannot be reproduced in any format for profit or for other presentation without express permission by the contributor(s).
---
PAST AND PRESENT OF THE CITY OF SPRINGFIELD AND SANGAMON COUNTY ILLINOIS
By Joseph Wallace, M. A.
of the Springfield Bar
The S. J. Clarke Publishing Co., Chicago, IL
1904
---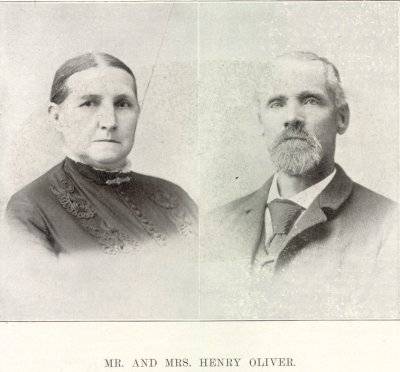 WILLIAM O. OLIVER. - Among the progressive and wide awake farmers of William Township is numbered William H. Oliver, who is living on section 35. Born in Clear Lake township, Sangamon county, August 16, 1865, he is a son of Henry and Elizabeth A. (Wheeland) Oliver. His paternal grandfather, John Oliver, was an early settler of Ross County, Ohio, removing to that state from Maryland. Henry Oliver was born in Ross county in 1822 and was there married to Miss Wheeland, whose birth occurred at Walnut Creek, Ohio. He afterward devoted his attention to farming in Ross county for a number of years or until after the birth of eight of their children, when he came with his family to Illinois, settling in Sangamon county in April, 1865, on the farm where his son William now resides. He had there two hundred and eight acres, of which forty acres was covered with timber, but with characteristic energy he devoted his time and attention to the cultivation and improvement of his farm, and he erected a substantial house and good barns and outbuildings which are monuments to his life of industry and thrift. He entered upon his business career empty handed, but he allowed no difficulty or obstacle to deter him in his effort to win success, and as the years passed he accumulated a comfortable competence. He died June 22, 1900. His wife survived him and passed away June 9, 1902.
William H. Oliver was one of a family of eleven children, of whom two sons and five daughters are yet living. He was a pupil in the public schools in his boyhood days and his farm training was received under the direction of his father, with whom he remained until the latter's death, when he took charge of the old homestead and carried on the work of the fields for several years. In fact, he has devoted his attention almost exclusively to farm work here since a youth of sixteen. He succeeded to a quarter section of the farm and afterward he purchased one hundred and twenty acres, and now he has two hundred and forty acres of rich land that returns to the owner a golden tribute as a reward for the care and labor he bestows upon his fields.
Mr. Oliver was married in Riverton, Illinois, June 20, 1900, to Margaret C. Carr, who was born in Fancy Creek township, Sangamon county, a daughter of Terrence and Rosa (Kane) Carr. Prior to her marriage Mrs. Oliver engaged in teaching music. Both are members of the Catholic church and in the community where they reside they have won many friends. Mr. Oliver cast his first presidential vote for Grover Cleveland and his last for William J. Bryan, never having faltered in his allegiance to Democracy.

---
Return to 1904 Biographies Index
Return to Sangamon County ILGenWeb
---