Sangamon County ILGenWeb © 2000
In keeping with our policy of providing free information on the Internet, data and images may be used by non-commercial entities, as long as this message remains on all copied material. These electronic pages cannot be reproduced in any format for profit or for other presentation without express permission by the contributor(s).
---
PAST AND PRESENT OF THE CITY OF SPRINGFIELD AND SANGAMON COUNTY ILLINOIS
By Joseph Wallace, M. A.
of the Springfield Bar
The S. J. Clarke Publishing Co., Chicago, IL
1904
---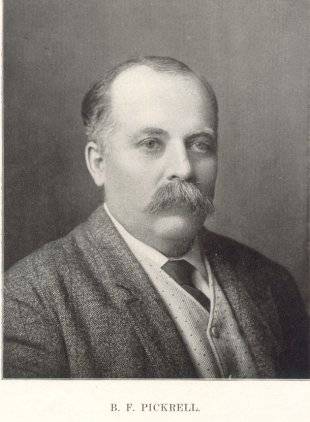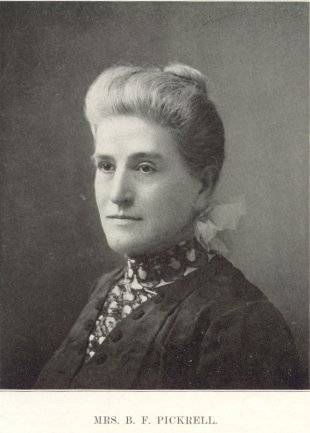 B. F. PICKRELL. - B. F. Pickrell, who is living on section 7, Lanesville township, is well known as a substantial farmer, stock raiser and dairyman of Sangamon county. His farm comprises two hundred and forty acres of land, which is rich and arable and which is splendidly located, adjoining Lanesville. He was born in Mechanicsburg, Sangamon county, December 10, 1848, and is a representative of an old Virginian family. His paternal grandfather, Abel Pickrell, was born in Loudoun county, Virginia, March 14, 1786, and was quite a young boy when his father died. His mother afterward removed with her children to Fleming County, Kentucky, in 1792, and he later established his home in Montgomery county, that state, amid pioneer surroundings and conditions. He was there married, in 1804, to Sarah Taylor, who was born at Redstone Fort, Pennsylvania, October 31, 1784. Abel Pickrell served as a soldier in the war of 18812, enlisting from Montgomery county, Kentucky. Six of his children were born in that county, and in 1818 he removed with his family to Shelby county, that state, where he remained until 1831, when he came to Sangamon county, Illinois, settling in Mechanicsburg township. He continued a resident of this part of the state throughout his remaining days and died in Mechanicsburg.
Jesse A. Pickrell, the father of our subject, was born in Montgomery county, Kentucky, June 13, 1805, and there spent the days of his boyhood and youth. He came to Illinois in the spring of 1828 and in the fall returned to Kentucky and brought his brother William back with him, being among the earliest arrivals in Sangamon county. He established his home in Mechanicsburg township, and in 1831 he returned to his native state for his father and the family. All was wild and unimproved here and there was little promise given of future development, but undeterred by the hardships and trials which always await the pioneer settler, he entered land in Mechanicsburg, Buffalo and Lanesville townships, thus securing several hundred acres. His home farm, however, was in the former township. On the 18th of December, 1828, he was married in this county to Elizabeth Churchill and they traveled life's journey happily together for many years. Mr. Pickrell died in 1878 at the advanced age of seventy-three years, and his wife survived him for a number of years. They were the parents of ten children, all of whom reached years of maturity, while two sons and four daughters are yet living. One brother, William O. Pickrell, is a resident of southern Kansas; the eldest sister, Mrs. Ann M. Lee, is a widow of Bloomington, Illinois; Mrs. M. V. Everest is living in Pasadena, California; Mrs. Gertrude Van Hook resides in Bloomington; Sarah E. resides in Eureka, Illinois; and Abel George married and established his home in Sangamon county, where he lived until his death. He left a son and three daughters. Miller H. reached mature years and died in Texas; John C. died in Sangamon county; Amanda P. became the wife of Walter F. Swift and died at their home in Ottawa, Kansas.
B. F. Pickrell spent his boyhood days in Sangamon county, pursuing his education in Mechanicsburg and in Springfield. In the latter city he attended a commercial school and he remained with his father until he attained his majority, assisting in the cultivation and improvement of the old home place. He was married January 5, 1875, to Miss Narcissa Smith, a native of Ohio, and a daughter of George Smith, who brought his family from Ohio to Mechanicsburg. After his marriage Mr. Pickrell located where he now resides, having a tract of one hundred and sixty acres of land, to which he has since added until he now owns a valuable farm of two hundred and forty acres. He has planted an orchard and shade trees, has built good barns and sheds for the shelter of grain and stock and has added all modern equipments and accessories to his place, so that it is now one of the best farms of the locality. H raises good grades of shorthorn cattle, Clydesdale horses and Poland-China hogs, and in connection with his other farming interests he is engaged in the operation of a creamery, having begun business in this way in 1895. He milks from twenty-eight to thirty cows and uses a separator in the creamery.
Unto Mr. and Mrs. Pickrell have been born four sons and four daughters: Priscilla, who is engaged as librarian in Oskaloosa, Iowa; Owen C., who holds a responsible position in the National Bank of California at Los Angeles; George S., who is a bookkeeper in the bank at Buffalo, Illinois; John; Elizabeth; Harry E.; Mary S. and Narcissa. They also lost two children in infancy.
Mr. Pickrell always votes with the Republican party and his first presidential ballot was cast for General Grant in 1872. He was elected and served as supervisor for a number of years and served on the county board two terms, during which time he was a member of the finance committee. He has also been commissioner of highways and in 1900 was census enumerator. He has been a delegate to numerous conventions of his party and has been active and prominent in local political circles. The Pickrell family is well known throughout Sangamon county and Frank Pickrell and his estimable wife enjoy the high esteem in which the representatives of the name have so uniformly been held. In his business affairs he so utilized his time and opportunities that he has prospered in his undertakings and is now a very substantial agriculturist.

---
Return to 1904 Biographies Index
Return to Sangamon County ILGenWeb
---