Sangamon County ILGenWeb © 2000
In keeping with our policy of providing free information on the Internet, data and images may be used by non-commercial entities, as long as this message remains on all copied material. These electronic pages cannot be reproduced in any format for profit or for other presentation without express permission by the contributor(s).
---
PAST AND PRESENT OF THE CITY OF SPRINGFIELD AND SANGAMON COUNTY ILLINOIS
By Joseph Wallace, M. A.
of the Springfield Bar
The S. J. Clarke Publishing Co., Chicago, IL
1904
---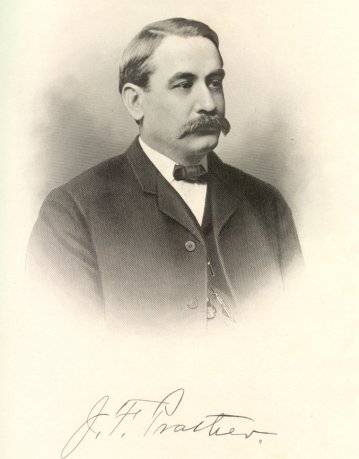 J. F. PRATHER. - J. F. Prather, president of the Williamsville Bank of J. F. Prather & Company, was born in Pike county, Ohio, January 24, 1859, his parents being John and Mary L. (Jones) Prather, the former a native of Ohio and the latter of Virginia. He was brought to Sangamon county by his parents when but eight years of age and afterward attended school in Springfield. His education was largely acquired in the public schools, but he also spent two years as a student in a college at Delaware, Ohio. In the meantime his parents had removed to Williamsville in 1878 and upon his return to Sangamon county Mr. Prather took up his abode upon his father's farm, where he has lived continuously since. A portion of this land now lies within the corporation limits of Williamsville. During the greater part of his life Mr. Prather has given much attention to stock raising, making a specialty of shorthorn cattle. His activity in this direction has resulted in brining to him a high measure of success and at the same time has been of benefit to the community, for the man who raises good stock keeps up or advances the prices paid and thus the entire agricultural class is benefitted. In 1890 he became one of the organizers of the Williamsville Bank of J. F. Prather & Company, which entered upon a prosperous existence. In March, 1902, he and partners purchased the old Elkhart Bank at Elkhart, Illinois, installed their own cashier and are conducting business there under the name of J. F. Prather & Company. In 1901 he also became connected with the Illinois National Bank of Springfield as a director.
On the 19th of April, 1892, Mr. Prather was united in marriage to Mrs. Emma J. Wright, of Williamsville. His political allegiance is given to the Republican party and in 1896 he was elected a member of the state board of agriculture and was re-elected in 1898, 1900 and 1902. In this connection he has charge of beef breeds of cattle. He has also been instrumental in instituting various improvements in connection with the state fair and is a member of the building committee that erected the Women's building, the Dairy building and the coliseum. He has always favored progress in connection with the fair, realizing its value as an impetus to more progressive effort on the part of the agricultural community and few men in the state have done as much to promote farming interests as has Mr. Prather. Fraternally he is connected with the Knights of Pythias lodge, with the Independent Order of Odd Fellows and with Sangamo Club.

---
Return to 1904 Biographies Index
Return to Sangamon County ILGenWeb
---