Sangamon County ILGenWeb © 2000
In keeping with our policy of providing free information on the Internet, data and images may be used by non-commercial entities, as long as this message remains on all copied material. These electronic pages cannot be reproduced in any format for profit or for other presentation without express permission by the contributor(s).
---
PAST AND PRESENT OF THE CITY OF SPRINGFIELD AND SANGAMON COUNTY ILLINOIS
By Joseph Wallace, M. A.
of the Springfield Bar
The S. J. Clarke Publishing Co., Chicago, IL
1904
---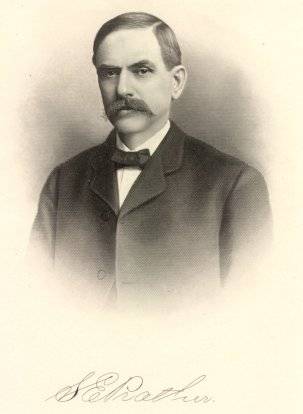 SAMUEL E. PRATHER. - Had Samuel E. Prather done nothing else save superintend his business affairs his splendid achievements in this connection alone would entitle him to representation among the leading men of Sangamon county, but while planning and controlling business interests of magnitude he has also in matters of citizenship been helpful, taking a deep interest in the progress and improvement of the city along material, social, intellectual and moral lines. His work therefore entitles him to mention among the men whose efforts and labors have been the moving influences in the development and progress of the section of the state.
A native of Ohio, Samuel E. Prather was born in Pike county, August 27, 1850, and is therefore in the prime of life. His parents were John and Mary J. (Jones) Prather and the paternal grandparents were Enos and Mary (Sergeant) Prather. John Prather, who was born December 16, 1813, was but fifteen years of age when he entered upon his business career in connection with his brothers, Enos and William, as farmers and stock raisers, and the relation was maintained for sixteen years. Before the era of railroad transportation Mr. Prather drove cattle from Ohio to the markets of Philadelphia and New York, but the west attracted him, its growing possibilities proving the lodestone which drew him to Illinois. Locating in Springfield, for ten years he remained a resident of the capital city and took up his abode in Williamsville. He was seventy-eight years of age at the time of his death and to the last possessed the vigor of mind and body usually found in a man of much younger years. His business career was a prosperous one and the judicious investments which he made in real estate made him an extensive landowner, whose possessions included fine farms in Sangamon and Logan counties in Illinois and in Pike county, Ohio. He owned in the buckeye state fourteen hundred acres, some of which was originally purchased by his grandfather Sergeant in 1794. The Prathers, associated with others in the importation of cattle from England, have done much to improve the grade of stock and thereby raise the price of cattle in Ohio and Illinois. A man of excellent business ability, Mr. Prather also extended his efforts into other fields of activity, becoming one of the first stockholders of the State National Bank of Springfield. While living in Ohio he was assistant assessor of the United States internal revenue for the twelfth district of Ohio.
Samuel E. Prather spent the first seventeen years of his life in the state of his nativity and then accompanied his parents on their removal to Illinois, where he was destined to enter upon a successful business career that has proven of marked benefit to himself and to the community which he represents. Excellent educational privileges fitted him for the practical and responsible duties of life, his early training received in the public schools having been supplemented by advanced study in the Wesleyan University of Delaware, Ohio. In 1868 he entered upon his business career, first improving a farm on the Sangamon river, where he reclaimed considerable bottom land by building a levee, which was the first work of the kind done in this section of the country. In this way he converted almost useless land into valuable property. In 1873 Mr. Prather became largely interested in stock raising both in Illinois and Kansas. As a breeder and dealer in fine stock he has met with most excellent success and is today the foremost representative of the business in this portion of the state. He has won many premiums upon his herd of fine cattle and now has one of the finest and largest herds of shorthorns in central Illinois. His annual sales, which he holds during the spring months of the year, attract buyers from many of the western states as well as from this portion fo the country.
A man of resourceful business ability Mr. Prather has not confined his attention alone to agricultural and stock raising interests, in fact, few men have been more actively identified with manufacturing and mercantile interests in the city of Springfield. In 1879 he became a contractor in the construction of the Chicago & Alton Railroad, which formerly stopped at Mexico, Missouri and was then extended to Kansas City, a distance of one hundred and sixty-one miles. In 1881 he became interested in a hominy mill on the Baltimore & Ohio Railroad just west of Springfield, which property was burned a year later. In 1883 he became connected with the implement and carriage business and in 1889 he joined Marshall and Archibald Sattley in the manufacture of plows at Springfield under the name of the Sattley Manufacturing company, which was changed in September, 1903, to the Racine Sattley Company. The business was incorporated in 1890 with a capital of twenty-five thousand dollars, but the capital stock has been increased from time to time until it is now one million dollars. The volume of business done the first year amounted to only forty-five thousand dollars, but the present sales amount to a million and a half dollars annually. Mr. Prather is a large stockholder in this company and served as secretary and treasurer of the same until its consolidation with the present Racine Sattley Company, the other officers being Marshall Sattley, president, and John T. Peters, vice-president. The total number of square feet used by the company is four hundred and eighteen thousand, and the buildings, seven number, are built of brick and are supplied with the latest machinery of the most approved patterns and workmanship. The output of the factory is now very great for the excellent quality, durability, finish and workmanship have all combined to make the products of value to the agricultural public, so that the sales of the house are constantly growing. Mr. Prather si also a director and vice-president of the Springfield, Lincoln, Bloomington, Pekin & Peoria Electric Railway Company, owners of the "Corn Belt Line."
One the 14th of July, 1875, occurred the marriage of Mr. Prather and Miss Ida Henkle, a native of Decatur, Macon county, Illinois, and a daughter of Enos M. and Martha (Condell) Henkle. Reared amid the refining influences of a good home and receiving advanced educational privileges, Mrs. Prather is a lady of superior culture, refinement and mentality, and her social qualities render her a favorite with a large circle of friends. By her marriage she has become the mother of four children who are yet living - Mary, John, Grace and Florence.
In his political view Mr. Prather is an ardent Republican and while the honors and emoluments of office have had no attraction for him he has done what he could as a private citizen to promote the growth and success of his party. He is equally loyal and zealous in his advocacy of the Methodist Episcopal church, to which he and his wife belong, and in conjunction with T. C. Smith and Edwin A. Wilson raised money for the erection fo the first Young Men's Christian Association building, he being president of the organization at that time. Whatever tends to promote the progress and improvement of Springfield receives his endorsement and co-operation.
As the founder of what has become one of the important lines of trade in the west, Mr. Prather deserves special credit. His success has been the result of honest, persistent effort in the line of honorable and manly dealing. His aims have always been to attain the best and he has carried forward to successful completion whatever he has undertaken. Hi life has marked a steady growth and now he is in possession of an ample competence, and mor than all he has that contentment that comes from consciousness of having lived to a good purpose.

---
Return to 1904 Biographies Index
Return to Sangamon County ILGenWeb
---