Sangamon County ILGenWeb © 2000
In keeping with our policy of providing free information on the Internet, data and images may be used by non-commercial entities, as long as this message remains on all copied material. These electronic pages cannot be reproduced in any format for profit or for other presentation without express permission by the contributor(s).
---
PAST AND PRESENT OF THE CITY OF SPRINGFIELD AND SANGAMON COUNTY ILLINOIS
By Joseph Wallace, M. A.
of the Springfield Bar
The S. J. Clarke Publishing Co., Chicago, IL
1904
---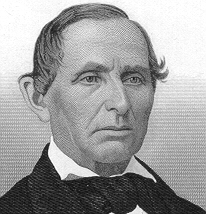 Frank Sales Reisch
Ancestor of Patty Gaddis

FRANK SALES REISCH - There is no life history given in this volume which proves more clearly or conclusively the fact that in America, where opportunity is unhampered by caste or class, that success may be gained through perseverance, energy and good judgment, than that of Franz Sales Reisch. He belonged to the peasant class of Germany and was born in Niederhausen, in the grand duchy of Baden on the river Rhine, January 24. 1809. His advantages and privileges in youth were indeed very limited and at the age of seventeen he was apprenticed to a cooper located in Schletstadt, a village situated across the Rhine in Alsace, France. There he served for three years and after completing his apprenticeship worked as a journeyman for three years. In the meantime he had heard favorable reports concerning the opportunities of the new world and resolved to seek a home and competence in America. Accordingly he severed the ties, save those of friendship, whic h bound him to his native land, and in 1832 became a resident of Kentucky. He also lived in Indiana for a short period, then took up his abode in Beardstown, Illinois, on the Illinois river, where he followed coopering. Through four years he remained there, carefully saving his earnings, and then recrossed the Atlantic for the purpose of securing a wife. While he was serving his apprenticeship he pledged his troth to a farmer's daughter, near his native village. She bore the maiden name of Susan Maurer and was born in the same locality as her husband. The long betrothal of the young couple was consummated in marriage upon his return to his native country and their wedding journey consisted of a voyage to the new world.
Again locating in Beardstown Mr. Reisch established a shop of his own and soon secured a liberal patronage which enabled him after three years to purchase a farm, and in 1840 be became the owner of a tract of land on Richland creek in Sangamon county. Here in addition to the cultivation of the soil he also engaged in the manufacture of barrels which he delivered by wagon to Beardstown, St. Louis and Springfield. Later he sold his first farm and purchased another tract of land about eight miles from Springfield in the same county and proceeded as before with increasing success. In 1846 a part of his capital was invested in a mercantile enterprise and in 1850 he removed to Springfield. There the previous year be had established a small brewery, with a capacity of about one hundred and fifty barrels per year and the growth and success of the enterprise is indicated by the fact that in the course of time the business had increased more than three hundred fold, the capacity being four hundred barrels per da y. Mr. Reisch purchased his partner's interest in the store and with unflagging energy devoted his time and attention to the conduct of the brewery, his mercantile interests and his agricultural pursuits. In 1854 a transient temperance agitation discouraged the first named, and leasing his brewery for a number of years he then became a factor in brick-making. He also joined a partner in a grocery store and in 1858 again became manager of the brewery, the trade of which had greatly increased in the meantime. In this enterprise he was associated for a period with a partner, but the relation proved uncongenial and when it was discontinued Mr. Reisch admitted his grocery partner to a partner ship in the brewery. In 1862 he bought him out and for a brief period was alone in the business, but in 1863 admitted his son Frank to a partnership and in 1868 they erected an immense brewing plant, greatly increasing the output, and thereby enlarging the prosperity which resulted there from.
For thirty-five years Mr. Reisch and his estimable wife traveled life's journey together. Of their children Frank died in 1896, while Mary died in 1880. The others are George; Elizabeth, wife of August A. Ensenberger; Joseph, vice-president of Reisch Illinois Brewing Company; and Leonard, a dry goods merchant. On the 18th of August 1875, the life labors of Franz Sales Reisch were ended in death. He fell from the third story of a building which he was erecting as an addition to the brewery and died within a couple of hours. His funeral was one of the largest ever attended in Springfield, for he was a man of many friends, his excellent traits of character having gained for him the regard and esteem of those with whom he was associated. His wife survived him until 1901, when she too passed away. The couple who had been so much to each other in life were thus united in death. Both had been reared in the Catholic faith and no matter how inclement the weather Mrs. Reisch always attended mass. In his political views Mr. Reisch was a Democrat but never sought office. In his business life he prospered and there were certain elements in his career which commanded the highest confidence and admiration of his fellowman. He was notably prompt and reliable, never an engagement which he did not fulfill or enter upon an obligation which be did not meet. Thus as the years passed he added continually to his capital until he became a man of wealth, and this was of the greatest satisfaction to him because it enabled him to provide well for his family the center of his interest. In his home he showed every mark of tenderness and love and he was always a faithful friend, and while he utilized his business opportunities and ability to the fullest extent, he always found time to enjoy the pleasures of his own fireside and to promote the welfare and happiness of his wife and children.
---
Return to 1904 Biographies Index
Return to Sangamon County ILGenWeb
---