Sangamon County ILGenWeb © 2000
In keeping with our policy of providing free information on the Internet, data and images may be used by non-commercial entities, as long as this message remains on all copied material. These electronic pages cannot be reproduced in any format for profit or for other presentation without express permission by the contributor(s).
---
PAST AND PRESENT OF THE CITY OF SPRINGFIELD AND SANGAMON COUNTY ILLINOIS
By Joseph Wallace, M. A.
of the Springfield Bar
The S. J. Clarke Publishing Co., Chicago, IL
1904
---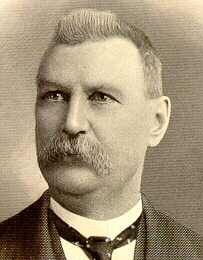 George Reisch
Ancestor of Patty Gaddis

GEORGE REISCH - George Reisch is president of the Reisch Brewing Company. The business was established by his father, Franz Sales Reisch, in 1849 and has been continued along the lines of honorable and progressive dealing instituted by him.
George Reisch, born in Sangamon county, was educated in the public and private schools of Springfield and put aside his text-books at the age of sixteen to become his father's assistant in the brewery. This was in 1862, and for six years he was employed in the business which he mastered in its different departments. He was then admitted to a partnership, together with his brother Frank and the relation was maintained until the death of the father in 1876. At that time the business was reorganized and F. Reisch & Brothers became the successors of F. Reisch & Sons. The brewery has been remodeled and enlarged from time to time and supplied with modern machinery and is in keeping with the progressive spirit of the times, while its output is of such an excellent grade that it finds a ready sale on the market. The brewery now ranks with the very large concerns of the country with an output of one hundred thousand barrels per annum.
In 1878 George Reisch was married to Miss Mary Spitly, who was born in Lincoln, Illinois, a daughter of Martin Spitly, who for many years was proprietor of the Spitly House of Lincoln. Ten children, six sons and four daughters, were born of this marriage. The family have a very pleasant home and Mr. Reisch is recognized as a citizen of value because of the active co-operation which he gives to many measures for the public good. He is a member of the park board and withholds his aid from no movement which he believes will contribute to the improvement of Springfield. Reisch Brothers own much valuable property here, as well as in all parts of central and southern Illinois. Mr. Reisch is a member of the Elks and the Arion, Mercantile and Sangamo Clubs of Springfield, and is a genial gentleman, of courteous address and pleasing manner, who has gained many friends in the Illinois capital, where he is widely known.
---
Return to 1904 Biographies Index
Return to Sangamon County ILGenWeb
---