Sangamon County ILGenWeb © 2000
In keeping with our policy of providing free information on the Internet, data and images may be used by non-commercial entities, as long as this message remains on all copied material. These electronic pages cannot be reproduced in any format for profit or for other presentation without express permission by the contributor(s).
---
PAST AND PRESENT OF THE CITY OF SPRINGFIELD AND SANGAMON COUNTY ILLINOIS
By Joseph Wallace, M. A.
of the Springfield Bar
The S. J. Clarke Publishing Co., Chicago, IL
1904
---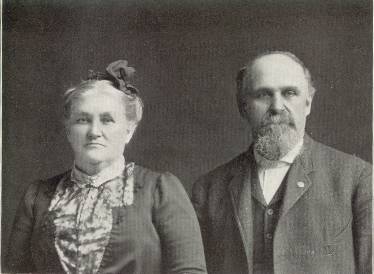 Mr. and Mrs. John Rentschler
JOHN RENTSCHLER. - John Rentschler, who is now living a retired life in Illiopolis, was for many years engaged in general farming pursuits in Illiopolis township. He has made his home in Sangamon county since the spring of 1857, at which time he came to America from Germany, his native country. He was born in Wurtemberg, August 30, 1840, and is a son of David and Mary (Rexer) Rentschler, both of whom were natives of the same country. Their family numbered twelve sons and four daughters, and of this number eight sons and all of the daughters reached mature years, while three brothers and one sister came to the new world. These are Adam; Fred; Michael, who resides at Riverton; John, of this review; and Barbara Pifer.
John Rentschler spent the first seventeen years of his life in his native country, and during that period gained a good education in the German tongue, but his knowledge of English has been self acquired since his arrival in the new world. When a young man he determined to test the truth of the favorable reports which he had heard concerning America and its business opportunities, and in the spring of 1857 he sailed for the United States. After reaching New York he made his way direct across the country to Illinois joining a brother in Springfield. As he had no capital it was necessary that he at once begin work in order to provide for his own support and he secured employment in breaking prairie in Cartwright township. He was then employed by the month as a farm laborer for several years, but at the time of the Civil war he put aside all business and personal considerations and offered his aid to the government in support of his adopted country. It was in August, 1861, that he enlisted, joining Company A, of the Thirty-eighth Illinois Volunteer Infantry, with which he went to the south, joining the Army of the Cumberland. He was first under fire at Fredericktown, Missouri, afterward at Shiloh, Corinth, Perryville and Stone River. At the last name place he sustained a gunshot wound through the right forearm, which caused him to remain in the hospital at Annapolis, Maryland, for about six months. He then rejoined his regiment at Murfreesboro, Tennessee, and later participated in the battle of Chickamauga. On the third day of that hotly contested engagement he was taken prisoner and sent to Libby prison, where he was incarcerated for three months, and he afterward spent five months a prisoner of war at Danville, Virginia, and was then transferred to Andersonville in 1864, where he was held until the close of the war. He was then exchanged at Vicksburg and sent to St. Louis, and after being paroled was honorably discharged on the 7th of June, 1865. He was a brave and loyal defender of the Union cause and his military record is one of which he has every reason to be proud.
After his return home Mr. Rentschler rented a farm for several years and in 1874 he purchased a tract of land in Illiopolis township, which he improved and cultivated until 1889, when he rented his place and purchased a lot in Illiopolis. He then built upon it a commodious and comfortable home and since that time has lived retired, enjoying a well earned rest. He was married in June, 1866, in Sangamon county, to Miss Sarah F. Scott, a native of Fayette county, Indiana, and a daughter of Parker Scott, who was born in Pennsylvania. Her father spent his boyhood days in the Keystone state, and afterward removed to Ohio, where he met and married Mary Withrow, who died when her daughter, Mrs. Rentschler, was only about a year old.
Both Mr. and Mrs. Rentschler hold membership in the Methodist Episcopal church, and he belongs to the Grand Army of the Republic at Illiopolis. Politically he is a strong Republican, having supported each presidential nominee of the party since casting his first vote for General Grant in 1868. A strong purpose and laudable ambition combined with unfaltering energy have been the salient features of his success. He came to America a young man with no capital, but possessing a resolute spirit and brave heart, he worked on industriously year after year, until he could purchase land of his own, and then with untiring energy he cultivated his farm until it brought to him a competence that now enables him to live retired.

---
Return to 1904 Biographies Index
Return to Sangamon County ILGenWeb
---