Sangamon County ILGenWeb © 2000
In keeping with our policy of providing free information on the Internet, data and images may be used by non-commercial entities, as long as this message remains on all copied material. These electronic pages cannot be reproduced in any format for profit or for other presentation without express permission by the contributor(s).
---
PAST AND PRESENT OF THE CITY OF SPRINGFIELD AND SANGAMON COUNTY ILLINOIS
By Joseph Wallace, M. A.
of the Springfield Bar
The S. J. Clarke Publishing Co., Chicago, IL
1904
---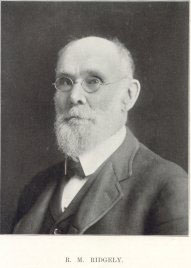 Page 1152
REDICK M. RIDGELY - Redick M. Ridgely, long an active and influential factor in community affairs and in the public life of Springfield, is now serving as superintendent of the water works department at the city hall, and is thus actively connected with the executive interests of the municipality. His public career, bearing the light of close investigation, well entitles him to mention among the representative citizens of Sangamon county.
Mr. Ridgely was born in St. Louis, Missouri, March 29, 1830, and in 1835 was brought to Springfield by his father, N. H. Ridgely. Educated in private schools, he entered public life as a city official about the time he attained his majority, being elected city treasurer, in which capacity he served for two years. He served for a similar period as a member of the board of supervisors of Sangamon county and for four years was a member of the city council. He was in the quartermaster's department at Springfield in 1861 and 1862 and in the latter year was transferred to the quartermaster's department at Memphis, Tennessee, where he maintained until 1865. His time and attention have always been occupied with duties affecting the public welfare, either in a business or official way. In 1876 he was made superintendent of all the street railroads of Springfield, and made it his close study to improve the urban railway service. In 1899 he was elected to represent the district in the state legislature and for two years was a member of the house. He is now superintendent of the water works department in the city hall, and as in all his public service his course has been characterized by devotion to the public good through the faithful and prompt discharge of the duties of his office.
Mr. Ridgely was married July 1, 1850, to Miss Margaret Aitken, who was born in Glasgow, Scotland, March 6, 1835. They have three living children: Janey H., Redick and John A.

---
Return to 1904 Biographies Index
Return to Sangamon County ILGenWeb
---