Sangamon County ILGenWeb © 2000
In keeping with our policy of providing free information on the Internet, data and images may be used by non-commercial entities, as long as this message remains on all copied material. These electronic pages cannot be reproduced in any format for profit or for other presentation without express permission by the contributor(s).
---
PAST AND PRESENT OF THE CITY OF SPRINGFIELD AND SANGAMON COUNTY ILLINOIS
By Joseph Wallace, M. A.
of the Springfield Bar
The S. J. Clarke Publishing Co., Chicago, IL
1904
---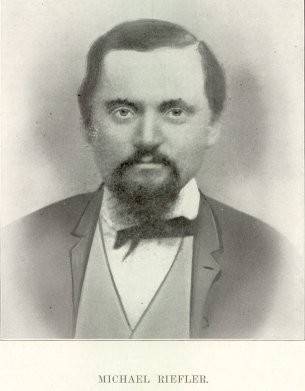 MICHAEL RIEFLER. - Michael Riefler was a prominent contractor and carpenter of Springfield during the greater part of his business career, coming to this city in 1858 and making it his home until his death. He was a native of buffalo, New York, born August 13, 1839. His parents, Casper and Anna Marie Riefler, were natives of Germany and on coming to America settled in Buffalo, where the father engaged in shoemaking for several years. He afterward purchased a farm near there and carried on agricultural pursuits throughout his remaining days, both he and his wife dying upon the homestead farm there. Frederick Riefler, a brother of our subject, came to Springfield in 1856 and here worked at the carpenter's trade. He prospered in his undertakings and because of his success he sent to Buffalo to have his brother Michael join him.
The latter was educated in the public schools of Buffalo and after putting aside his text books he began to learn the carpenter's trade with his elder brother, Jacob Riefler, following that pursuit in Buffalo for a few years, after which he came to Springfield. On his arrival here he began work as a common laborer at his trade, but afterward began contracting and as the years advanced contracts of greater and greater importance were accorded him. Many of the fine residences and business blocks of the city were erected by him and he continued his building operations here until his life's labors were ended in death. During this time he also engaged in the grocery business and in general merchandising at the corner of Fourteenth and Monroe streets, but he found that he could not superintend both the store and his building operations, so he disposed of his mercantile interests, continuing at his trade as a contractor and builder until his death. His excellent workmanship characterized by accuracy and thoroughness was one of the strong elements of his prosperity and gained for him a liberal patronage, which was for many years accorded him.
Mr. Riefler was married in Springfield, November 3, 1861, to Miss Elizabeth Lutz, who was born in Bavaria, Germany, May 25, 1843, a daughter of Conrad and Mary (Figg) Lutz, both of whom are natives of Bavaria. Her father removed to America in 1849 and settled in Springfield, where he worked at the shoemaker's trade until 1874. He then retired from business life and both he and his wife made their home with Mr. and Mrs. Riefler until they were called from this life. Mr. Lutz passed away July 21, 1881, at the age of eighty-eight years. Eight children were born unto Mr. and Mrs. Riefler: Charles G., a printer of Springfield, who married Barbara Kessler; Amelia, the wife of Edward Brockler, of Springfield; Edward, a carpenter of Springfield, who married Maggie Pendegast; John, a plumber of Springfield, who wedded Nettie Williams; Nellie, the wife of George H. Rohrer, of Springfield; George, deceased; Cornelia, who resides with her mother; and George, a telegraph operator, of Springfield, who married Jennie Bambro.
When Mr. Riefler first came to Springfield he became a member of fire company No. 2 and was made its foreman. This was the time when the old engines were drawn by hand. He served as alderman from his ward for six years and was active and influential in local community interests. His political allegiance was given to the Republican party at an early day, but he afterward became a supporter of the Democracy and took a very active interest in politics. He was also much interested in church work and held membership with the German Lutheran denomination. Prominent in citizenship, he was especially influential in political circles and his efforts in behalf of general progress and improvement were far reaching and beneficial. He died October 4, 1885, and his death was the occasion of deep regret to a very large circle of friends whose warm regard he had won during his long residence here. He left his widow in very comfortable circumstances. At a recent day she sold the property in which he conducted his store and she now owns her home at No. 1324 East Monroe street, which was built by Mr. Riefler two years before his death and which she and her daughter now occupy. She is a member of the Grace Lutheran Church.

---
Return to 1904 Biographies Index
Return to Sangamon County ILGenWeb
---