Sangamon County ILGenWeb © 2000
In keeping with our policy of providing free information on the Internet, data and images may be used by non-commercial entities, as long as this message remains on all copied material. These electronic pages cannot be reproduced in any format for profit or for other presentation without express permission by the contributor(s).
---
PAST AND PRESENT OF THE CITY OF SPRINGFIELD AND SANGAMON COUNTY ILLINOIS
By Joseph Wallace, M. A.
of the Springfield Bar
The S. J. Clarke Publishing Co., Chicago, IL
1904
---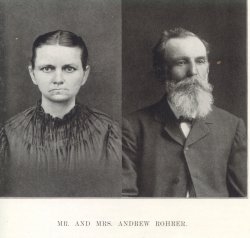 Page 1536
ANDREW ROHRER - The farming interests of Sangamon county are well represented by Andrew Rohrer, who lives on section 8, Ball township, where he owns a well improved farm just outside the corporation limits of Chatham. He has been a resident of the county since 1858 and belongs to the German-American element in our citizenship, which has been a most important factor in the substantial development and improvement of many sections of the country. He was born in Wurtemberg, Germany, January 1, 1840. His father, Andrew Rohrer, Sr., was also a native of that locality and there married Barbara Blakely. In 1852 he emigrated with his family to America, settling in Chester county, Pennsylvania, where he resided for several years, and in 1859 he came to Illinois, where he joined his son Andrew Rohrer, who had arrived in the previous year. Here the son began work on a farm by the month and was thus employed for several years. He had enjoyed good school advantages in Germany, but was entirely self-educated in English. In 1867, in Sangamon county, He married Miss Minnie Schmidt, who was born and reared in Saxony.
After his marriage Andrew Rohrer, of this review, rented the Alex Jones place and engaged in farming thereon for twenty-five years, and for the two years previous on Colonel Shoup's farm. He afterward purchased his present property and now has a well improved tract of land of forty acres, upon which he has lived since the spring of 1892. He at once began to place his fields under cultivation and to make modern improvements, and he now rents and farms over one hundred acres of land, being numbered among the substantial agriculturists of his community. His life has been one of untiring activity and he well deserves the success that has come to him.
Unto Mr. and Mrs. Rohrer were born seven children: Edward, who is married and follows farming in Ball township; George W., who is also married and is a farmer in that township; Emma, the wife of Rev. Marcus Wagoner, a minister of the Lutheran church in Decatur, Illinois; Charles, who is living upon the home farm; Benjamin; Carrie; and Frances. Mrs. Rohrer was an invalid for a number of years, but she bore her suffering with Christian fortitude and received every care and attention possible from her husband and children. She died February 7, 1904, in the faith of the German Lutheran church, of which she was a consistent member.
Politically Mr. Rohrer is a stanch Democrat and his first ballot was cast for General George B. McClellan in 1864. He has been elected and served for three terms or nine years as highway commissioner and has also been a member of the school board for several years. He belongs to St. John's Lutheran church, located near his home, and has lived a life of integrity and uprightness, so that he has developed a character that commands confidence and regard. His residence in the county covers forty-five years and during this period he has developed one of the best farms in central Illinois. He and his family are greatly esteemed in the community and it is with pleasure that we present their record to our readers.

---
Return to 1904 Biographies Index
Return to Sangamon County ILGenWeb
---