Sangamon County ILGenWeb © 2000
In keeping with our policy of providing free information on the Internet, data and images may be used by non-commercial entities, as long as this message remains on all copied material. These electronic pages cannot be reproduced in any format for profit or for other presentation without express permission by the contributor(s).
---
PAST AND PRESENT OF THE CITY OF SPRINGFIELD AND SANGAMON COUNTY ILLINOIS
By Joseph Wallace, M. A.
of the Springfield Bar
The S. J. Clarke Publishing Co., Chicago, IL
1904
---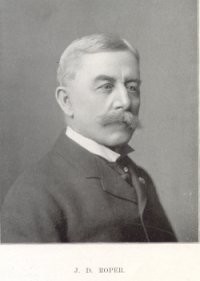 Page 462
JOSEPH DENNEY ROPER - Close application, sound judgment and practical ideas are as indispensable and valuable in matters of state as in private business affairs and he to whom is intrusted important public interests should possess all the requisite qualities of a successful business man. In this regard Mr. Roper is by no means lacking, and is capably filling the position of statistician in the bureau of statistics of labor in Illinois. His residence in Springfield covers almost a half century, for he arrived here in 1855.
He was born in Rutland, Massachusetts, January 13, 1834, and is of English ancestry, the family having been founded in America by John Roper in 1637. He came from England, settling in Massachusetts, and his descendants are now very numerous in the new world. Two representatives of the family were minute men in the Continental army during the Revolutionary war, and the family has ever been noted for longevity. Joseph Roper, the father of our subject, was also born in Massachusetts as was his wife Maria L. Mendell. She also came of a long lived race and was one of a family of sixteen children. Her brother, George S. Mendell, after a residence of about a half a century in Springfield, died here in 1894. His son, Colonel George H. Mendell, a graduate of the West Point Military Academy, was on the Pacific coast as engineer for the government for fifty years and was then retired. He afterward served as superintendent of public works in San Francisco, where he died in October, 1902, at the age of seventy-three yeas. He was the engineer who made the famous golden gate of California. Another brother, Noah E. Mendell, was captain of a company in the Civil war and laid down his life on the altar of his country at the battle of Fort Donelson, being the first Illinois soldier to sacrifice his life in the war of the Rebellion.
Mr. and Mrs. Joseph Roper, the parents of our subject, removed from Massachusetts to Westmoreland county, Pennsylvania, in 1839, and the father followed farming there. He died in Ligonier, Pennsylvania, in 1850, when forty-nine years of age, his birth having occurred in 1801, and his wife, who was born in 1803, died in 1896, at the home of her son, John S., in Alton, Illinois. She retained her mental and physical faculties to a remarkable degree and was a well preserved woman at the time of her demise. After her husband's death she came to Illinois to live with her sons. Both parents were members of the Universalist church. In their family were seven children, of whom two died in infancy, while three sons and two daughters reached years of maturity. Adeline L., born in 1825, now lives at the old home place in Ligonier, Pennsylvania. She is one of four of the family who have resided there continually since 1839. George S., born in 1832, was commissioned major in the commissary department by President Lincoln at the time of the Civil war. He had been a resident of Springfield from 1853 and after his enlistment in the army he removed to Alton and later to Rockford, Illinois, engaging in the insurance business until his death. He left two sons, George D., now a prominent business man of Rockford, and Edward U., of Chicago. Both were born in Springfield. Joseph Denney, the subject of this review, is the third of the Roper family. Charlotte A., born in 1836, came to Sangamon county in 1856 and was married here to P. Pickard, of Alton, Illinois, who recently died. She is now living in Madison county. They have three children born in that county: Frank, a farmer; Lelia; and Hortense. John S. Roper, born in 1842, was the first member of the family, born in Pennsylvania, and is now a resident of Alton, Illinois, where he is secretary of the Grafton Quarry Company. In 1856 he became a resident of Springfield, whence he went to Alton to become clerk in the commissary department under his brother during the Civil war and was the first newsboy to leave Springfield with a regiment. He is married and has two children, Denney W. and Jessie.
Joseph D. Roper, whose name introduces this record, obtained a common-school education, was reared upon the home farm and when nineteen years of age he began teaching school in Pennsylvania. He remained under the parental roof until 1855, when he came to Illinois and entered the employ of S. M. Tinsley, who was engaged in the lumber and pork packing business, handling dressed hogs. Mr. Roper continued with him until he became associated with E. B. Pease & Brothers, hardware merchants. In February 1857, he entered the business office of the Illinois State Journal and began work as bookkeeper. He was afterward made cashier and when the company was incorporated became its treasurer. During the war he assumed control of the entire business, which flourished under his management. In 1879, however, he severed his connection with that company and took the management of the Register, which was then owned by Governor Palmer. In 1883 he accepted a position of bookkeeper with A. H. Fisher, a jeweler, who in 1884 made an assignment, at which time Mr. Roper was appointed to settle up the business. When this had been accomplished he accepted a position under Secretary of State H. D. Dement in the supply department and tabulated the election returns of the state from 1878, the first time such work was ever done. In October, 1886, he accepted a position as statistician in the bureau of labor statistics of Illinois and is one of the most efficient men who has ever acted in that capacity. He inaugurated the report of the mortgaged indebtedness and, although the business has grown from year to year in the office, he has carefully controlled it and everything in his department is systematic, the work being uniform, methodical and accurate.
In 1856 in Lynnville, Ogle county, Illinois, Mr. Roper wedded Miss Eliza J. Cummins, who was born in Sharpsburg, Cumberland county, Pennsylvania, in 1836, and after a happy married life of twenty years passed away in 1876. They were the parents of six children, of whom William Denney, the second, died in infancy. Anne M., the eldest, is the wife of Harry F. Thayer, who is now connected with the Carnegie Steel Company and resides in New Orleans. Mrs. Thayer has recently been elected to the office of corresponding secretary of the Daughters of the American Revolution, "Spirit of '76 Chapter," of New Orleans. They have two sons, Harry Roper and Ralph Foster, who were born in Springfield. Arthur Boyd is married and is connected with the livery business in St. Louis. Ardelia Farr is the wife of William Q. Olden, now of Chicago, and they had two children, Ardelia and Mary E., but the latter recently died. Charlotte Pickard is the wife of William A. Peterson, a general merchant of Ligonier, Pennsylvania, and they have one daughter, Eliza Anne. Paul Hemenway is married and lives in St. Louis, Missouri. The children all attended the public schools and Annie became a student in Mount Carroll Seminary at Mount Carroll, Illinois, where she was graduated in music. Ardelia and Charlotte are graduates of the high school of Springfield and both became successful teachers in the schools here. The former inaugurated the course of music in the public schools of Springfield and was the first music teacher appointed. She had taken a course of study in music at Providence, Rhode Island, and at Evanston, Illinois. Mrs. Thayer was for twenty years a leading soprano in the Second Presbyterian church here. In 1879 Mr. Roper was again married, his second union being with Elizabeth Olive Sayward, who was born in Gloucester, Massachusetts, in 1841, and was one of the teachers in the public schools in Springfield. They have one child, Abigail Sayward, who has just graduated from the high school of Springfield.
Since 1898 Mr. Roper has resided in the western part of the city, having recently built a home on South Walnut street. He is a member of the Universalist church, while his family hold membership with the First Congregational church. In politics a Republican, he has cast his ballot for twelve presidents and governors. In connection with his brother George S. he organized the first Lincoln Glee Club of Springfield and he and William Conkling are now the only survivors of this club. In 1900 he organized the Yates Veteran Club, of which he was the secretary. Socially he is identified with St. Paul Lodge, No. 500, A.F. & A.M.; is a charter member of Capital Lodge, No. 14, K.P., and in 1882 served as grand chancellor of the society. He was a charter member of Springfield Lodge, No. 465, I.O.O.F., and first became a member in 1859 and since that time he has passed all of the chairs of the local lodge and has been its representative in the grand lodge; is also charter member of the Uniformed Rank of the Knights of Pythias fraternity and has been quartermaster of the state since 1889 with the rank of colonel. His membership relations likewise connect him with the Ancient Order of United Workmen and with the Knights of Honor. Mr. Roper has a very wide acquaintance in social, business and political circles and those who know him best are numbered among his staunchest friends, a fact which is indicative of an upright career, and in his official service he has always been most loyal, so that over his history there falls no shadow of wrong.

---
Return to 1904 Biographies Index
Return to Sangamon County ILGenWeb
---