Sangamon County ILGenWeb © 2000
In keeping with our policy of providing free information on the Internet, data and images may be used by non-commercial entities, as long as this message remains on all copied material. These electronic pages cannot be reproduced in any format for profit or for other presentation without express permission by the contributor(s).
---
PAST AND PRESENT OF THE CITY OF SPRINGFIELD AND SANGAMON COUNTY ILLINOIS
By Joseph Wallace, M. A.
of the Springfield Bar
The S. J. Clarke Publishing Co., Chicago, IL
1904
---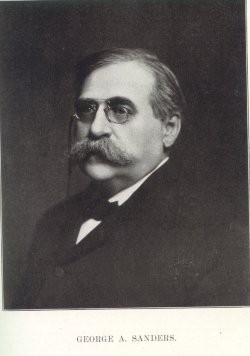 Page 288
GEORGE A. SANDERS, L.L.D. - George Anthony Sanders, whose success at the bar classes him among the foremost members of the legal fraternity of Springfield, keeps abreast with the best thinking men of the age, and has so directed his efforts along lines demanding strong mentality and keen discernment that continued progression has followed as a logical sequence. As an exponent of civil law he has manifested a strength that shows comprehensive familiarity with the great judicial principles involved, and yet his powers have not been so concentrated along one line of thought as to produce the abnormal development that is often termed genius. On the contrary, his is an evenly balanced mind that has found scope for activity in literary, musical and social circles, nor has he been remiss in the citizenship which takes cognizance of the great questions affecting the welfare of the country and lends hearty co-operation to the movements for municipal improvement and advancement.
A native of Massachusetts, George Anthony Sanders was born in Williamstown, Berkshire county, July 4, 1836. The ancestral connection of the family with America dates from an early period in the colonization of New England when four brothers of the name sailed from England and landed on the Maine coast, near the site of the city of Portland. One remained there and the place is still called Sanders Point, but the others sought locations elsewhere, one going to North Carolina, a second to Massachusetts, while the youngest established his home in Rhode Island and became the progenitor of the branch of the family to which George A. Sanders belongs, although almost three hundred years have elapsed since that settlement was made in Rhode Island. Anthony Sanders, father of George A. Sanders, was a farmer of Williamstown, Massachusetts, and has a wide and favorable acquaintance in that community. He married Celinda Brown, who was a direct descendant of the founder of Brown University of Rhode Island. Fourteen children were added to the family as the years advanced, and eleven reached adult age.
Among the Berkshire hills George A. Sanders spent the days of his youth and in the public schools manifested mental alertness by his ready aptitude in mastering the branches that constituted the curriculum. Still there was little that would indicate the trend of his career and no event occurred to vary the usual routine of life for a New England boy reared upon a farm. When he had put aside his text books he secured a clerkship in a general store, but his ambition was limited by the bounds of his position and he resolved to test his ability and energies in other fields. Realizing the value of education as a preparation for life's practical duties he entered Williams College and was graduated with the class of 1861. He has never ceased to feel a deep and abiding interest in his alma mater and in 1899, as secretary of his class, he prepared its thirty-seventh annual report.
Following his graduation Mr. Sanders came to Illinois and was identified with educational work for several years, organizing and grading the common and high schools of Centralia. His leisure hours were devoted to a mastery of the rudiments of a legal education and on leaving Centralia, having resigned his position as superintendent of its schools, he became a law student in the office and under the direction of Sweet & Orme, of Bloomington. Successfully passing an examination which secured his admission to the bar in December, 1863, he formed a partnership with Hon. Richard Nelson, of Centralia, and entered upon a career at the bar in which no dreary novitiate awaited him. He soon gained prestige that comes through the recognition of ability, and moreover, as a young lawyer with a reputation to make, he displayed the unremitting industry and energy without which success at the bar is never an assured fact. When his first partnership was terminated by the death of Mr. Nelson, Mr. Sanders became associated in practice with General E. N. Bates, and when the latter was elected to the office of state treasurer of Illinois, in 1868, Mr. Sanders became his assistant and occupied the office during General Bates' two terms and for one term under the latter's successor, Hon. Edward Rutz. AS a candidate for the position of state treasurer, on the expiration of his third term as assistant, he failed of the nomination by only three votes.
Since his retirement from office Mr. Sanders has continuously engaged in the practice of law in Springfield. Following a partnership with Frank R. Williams, he was associated with Ralph W. Haynes and later with W. R. Bowers. A contemporary biographer has said: "While he is familiar with the state, circuit, appellate and supreme court practice, the federal courts of his own and other states have been the scene of the greater and more important part of his work, and he enjoys a wide reputation gained by repeated signal successes in railway, municipal bond and kindred types of weighty litigation. He is also frequently called into the United States supreme court, to practice of which he was admitted in 1881." He thoroughly informed himself concerning the great judicial principles involved. His preparation of cases is most thorough and exhaustive; he seems almost intuitively to grasp the strong points of law and fact, while in his briefs and arguments the authorities are cited so extensively and the points and reasoning thereon are so cogently and unanswerable presented as to leave little doubt as to the correctness of his views or conclusions.
Mr. Sanders has manifested little political aspiration and has filled but few positions of a political character. Aside from assistant state treasurer, he has been city attorney and was presidential elector in 1872. He has always been a supporter of Republican principles and has advocated the doctrines of the party from the platform in many campaigns, setting forth the real issues before the people in a concise, logical and forcible manner that has carried conviction to the minds of his auditors. He belongs to the Illinois and National Bar Associations and was sent as a delegate by the former to the latter in 1897. In the following year the degree of doctor of law was conferred upon him by Illinois College. Well known in both literary and musical circles, he has thought deeply, read broadly and pondered well the great social and economic questions affecting the welfare of state and nation and has given his views to the world in newspapers and magazines in a volume of published orations, addresses and club essays. In the same work are also published his papers on the famous Shakespeare-Bacon controversies. Another volume of which he is the author is called "Reality, or Law and Order, versus Anarchy and Socialism," which is an answer to Bellamy's "Looking Backward." He was one of the founders of the Authors' club of Springfield, the oldest literary organization in the city, as well as the most important in its influence. With an inherited love of music, Mr. Sanders has also developed his powers and talents in that direction and for about a third of a century has been the director of the choir of the First Congregational church, while his musical culture and efficiency have been recognized by his repeated appointments by colleges, churches and choral unions to the directorship of important organizations.
On the 16th of November, 1865, Mr. Sanders was united in marriage to Miss Antoinette C. Lee, a native of Fulton, New York, and a daughter of Dr. M. L. Lee, who was prominent in his profession and in political circles in the Empire state, being congressman in 1861 and a member of the New York state legislature a number of times, while her brother, General A. L. Lee, of New York city, won renown as brigadier general in the Civil war. Mr. and Mrs. Sanders have a daughter, Effie S. Sanders, and the family are well known socially in Springfield. Through the opportunity which is the pride of our American life, Mr. Sanders has risen from humble surroundings to large worldly successes, nor has this been alone the goal for which he has striven. He has found pleasure in progression in the world of thought and of art, and, with ready recognition of the duties and obligations of citizenship, he has been the champion of many measures affecting the general interests of society that have wrought along the lines of the greatest good to the greatest number.

---
Return to 1904 Biographies Index
Return to Sangamon County ILGenWeb
---