Sangamon County ILGenWeb © 2000
In keeping with our policy of providing free information on the Internet, data and images may be used by non-commercial entities, as long as this message remains on all copied material. These electronic pages cannot be reproduced in any format for profit or for other presentation without express permission by the contributor(s).
---
PAST AND PRESENT OF THE CITY OF SPRINGFIELD AND SANGAMON COUNTY ILLINOIS
By Joseph Wallace, M. A.
of the Springfield Bar
The S. J. Clarke Publishing Co., Chicago, IL
1904
---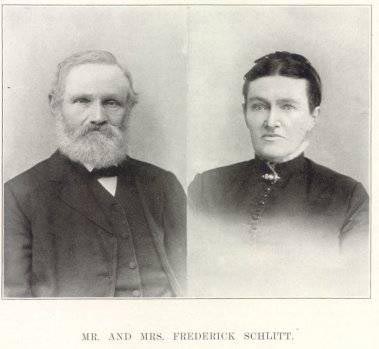 FREDERICK SCHLITT. - Among those who have been notable figures in the business life of Springfield and are yet remembered in kindliest manner by many to whom they became endeared through strong ties of friendship was numbered Frederick Schlitt, for a number of years the proprietor of the St. Charles Hotel of this city. He was born in Wiesbaden, Germany, October 22, 1822. His parents were Mr. and Mrs. Charles Schlitt, who were natives of Germany and spent their entire lives there. They had three children, a daughter, Elizabeth, and two sons. Charles Schlitt, the brother, on coming to America, settled in the Cumberland mountains, near Chattanooga, Tennessee, whence he afterward removed to Springfield, where he conducted a grocery store. Here he made his home for a number f years, rearing his family in this city, but subsequently he removed to St. Louis, Missouri, and later went to Natchez, Mississippi, where his death occurred, as did that of his wife, who was a sister of Mrs. Frederick Schlitt. Elizabeth Schlitt, sister of Charles and Frederick, died in Germany at the age of seventeen years.
Frederick Schlitt attended school in Germany and there learned the baker's trade in Wiesbaden. At the age of twenty-six he became a passenger on a sailing vessel which, after a voyage of seventy days, reached New York harbor. Prior to this time Mr. Schlitt had married Miss Helen M. Kessberger, the wedding taking place June 16, 1848. She, too, was born at Wiesbaden, November 18, 1829, a daughter of Daniel and Julia Kessberger, both of whom were natives of Germany, where her mother died. Her father afterward started for America, but did not live to complete the voyage and was buried at sea. In his family were nine children, five of whom came to the United States. Of these Susannah married William Strauss and they became residents of Springfield, where they spent their remaining days. Mr. Strauss was a retired capitalist. Louisa became the wife of D. C. Schlitt, and, after residing in Springfield for a time, removed to Natchez, Mississippi, where her death occurred. Lisetta became the wife of Christian Lauer and died a few years after their removal to Springfield. William as killed at the battle of Lookout Mountain in the Civil war. A. W. is now in the insurance business in Springfield.
After landing in New York Mr. and Mrs. Schlitt spent a brief period in that city and subsequently went by water to New Orleans and thence to Tennessee, settling near Chattanooga amidst the Cumberland mountains, where he engaged in farming and prospecting. After two years, however, they removed to a farm in Sangamon county, which continued to be their home until 1864, when Mr. Schlitt became identified with the hotel interests of Springfield, as proprietor of what was then known as the New England Tavern, which was then the leading hostelry of the city, patronized by the aristocracy of central Illinois. At a later date, when it changed hands, the name was changed to the St. Charles Hotel and it still stands as one of the old landmarks of the city, the location being on Jefferson, between Second and Third streets. Mr. Schlitt remained there until his death, conducting a hostelry which was a credit to the city and which found favor with the traveling public. He kept abreast with progressive business ideas and made it a close study to understand and meet the wishes of his guests. This quality, together with a genial manner and unfailing courtesy, made him popular with his patrons and with the people of Springfield as well, and he gained many warm friends.
Unto Mr. and Mrs. Schlitt were born ten children, nine of whom reached maturity, while Albert died at the age of six months. Daniel C., the eldest, a brick mason, married Mary Stark, by whom he has four children, and their home is on College Street, Springfield. William Henry, residing on a farm near Springfield, married Ella Heberling and has eight children. Julia is the widow of Michael Hottes, represented elsewhere in this volume. Christine is the wife of g. H. Schanbacher, a fresco artist of Springfield, and they have four children. Elizabeth is a teacher in the Trapp school. Augusta is the widow of J. K. Rohn, who was a member of the bar of Tiffin, Ohio, where, with her two children, she resides. Frederick P., a member of the hardware firm of J. L. Hudson & Company, of Springfield, married Louise Eberlin and has one child. Helen is the wife of J. W. Cotner, a farmer residing near Lima, Ohio, and they have two children. Mary is the wife of W. J. Spaulding, a horticulturist of Springfield, and they have one child.
In his political views Mr. Schlitt was a stanch Republican, but always refused to hold office. He died January 8, 1892, and lies buried in Oak Ridge Cemetery. His wife survived him until September 22, 1902, and was then laid by his side. The graces of character and disposition which endear the individual to his fellow man and make his companionship sought by many friends were possessed by Mr. and Mrs. Schlitt, who gained a very wide and favorable acquaintance in Springfield. Mr. Schlitt had been a member of the Lutheran church in Germany, but did not affiliate with any denomination in this country. He was, however, of a very charitable disposition and his aid was never sought in vain by the needy. He became a worthy and loyal American citizen, who, profiting by his business condition of the new world, worked his way upward financially and became one of the substantial residents of Springfield.

---
Return to 1904 Biographies Index
Return to Sangamon County ILGenWeb
---