Sangamon County ILGenWeb © 2000
In keeping with our policy of providing free information on the Internet, data and images may be used by non-commercial entities, as long as this message remains on all copied material. These electronic pages cannot be reproduced in any format for profit or for other presentation without express permission by the contributor(s).
---
PAST AND PRESENT OF THE CITY OF SPRINGFIELD AND SANGAMON COUNTY ILLINOIS
By Joseph Wallace, M. A.
of the Springfield Bar
The S. J. Clarke Publishing Co., Chicago, IL
1904
---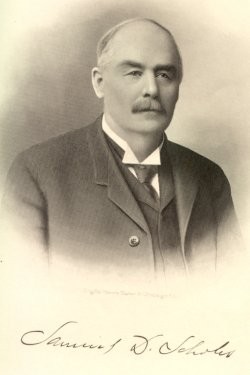 Transcribed by Mary Ann Kaylor
Page 126
SAMUEL D. SCHOLES , a lawyer whose ability has made him the peer and associate of the ablest members who have practiced at the bar of Springfield, was born in Peoria county, Illinois, February 5, 1840. His father Richard Scholes, was a native of Accrington, Lancaster county, England, and came to Americaa in 1823. For several years thereafter he was engaged in business as a calico print designer in the east, where he was married to Jemima Dalrymple, a native of Ireland. In 1837 he came to Illinois and located in Peoria county, where he continued to reside until his death. The literary education of Samuel D. Scholes was completed in Antioch College at Yellow Springs, Ohio, and he then entered upon the study of law with the firm of Johnson & Hopkins, of Peoria. Before completing his course of study he enlisted as a soldier of the Union Army, becoming a member of Company F., One Hundred and Thirty-ninth Illinois Infantry, and afterward, on the re-organization of the Fourteenth Illinois Infantry, he again enlisted and was commissioned first lieutenant of Company C. His experiences were those of the soldier who does his full duty in defense of his country and his principles, and after the cessation of hostilities he was honorably discharge in September, 1865, at Springfield. Resuming his law studies, Mr. Scholes was admitted to the bar in January, 1866, and immediately afterward opened his office in Springfield, where he made his way to a foremost position through the opportunity which is the pride of our American life. He was a close and discriminating student following his admission to the bar, as well as before that time, and his careful preparation of cases, combined with his devotion to the interests of his clients and the forceful presentation of his cause won him distinction as one of the ablest members of the courts of Sangamon county. He was for several years associated with Hon. Shelby M. Cullom and Thomas C. Mather and later with Hon. James M. Graham, of whom he was a partner for many years. He was master in chancery under Judge Zane, occupying that position for four successive terms. He gives his attention to general practice and the extent and character of his clientage is indicative of the prominent position accorded him at the bar. In addition to his law practice he has other business interests here. He was one of the incorporators of the Springfield Electic Light and Power Company, of which he is vice-president, and aided in organizing the Springfield Brick & Paving Company, of which he is secretary. On the 19th of July, 1869, Mr. Scholes was united in marriage to Miss Margaret Stockdale, a daughter of William and Jane (Irwin) Stockdale. By this marriage there were four children: James B. and Alice are at home. Samuel D. is a practicing attorney of the firm of Scholes & Barber, having offices adjoining his father's. Jessie is the wife of Robert Vredenburgh, proprietor of a planing mill. The eldest son was born in Springfield in April, 1870, was educated in the grammar schools here and afterward attended Illinois College at Jacksonville, for two years, while later he pursued a course in the Springfield Business College. He entered upon his business career as a clerk in the dry goods store of R. F. Herndon, where he remained three years and was then with the Springfield Electric Light & Power Company in the electrical business for four or five years. He was also with the General Electric Company, of Chicago, and with the Capitol Company of Springfield. He then engaged in business for himself as a dealer in electrical supplies, being associated with Mr. Radford as a partner the first year. He has since conducted the business alone, having his store opposite the Leland hotel. He does silver, nickel and copper plating of all kinds and refinishing electric wiring and deals in fans, motors and combination fixtures. The office and warerooms are at No. 324 South Sixth street. He purchased the store there, but recently sold it. He has been very successful and his business is increasing every day. He belongs to the Independent Order of Odd Fellows, the Elks lodge and to the First Christian church. Samuel D. Scholes, the subject of this sketch, and his family occupy a beautiful home opposite the governor's mansion on South Fourth street, and from early manhood he has figured in legal circles of the city and as one of the promoters of the various movements and measures which have contributed to Springfield's growth and substantial upbuilding.

---
Return to 1904 Biographies Index
Return to Sangamon County ILGenWeb
---