Sangamon County ILGenWeb © 2000
In keeping with our policy of providing free information on the Internet, data and images may be used by non-commercial entities, as long as this message remains on all copied material. These electronic pages cannot be reproduced in any format for profit or for other presentation without express permission by the contributor(s).
---
PAST AND PRESENT OF THE CITY OF SPRINGFIELD AND SANGAMON COUNTY ILLINOIS
By Joseph Wallace, M. A.
of the Springfield Bar
The S. J. Clarke Publishing Co., Chicago, IL
1904
---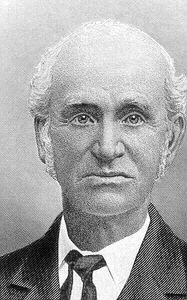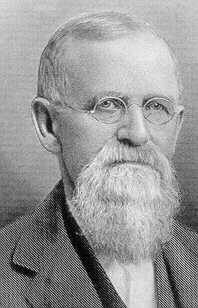 Thomas C. Shepherd Thomas B. Shepherd
Ancestor of Nel Hatcher

THOMAS B. SHEPHERD - Almost seven decades have passed since Thomas B. Shepherd became a resident of Sangamon county, the year of big arrival being 1836. He was then in his infancy and thus in his boyhood days he watched the pioneer development of the county, while in later years he has been deeply interested in its more important progress and advancement. His time and energies have been devoted to farming and stock raising and he now operates nine hundred acres of land in Ball and Pawnee townships, his home being on section 36, Ball township.
Mr. Shepherd was born in Washington county, Maryland, at the old town of Shepherdstown, September 28, 1835, and is a son of Thomas C. Shepherd, whose birth occurred in West Virginia in 1808. The father came to Illinois in 1836, traveling with teams and covered wagons, and after a journey of six weeks reached his destination. He was accompanied by his mother, his wife and son Thomas B., also two brothers and a sister, but the subject of this review is the only surviver of that company, that in the primitive manner of the times, accomplished the long journey from Virginia to what was then the far west. Here other children were added to the family. The second son, John H., became a prominent farmer of Sangamon county and died in Pawnee on April 8, 1903. The others are William B. and Charles M., who are mentioned elsewhere in this work. The sister, Mary Ellen, became the wife of Lawson Pyle, but both are now deceased.
Thomas B. Shepherd was reared to manhood in Woodside township upon the old homestead farm and remained with his father until twenty-four years of age. He worked in field and meadow, assisting in the arduous task of developing new land. On the 26th of October, 1859, he was married to Arminda Pyle, who was born in Illinois and was reared in St. Clair county, this state, her parents being Alfred and Malinda Pyle, early settlers of Illinois. After their marriage Mr. and Mrs. Shepherd located where they now reside. He had three hundred acres of land upon which some improvements had been made. Later he added to this property from time to time and he now owns nearly one thousand acres in three farms, all of which are well improved. He has upon the home place a large residence located on a natural building site, commanding a fine view of the surrounding country. There is also a commodious barn and other substantial outbuildings upon the place. There is a beautiful lawn adorned with flowering shrubs and evergreens and other ornamental trees, in fact, the home farm of Thomas B. Shepherd is one of the most attractive features in the entire country side. His interest is always centered in his home, and he takes great delight in adding to its beauty and attractions and thus promoting the happiness of his family. Year by year he has carried on the work of tilling the soil, raising excellent crops and in addition to this he has engaged in raising and feeding stock. His business affairs are carefully conducted and the sound judgment which he brings to bear upon his sytematic labors has resulted in making him one of the most prosperous and extensive landowners of Sangamon county.
Unto Mr. and Mrs. Shepherd have been born three children: T. A., who is represented elsewhere in this work; Ann E. the wife of George Davidson of Divernon township; and Mary Ellen, the widow of Charles Anderson, of Pawnee. Mrs. Anderson has two children, Leslie and Nellie. Mr. Shepherd exercises his right of franchise in support of the Prohibition party, for it embodies his views on the temperance questions and he regards the suppression of the liquor traffic as one of the most important issues before the people today. He has lived an upright life and his friends and neighbors speak of him in terms of highest regard and respect. He has ever been an advocate of progress and improvement and is especially a friend to the public school system. He and his wife are members of the Oakridge Methodist Episcopal church and their influence and support are ever given to measures for the general good. A traveler of today visiting Sangamon county, seeing its splendid industrial and commercial development, its fine farms and all its modern improvements, can scarcely realize that it is within the memory of living men that Sangamon county was largely an unbroken district with few homes but Mr. Shepherd can remember the days when wild deer roamed over the prairies and when the wolves could be heard howling at night. There were also many kinds of small game, including turkeys and prairie chickens. The prairies were still in their primitive condition and for miles one could ride without seeing the track of the plow or any habitation of man. Great changes have been wrought and Mr. Shepherd has taken an active and commendable interest in what has been accomplished, sharing in large measure in the agricultural development of the county. He is a man of many excellent traits of character, his love of children, his desire for beautiful adornment around his home, his interest in business and his loyalty in citizensbip all combine to make him a man whom to know is to respect an honor. His wife, too, shares with him in the regard which is so uniformly given him, and there is no more highly esteemed couple in Sangamon county than Mr. and Mrs. Thomas B. Shepherd.
---
Return to 1904 Biographies Index
Return to Sangamon County ILGenWeb
---